Home
›
Ten Thousand Islands General Fishing & The Outdoors
Summer fishing trips 8/17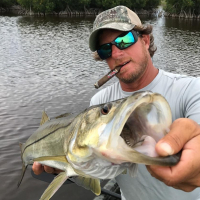 Joe Snook
Posts: 468
Deckhand
Ive been pretty lazy posting for a couple reasons lately one of them being I have been really busy with fishing trips. After hearing from a couple people who follow the forum that forum posts are informative to them I figure that I should quit being lazy on the postings. I still wasnt really fishing pilchard till about a week ago once they got bigger and became more abundant. More of threadies but who cares they usually last long enough seeing I usually have half day trips. Tday was my first day off in a while and back at it tmrw so ill keep it shortwinded as im lying in bed typing on my phone.
The incoming for me has been better for me lately but ive heard opposite from quite a few other guys. But I figure most guys fosh differently than each other so different tides work depending on how your fishing. The cookie cutter Snook have been insane getting upwards to 30 in a trip and loosing jist as many. The reds have been here n there but im not really looking for them cause im looking for Big Snook mpst of the time and if I have meat seekers I take them to kill black drum, snapper and pompano mostly. But the snapper have been studs and easily getting our limit on the incoming tide. I have some fish pics in no particular sequence.
I was actually able to get out one day and catch a couple too.
the drum have been slowing down a bit or maybe im just loosing track cause ive been focusing on Snook mostly but they're around and willing to eat a shrimp off the bottom. The ones ive been able to see havent been cooperating but the ones running in along shorelines on the in next to deep water are very hungry
goliaths and sharks have been extremely willing and are great for people who want to tug on a monster fish.
Reds ive been getting in a number of ways from topwater to a shrimp or a live pilchard it all depends on the tide and times of what tide that depends on how I like to go for them. I haaate sitting there with baits on the bottom but lets face it the bottom line is catching fish and thats been whats working due to water temps.
if you got anything out of this it should be. The Bait Is Out! Go fill yur well yur pockets or yur womans purse and catch some fish because they are HUNGRY! Tarpon have been offshore pretty good in certain spots and the juvis are pretty thick in the canals. Just chum up and theyll show ya where they are. Thanks to being blessed with such great and loyal guests this has been my first simmer of my short full time career I have been able to take mini vacations like mini season and over night offshore trips on the 4th o july
So go get your net and go catch some big fish!!
Tear Em Up!
southwest florida fishing guide in the beautiful 10k islands, everglades and more
www.Joesnook.com