Home
›
Panhandle General Fishing & The Outdoors
Nearshore half day... PC - Saturday 7/26. Great 5 hour trip!
Panhandler80
Posts: 8,028
Moderator
So, we'd talked about trying to go on a real trip, but again, work proved to be a bit taxing and I had no time to get everything together. My buddy / deckhand / first mate's grandfather also passed away and he wanted to spend time with family. So, we decided to take him, his brother and three cousins on a quick king trip. We cleared the rocks around 6:00 am and made bait pretty quickly. King bite was fast and furious, but it died off around 8:30 or 9:00. We boated 9 in fairly short order... all small fish, but it was fun on light tackle. BIggest fish came down deep on hardtail, but even that fish was only 10# or so. Typical for this time of year in close. The plan was to be at the island with the rest of his out of town family by noon. So, we had a couple hours on our hands. I had very little grouper gear on boat, but we decided to make about a 4 mile run (total of 7 miles) to try for some beeliners and / or gropuer.
Well, we were rewarded hansomly. The first spot was blacked out with beeliners. They were not large, but they were legal and the folks from GA / WI and MD had a ball catching them. We couldn't soak baits long enough for grouper due to snapper. After boxing about 20 beeliners, we moved offshore another mile. Given the time constraint and no other spots close, I made the decision to anchor on it right off the bat. Logic being, it'll either produce or it won't, but with only about 40 minutes to fish, we might as well make the most of it seeing as there were no other options within range. Anchored up and quickly boated 4 gag grouper... 14#, 13#, 10# and 22" fish... One red grouper... about a 14# fish. And the fish of the day was an honst 10# dolphin that came on the flat line. He was a solo fish, but we got him!
Great trip. We were back in the rocks at 11:30 with a bunch of happy folks. Not only did they have non stop action, they had an opportunity to get out of the house and let their minds focus on something else! They also enjoyed spending several hours at the island.
Nice dolphin coming over the rail, and a really neat unenhanced cell phone pic.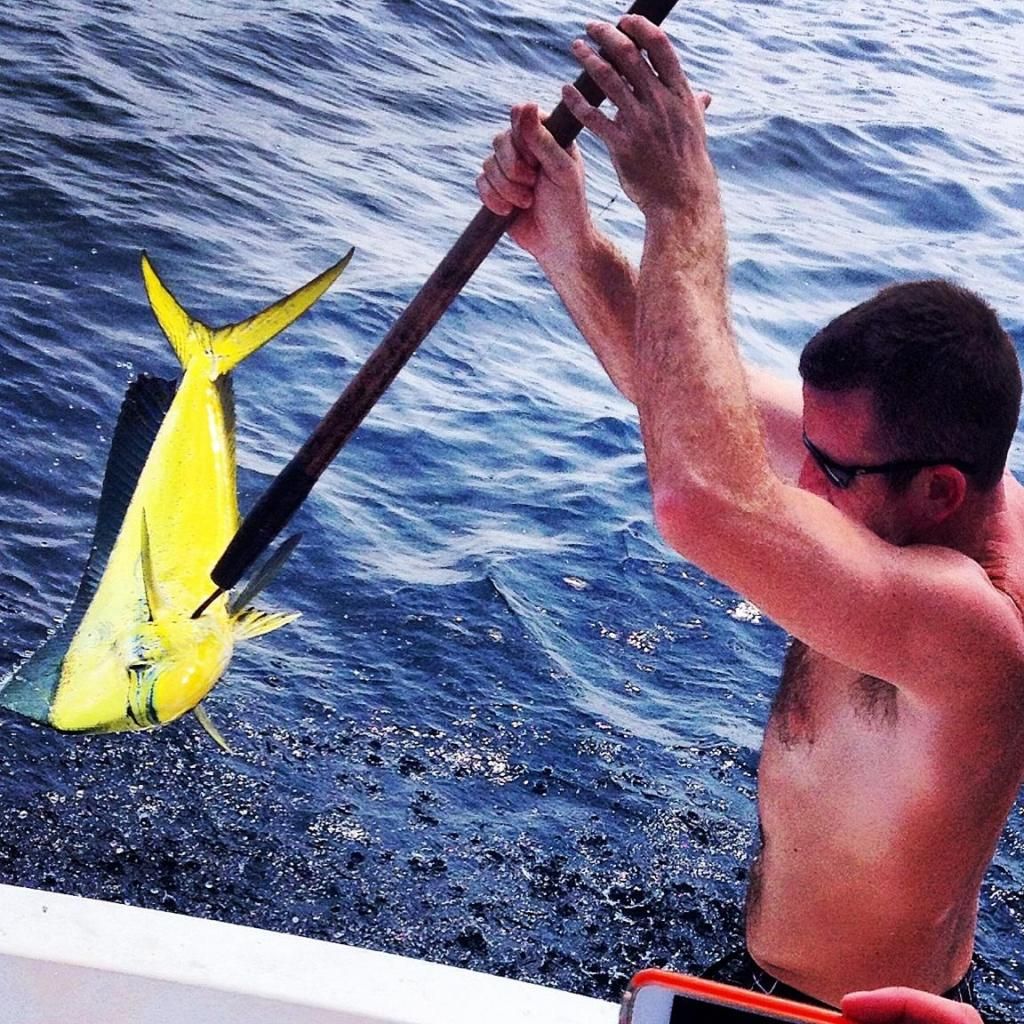 Box of fish (all the kings were covered up in bonus fish. Gotta love it!)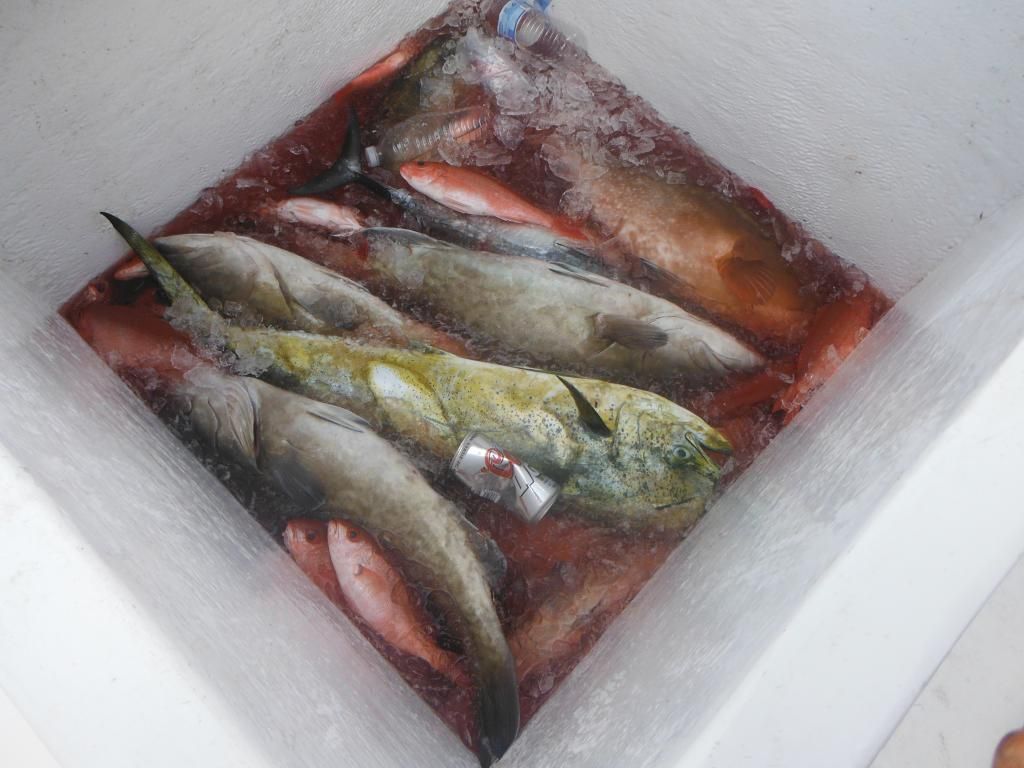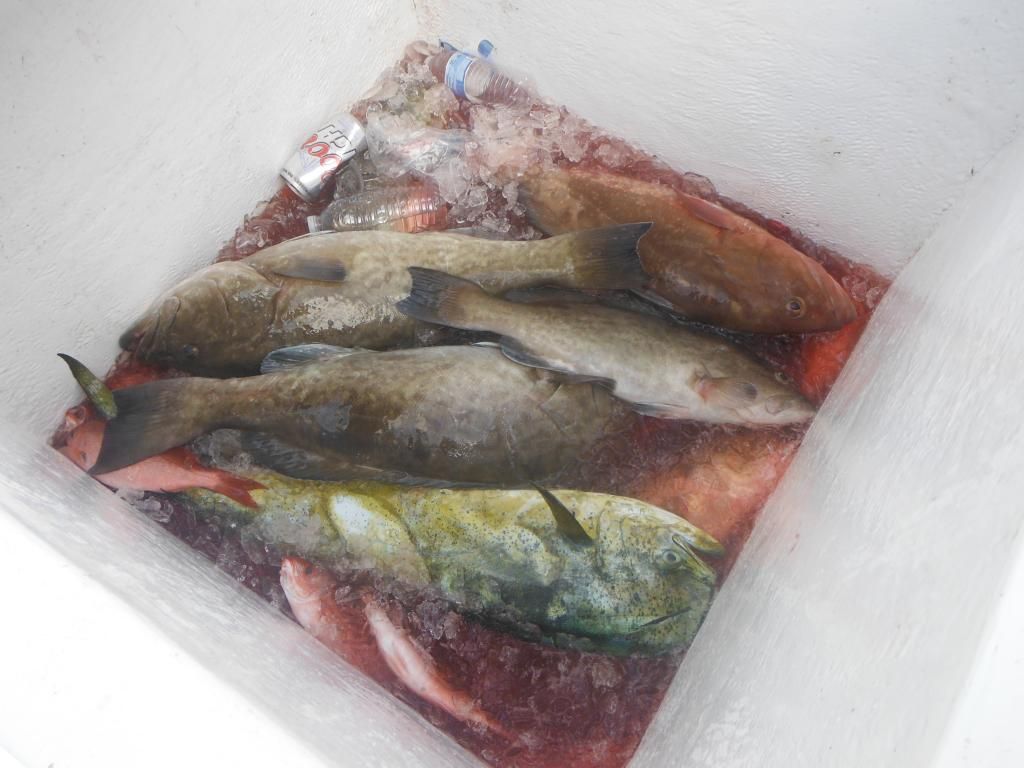 4 of the 5 cousins. They fed the whole clan quite well Saturday night!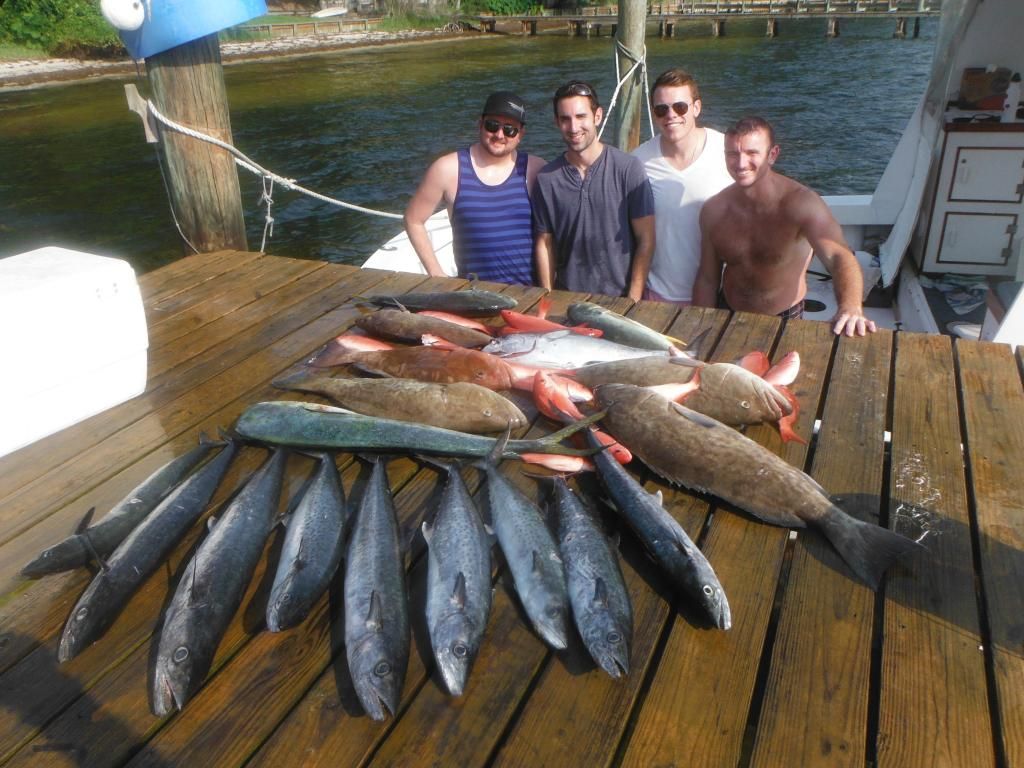 "Whatcha doin' in my waters?"