Home
›
East Central General Fishing & The Outdoors
Sat 4/26
SansPeur
Posts: 162
Deckhand
Headed out early to a little stiffer breeze than called for (Imagine that) but still not bad. Water looked good at about 100' so we dropped in and put out lines (I hate to overrun the fish) While we were getting them out I see a fairly large dolphin swimming about 10' down right off the corner of the boat. We quickly drag a bait in front of him and all he does is sink down out of sight. I figure we are in for a busy day. We work the area for a bit with nothing to show for it and start heading deeper.
We get to 180' and a line drops. I look back and see a nice little 10 lb dolphin busting the surface. Couple minutes later he is in the box. Weeds are scattered everywhere with no definition to them so we keep blind trolling. Go all the way out to 350' and all I hear on the radio is fish in the 100' to 180' so we turn back. In about 220' I watch a fish come in and grab the shotgun line (really cool when you get to see them streaking along with their back a few inches out of the water). He grabs the bait and then lets go. The reel is on the flybridge so I drop back quickly and after a slow count hit him again. Fish On! Hand the rod down to the cockpit and let one of the girls fight it. 5 minutes later , In the Box!
Went back and forth the rest of the afternoon from 130' to 300' with only a little barracuda in 130'. About 3:30 we headed home. Filleted the fish and immediately put some in Italian Dressing to marinate. After the boat is clean I break out the grill and we are eating fresh mahi and drinking good wine in the cockpit. Doesn't get any better than that.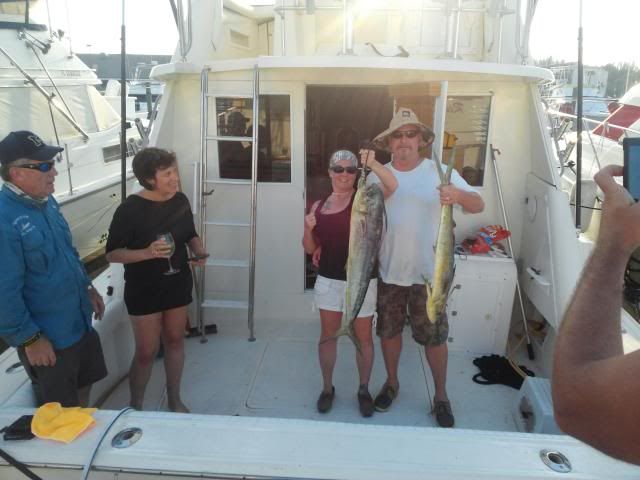 Since 2004 as ReelDreams.