Home
›
East Central General Fishing & The Outdoors
Sebasitan Inshore/Offshore 4/20-4/27
Final Point
Posts: 459
Deckhand
Hey everybody. Haven't posted on here in a while....been too busy fishing!! It's been a good week on the water with a lot of different variety. I'll do my best to keep the days and fish in order but it's all kind of blending together at this point(spent 7 of the last 8 days on the water)
Sunday 4/20
Had a trip with 3 guys who, before we left the dock, let me know that they planned on keeping "everything" that they caught. They said they loved fish....all fish, and it didn't matter what it was. Well, true to their word, they kept every jack, blue, Spanish mackerel, and pompano that we caught(inside the legal limits of course). Caught fish all day and they went home with more than enough for several meals for all their families.
Mon 4/21
Wind was howling out of the North at like 20knts and it was flat nasty in the river. We were forced to seek shelter in the inlet....but we still found the fish. We caught lookdowns, Spanish mackerel, jacks, some seriously large bluefish, and this jumbo. Went 48".... His new personal best.
Tues 4/22
Tuesday started a 3 day trip with Philip. He is a CPA in Atlanta and was taking a week off after tax season. We started the day fishing inshore around some nice shorelines. We got some quality fish including a 22" trout and a couple of lower slot reds. The jacks and ladyfish made for some nice catching as well. We took a break at noon and decided to pick it up again at 4pm. I met him at the dock and headed to the same area that had produced that nice red the day before. And low and behold, we found his brother. Went 45" and 38lbs on the boga. His personal best by almost 10lbs!! We caught some other reds but nothing bigger than this guy.
Wed 4/23
We started the day fishing for redfish(1 42" fish) and then decided to try for a nice snook. We made bait and anchored on the north jetty. The snook were there but we just couldn't seal the deal. Had 4 fish on and pulled the hook on every one. We did get to see one of them and it was a high 30 to low 40 inch fish....which would have been his new personal best as well. Oh well, we had that nice consolation redfish under our belts and a lot of rod bending to boot. Dropped him off at noon and made plans to pick him back up at 6pm to try for that snook.
Met Phillip at the dock at 6pm and it was off to the same place to see if we could get that snook in the boat. Unfortunately, the fish just weren't holding there. Drifted the inlet for a while and put 10lb jack after 10lb jack in the boat...mixed in with the occasional bluefish. As soon as the sun went down the inlet FILLED UP with 30" ladyfish. The instant our baits hit the water they were all over them. After about 20mins of this it became apparent that it just wasn't going to happen at the inlet. Decided to head to some dock lights that I know of that hold some snook and see if we could put one in the boat the old fashioned way. Got to our dock and mr. snook wasn't home, but this guy was.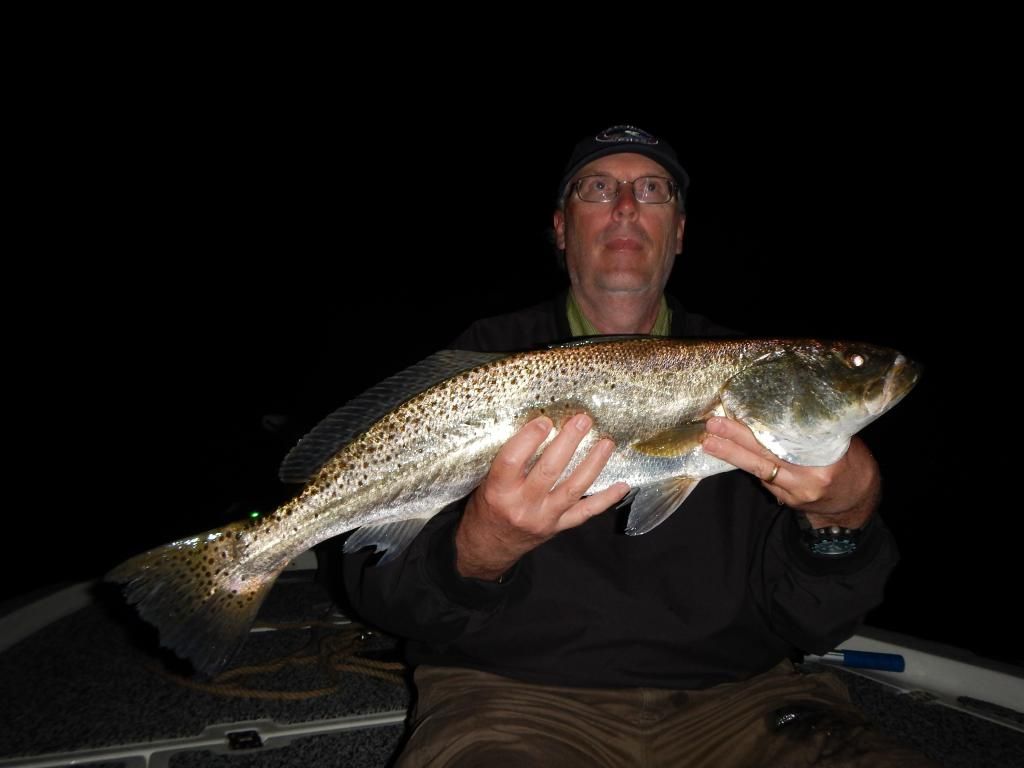 Went 29 1/2"...another personal best. We finished the night with a 28" fish, a 27" fish, 2 25" fish. Which now made his top 5 personal best trout. Not bad for plan B!! After we ran out of bait we called it a night.
Thur 4/24
Took the day off
Fri 4/25
The weather had been getting better and better as the week had gone on so we decided to try for a cobia on the beach. Headed out the inlet, made bait, and turned north. We didn't make it 200yds when we see bonita busting bait and it was fish on. Nice way to clean the skunk off the boat. There were bonita schools hitting every 1/4 mile all day long....made for a nice break from scanning water looking for the brown bomber. Around the Melbourne area I thought I saw some rays jumping in the distance. Put the hammer down and ran over to the area and it wasn't rays....it was a GIANT school of spinner sharks. At any given time there were 15 sharks in the air. We ran into the middle of them, threw a pinfish out, and 30 seconds later we had a drag screaming good time on our hands. Phillip fought the shark on too small of gear all the way to the boat before the line couldn't take it anymore. It was definitely over a 100lbs...closer to 130. It put on a nice show with 3 or 4 jumps and it went on it's way leaving Phillip with sore arms and no ambition to try another one. We left them circling the boat and went back to hunting some cobes. By this point we had only seen one fish and it dove as soon as the boat got near it so deeper we went. We scouted all the way out to the Pines area and decided to try some bottom spots. First up were the ever present, endangered ARS.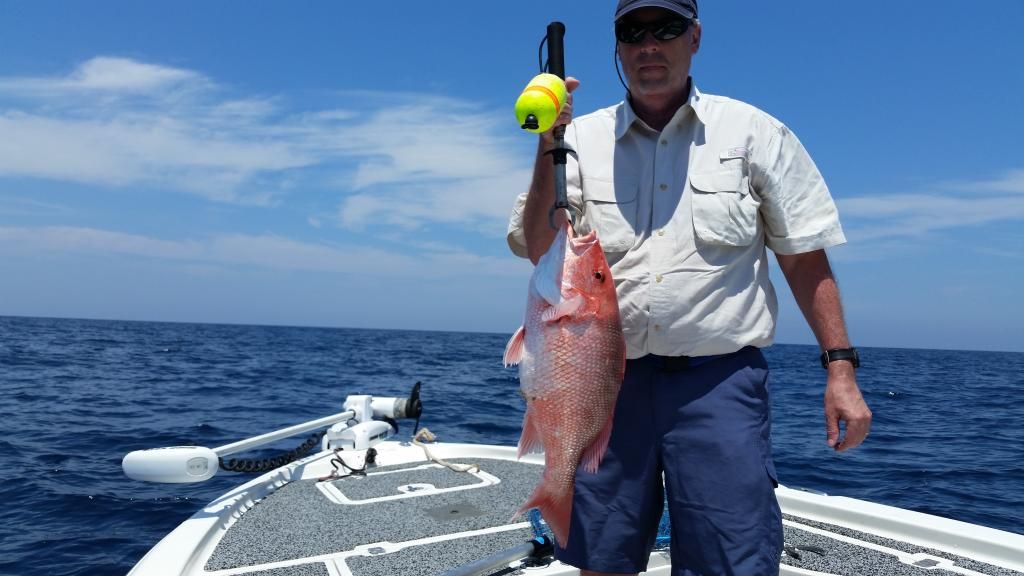 Caught him and 8 of his buddies who all got to go home. We also caught 3 of these guys....just a few days too early.
Mixed in with these throwback species were some very nice trigger fish, lane snappers, and 3 short cobia. Then, as I was cleaning the boat up to head home, Phillips rod gets hammered by a substantial fish. I thought it was another gag that we were going to have to throw back, but up pops this tasty morsel.....all 14lbs of him!!!
Weather had been perfect all day and we made the run to the inlet at 40mph. Ended the day on a high note and sent Phillip home with some good eats!!
Sat 4/26
Had an afternoon trip with Steve and decided to try to put a nice snook in the boat at the inlet. It was just about as dead as I've seen it out there. Only put one big jack in the boat. Well, since the docks had produced so well the other night, figured we'd give them a go again. Hit a different dock this time in the same area and had similar results. This was the big fish of the night. Again, a new personal best!! Went 28"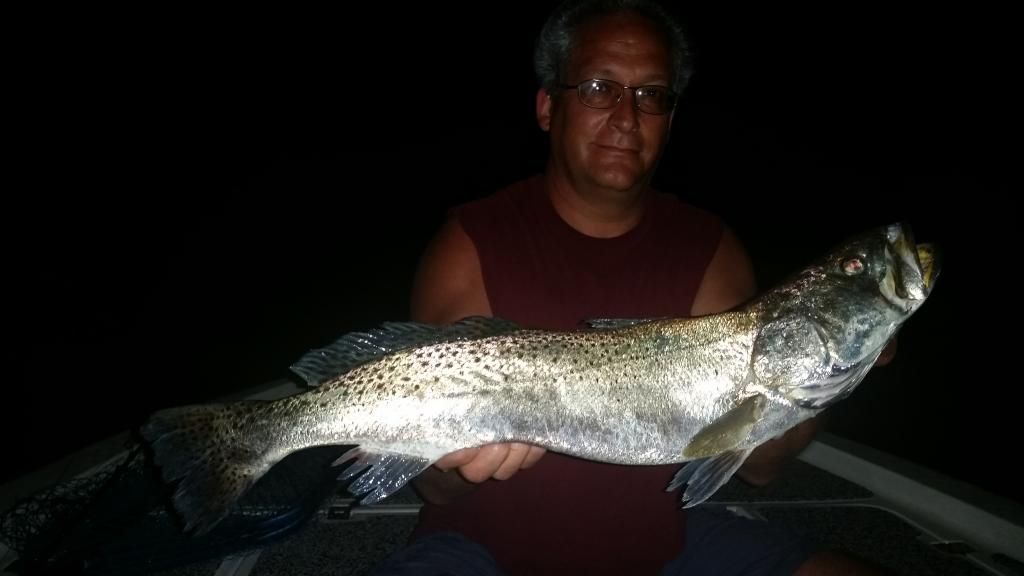 Ended the night with 3 overslot trout from 24-28"
Sun 4/27
I met the Harreldson clan at the dock at 8am. They had their 3 kids along for the ride and wanted to do some catching. We hit some spoil islands to start the day and put ladyfish, jacks, and bluefish in the boat. The action was a little slow so we decided to try for some of those hard fighting jacks at the inlet. It didn't take long and we were in the fish.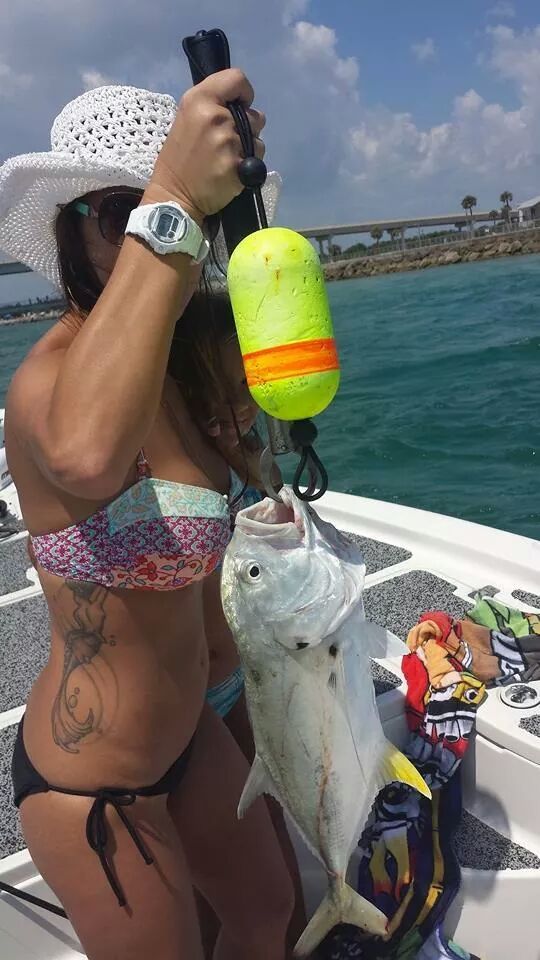 Big fish went to Jordan with this nice 12 pounder!!!!!
It was an intense 8 day fishing marathon. Had some great days on the water with good people and some quality fish!!
Final Point Charters
Specializing in Offshore/Nearshore/Backcountry trips in the Lower Keys
Come fish the World Famous Lower Keys and see what all the hype is about!
Check out our website for rates and booking information.
772-584-1239
[SIGPIC][/SIGPIC]