Home
›
Ten Thousand Islands General Fishing & The Outdoors
10k and ENP fishing trips and fish ****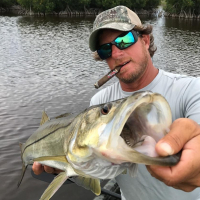 Joe Snook
Posts: 468
Deckhand
Its been a long time since I posted because I got a new phone and have been too lazy and too busy to mess with getting my tapatalk dialed in. There have been some awesome fish landed lately.
this fatty was caught yesterday along with a few other small ones and some other fish. This Pig was 37" and I estimate it to be 30#
this was a couple days ago and it was 26n7/8" and really fat.
got into some of these offshore while out destroying some fatty pompanos
ive been running kayak tours and bringing my rod along to keep me from gettin bored and people love it.
ive been doing my Snook trips with DOA shrimp and thats what I got this beauty on.
As you know im always after the Maneating fish if I have a client willing to tug on one and believe me theres lots of people who are very willing.
well thats about it wish I had time to actually make it an interesting read and post more pics but im beat.Tear Em Up!
Sent from my SAMSUNG-SGH-I547 using Tapatalk
southwest florida fishing guide in the beautiful 10k islands, everglades and more
www.Joesnook.com