Home
›
Northeast (3 Forums)
›
Northeast General Fishing & The Outdoors
Remembered the Camera, But no Fish
Coydog
Posts: 418
Deckhand
Well, went out again and hit the flats and creeks along A1A just to kill time and get out on the water.
Nothing was hitting, saw small fish jumping out of the water around the oyster beds and weeds, no idea what they are. Fished fresh dead shrimp, and few lures. Just to windy to do much else.
But, still had a blast, I mean between staying home and watching TV or looking at something like this,
I'd honestly choose looking at the rod even if nothing is biting.
Even though no fish were biting it was far from boring, at least when my Australian Shepherd Waldo is around. Were to start.
Ok, got out and got the gear mainly set up, tie Waldo up to a long piece of rope and attach one end to the harness other to the car. So, after he is secure I go take my PVC pipe and start to twist it into the ground. He walks up and lifts his leg. The real funny part is he really helped the ground around the pipe tighten up and allowed a good grounding so the pipe was solidly in the ground.
As I am casting away he goes off into the surf and starts to chase after the crabs and what I think are baitfish in the shallows. Real interesting thing is when he see's a good sized crab he will go and try and dig the thing up. Couldn't really get any of the funny shots since they were very much random and usually when I had my rod in my hands. But got a couple good shots of him being himself.
Wald reacting to the jumping fish about. He was NOT happy about those fish, whined a lot when he did notice them
Double duty: Watching the pole and searching for crabs.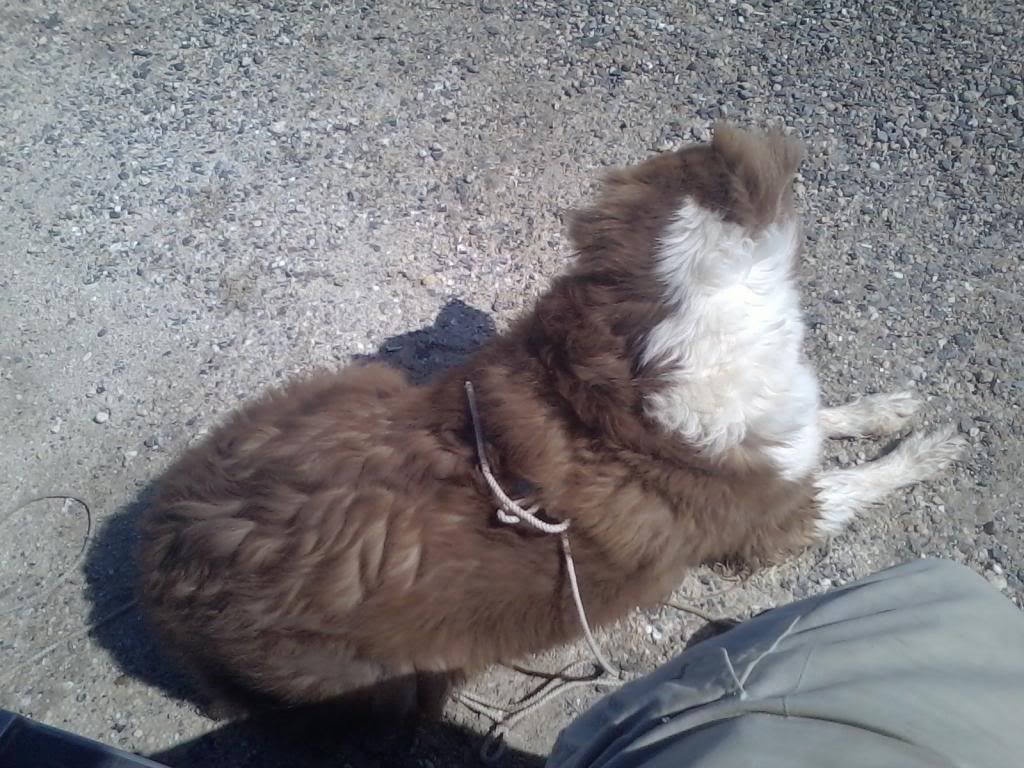 Him just chilling at my feet.