Home
›
South General Fishing & The Outdoors
Biscayne nights, Everglades days, 4 March
lemaymiami
Posts: 3,097
Captain
The night tarpon scene is still going strong with fish averaging 20 to 40lbs that are eating flies and lures equally well. Early last week we jumped 8 or 9 one evening on lures with light spinning gear. That night the fish worked us over pretty well but never came to hand for a photo.... A few nights later I had Neil Franklin and another angler aboard for some fly rod action. That night we had to work a bit for our hookups but they came at more than one bridge. At around 1Am Neil hooked a big fish on his 9wt rod - a bit too big it turned out.... We fought that fish for over 30 minutes before getting a good look at a fish around six feet long (I estimated it at between 70 and 80lbs...). At that point we were well over a quarter mile from where we'd hooked up. Since we never saw the fish Neil was still using a much too light 9wt and did a great job fighting the fish until I was able to leader it -but had to let go.... Four more times I had the leader but the fish was still way too strong. Finally Neil's rod broke at the base ferrule and it was all I could do retrieve the broken portion (which had slid down the leader to the fish...). Giving it one last try I almost had the lower jaw when the fish slapped me upside the head with its tail and took off again - breaking the leader.... Here are a few pics...
[img][/img][img][/img]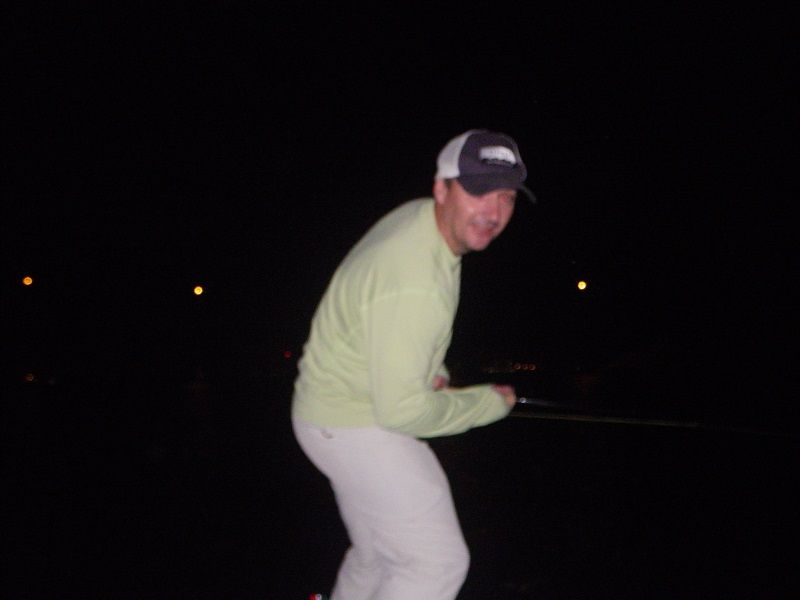 [img][/img][img][/img]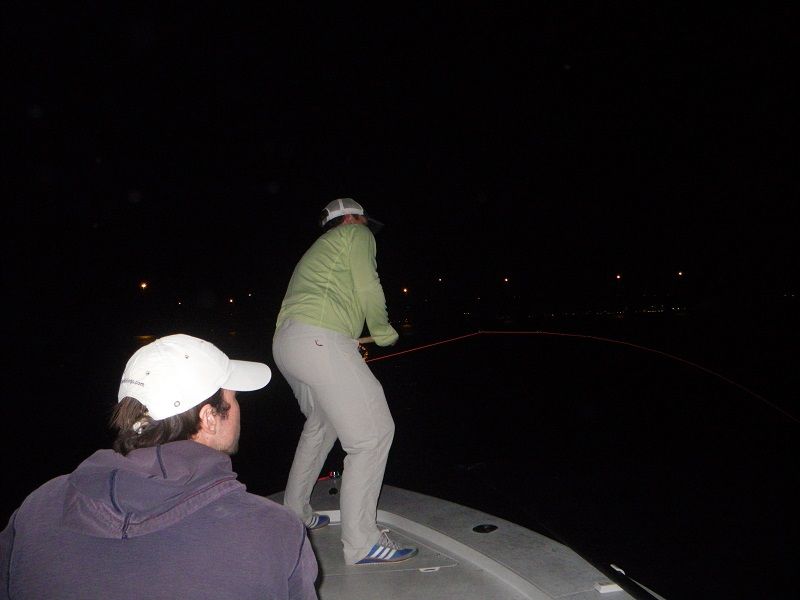 [img][/img][img][/img]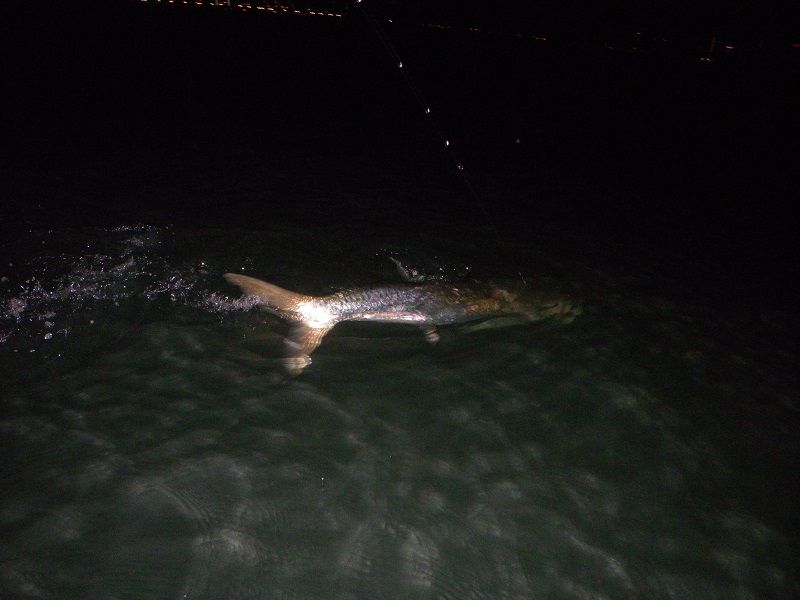 When you fish tarpon a lot you learn that every fish is an individual and some are a lot more "fired up" than others.... I think we'd have needed another 15 or 20 minutes on this fish (at least that's how my head felt...). We called it a night at around 2am....
A day later I was back over at Flamingo fishing New Yorkers, Alan Lewis and Evan Shussett, using spinning tackle with fish for the table high on the agenda. Right now there are lots of nice slot sized redfish around river mouths along the Gulf coast but first we made a few stops for some fresh run gulf speckled trout - keeping three in the 18 to almost 20" range. These were fat, bright silver fresh just in to the coast. All were taken on small Gulp tailed jigs.... An hour later we had an appointment with those reds at just the right time of tide.... The redfish showed up exactly as they have these past few weeks and for two hours we were in them solid - mostly on bait - and all were solid mid to upper slot fish. Our one redfish on a lure was taken from us by a hungry shark, leaving only the head.... Here's a few pics...
[img][/img][img][/img]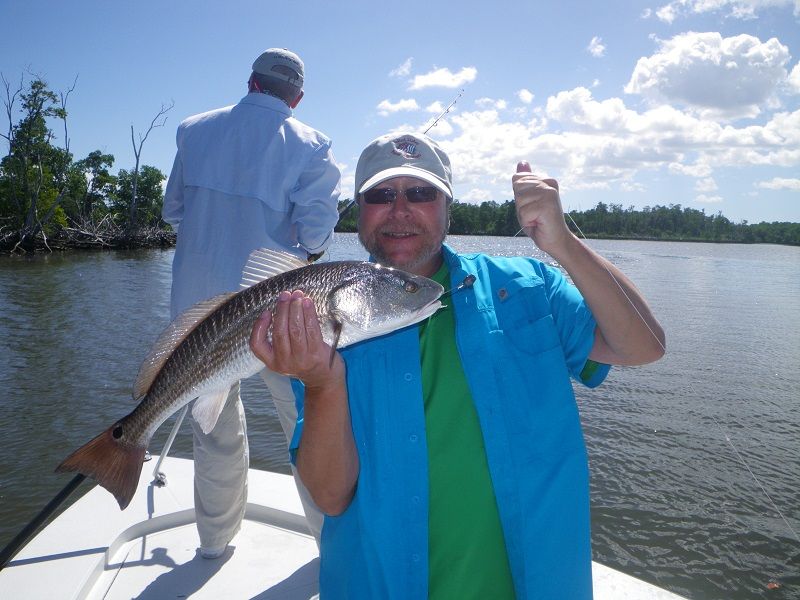 [img][/img][img][/img]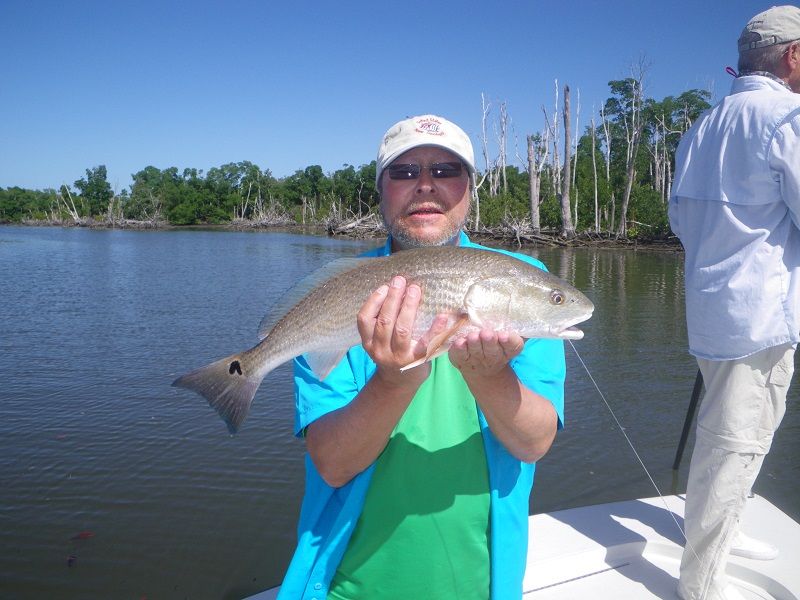 [img][/img][img][/img]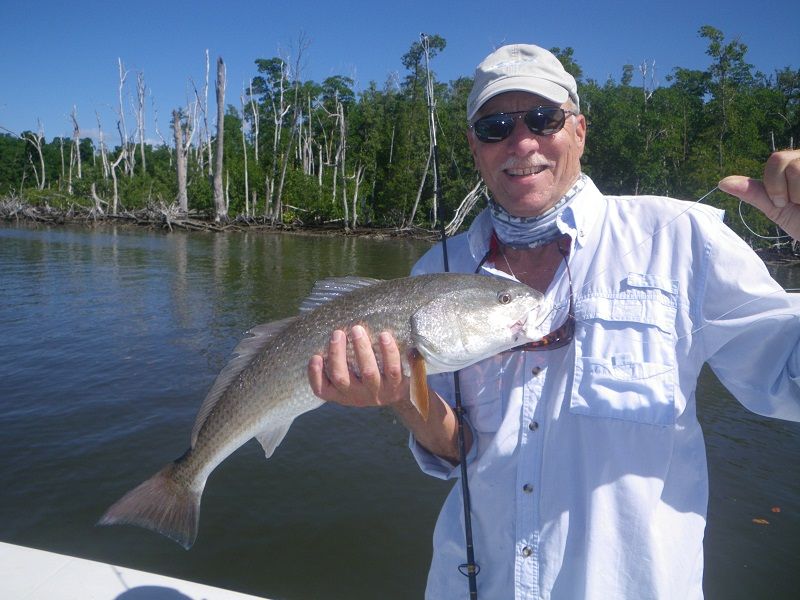 Alan and Evan caught at least a half dozen this size, keeping only two for the table....
All around the reds were a variety of big sharks (and a few unknown "un-stoppables", all you know when you hook up is that whatever you've hooked doesn't even seem to notice that hook....). In the afternoon yesterday we worked a few areas holding tarpon but they weren't having any. In a day or so we'll remedy that by going after the tarpon first....
Both Flamingo and Biscayne Bay are fishing well now - even in an exceptionally warm winter season. In coming weeks the night scene for sightfishing tarpon in bridge shadows and docklights will get better and better all the way through April. Over at Flamingo the big snook will begin to show and the giant tarpon will be more and more active. Once they take up residence in the small rivers that drain into the gulf coast we'll be doing some close quarters work on those big fish. There's just nothing like the saltwater portions of the Everglades for an outstanding day on the water...
Tight Lines
Bob LeMay
(954) 435-5666