Home
›
Keys General Fishing & The Outdoors
A Team Fiasqo Yankee Capt Report: The Legend of Raúl (2.23.14)
LitiGATOR
Posts: 819
Officer
It had been since this past June that I had stepped foot aboard the infamous Yankee Capts. I've had the itch for a long time but between work, inclement weather, and myriad other issues, I wasn't able to make it down since then, although several attempts were made. But like most Team Fiasqo trips, the seeds are planted from the North. This was no exception.
For weeks, the northern and polar vortexed contingent of Team Fiasqo—Untouchable—had been telling me that he was "eyeing" the weekend of the 23rd to come down and do a trip aboard the Yankee Capts. As always, I paid him no heed until the week of the purported trip. Usually when he plans a trip, he brings the lovely New York weather with him and we end up not going because of the weather. So, for a trip departing Friday night, I didn't even look at the weather until Wednesday. Unfortunately, since Untouchable has to book a ticket and plan accordingly, he doesn't have the same "last second" luxury that I do with deciding to go on a trip.
We both checked the weather on Wednesday and believe it or not, it looked amazing. An anomaly and sure to change, right? Well, Wednesday turned into Wednesday night and the weather still looked perfect. Phone calls were made to Capt. Greg, inquiring as to the number of patrons already booked. "30-something" was the response. "Get your **** down here," was the follow-up. The follow-up was followed-up with "Bring some of Mama Q's food for me." "Of course Greg," I responded.
Mama Q always oblige's Greg's food requests and I firmly believe she likes him better than her kids.
"Here are two boxes of food, one for you guys (read, my brothers and me) and the other is for Captain Greg."
"The bigger box is ours and the other is for Greg, right?" I ask.
"No, the big one is for Captain Greg," she quipped.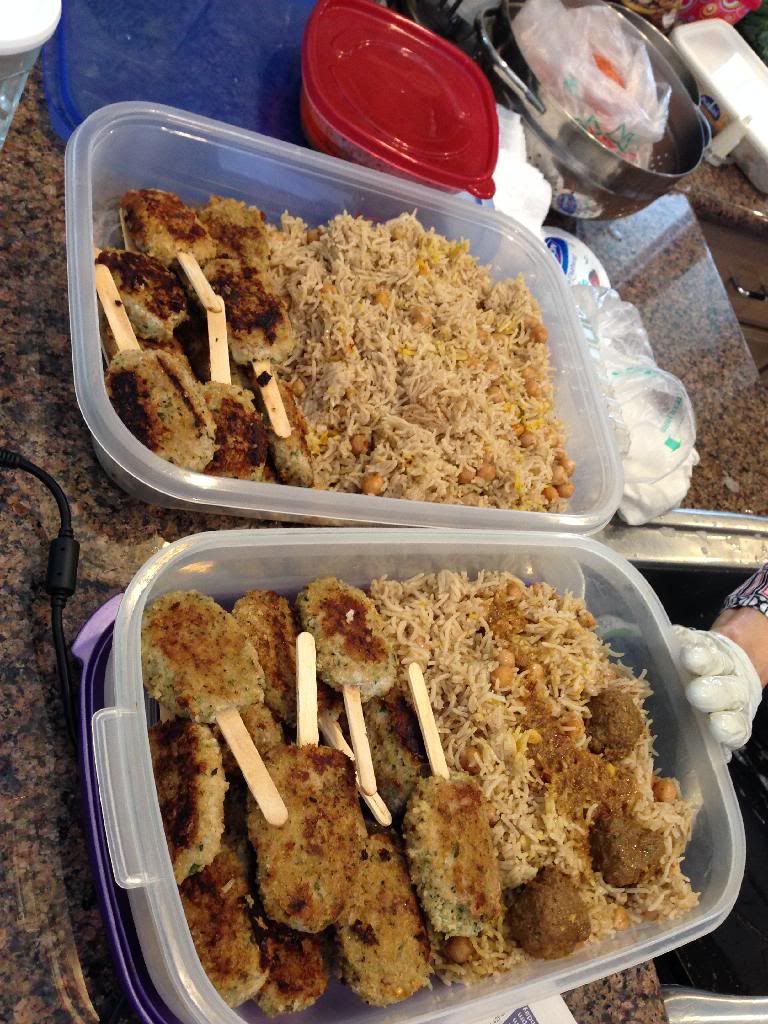 Thanks, mom.
So, who's going?
Untouchable – check
Liti – check
The Other One
– undecided and fighting a stomach bug
Johnny f/k/a "Another Grand," a/k/a "White Devil" — "100%" in and "packed for weeks"
If you've followed the Team Fiasqo annals you'll see several consistent themes. One of those themes is that Marsad is the one who catches bait for his brothers. Untouchable is in NY and his trifecta of work, WIFE, and kids preclude him coming down earlier to help. The Other One, well, he just doesn't catch bait. Never has, never will.
Like the weather, the bait had been pretty cooperative in the last couple weeks and I planned on hitting "the bait spot" for some goggle eyes Thursday morning. After a brief consult with Johnny, he said he would meet me at "the bait spot" at 6 a.m. But I know better than to rely on Johnny being there, so I contacted my buddy Cody and asked him to help me catch some gogs. He kindly obliged.
Thursday morning, Cody and I met at "the bait spot" and in a couple hours procured almost 200 goggle eyes.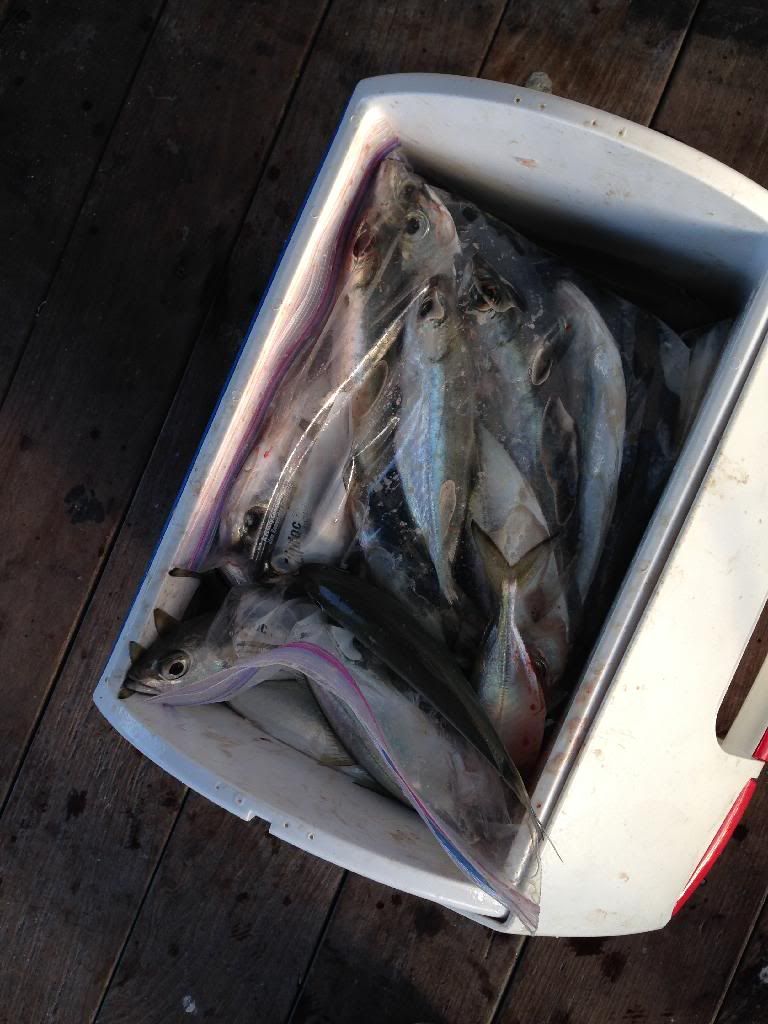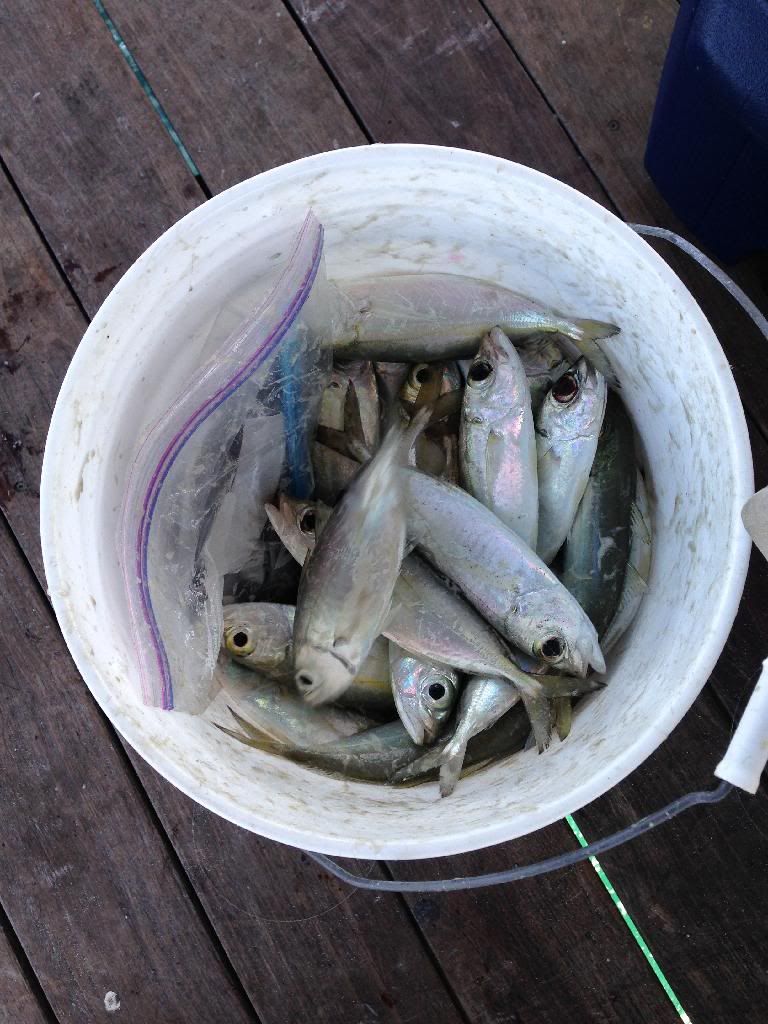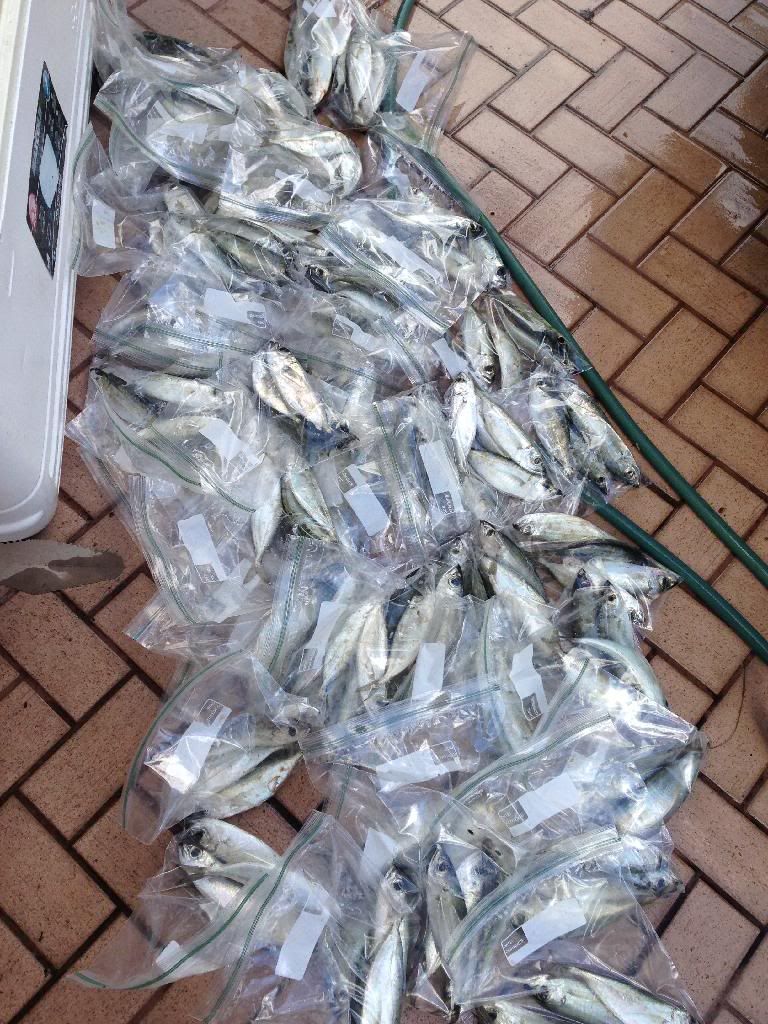 Of course Johnny was battling his own demons (i.e., girlfriend, dog,
Sallie Mae
) and didn't show up. Immediately I scratched him off my "mental checklist" for the trip. But the bait . . . it was too easy; it was all too good to be true. Perfect weather still in the forecast, perfect baits and plenty of them—what's the catch (no pun intended)? I wouldn't find out till the very end of the journey; stay tuned.
Along with the "Marsad-catches-all-the-bait-for-his-brothers" theme, another Team Fiasqo theme is "Marsad-gets-all-the-tackle, makes-all-the-rigs, organizes-everything, and-picks-up-Untouchable-from-the-airport-with-everything-already-done," theme.
It's now Friday morning. I have tons of gogs (188) for my brother(s) and I. Tackle is rigged and ready (shout out to the
Lead Bandit
).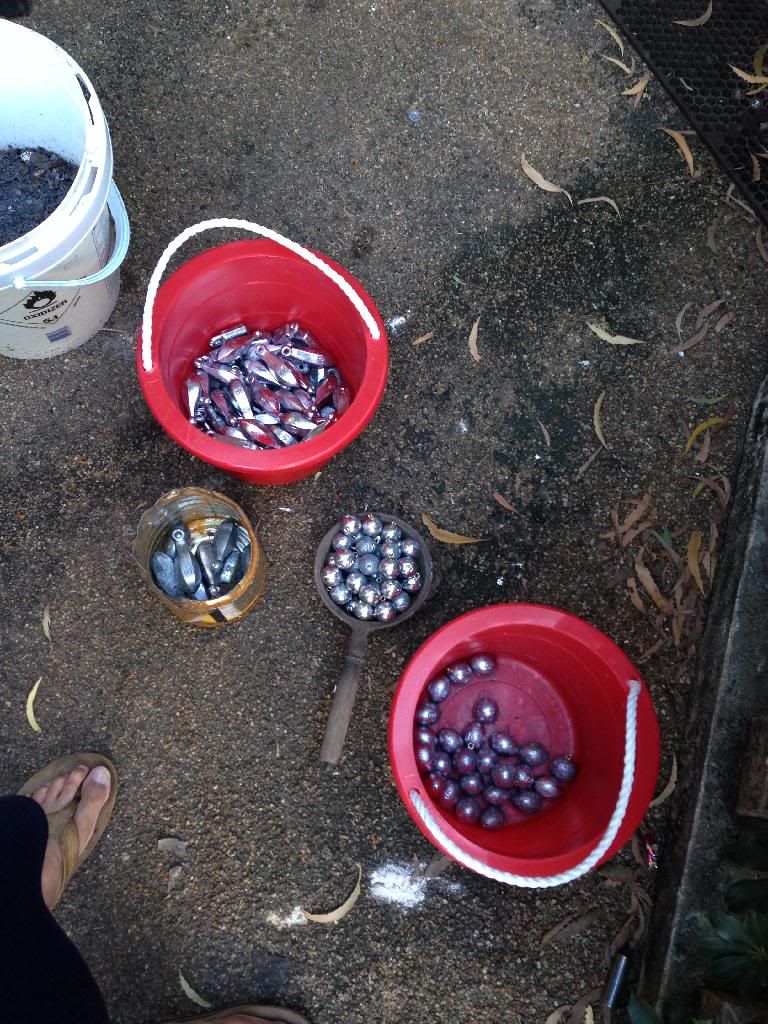 Untouchable is set to land in Ft. Lauderdale at 9:30 a.m. I still haven't heard anything from Johnny and The Other One is still battling the stomach bug. Experience tells me that Johnny's "100%" in is really a "not a chance in hell." While
The Other One
remained a last-minute decision, I could tell that he wasn't feeling well enough to go. It would be Untouchable and me on this particular journey, and I was fine with that. But wait . . . what's that? General Turtle wants to go bad and has been waiting on word from Johnny? Well, Turtle intelligently assumes Johnny isn't going and asks if he can ride with us; he's immediately added to the itinerary. We always have a blast fishing with Turtle.
The Team Fiasqo standard-operating-procedure is to rent a vehicle. "It's just easier," is the justification. Well, not always as we found out. After picking Untouchable up from the airport around 9:45 a.m., we went to get the rental vehicle, a nice new F-150. Perfect for this three-man adventure.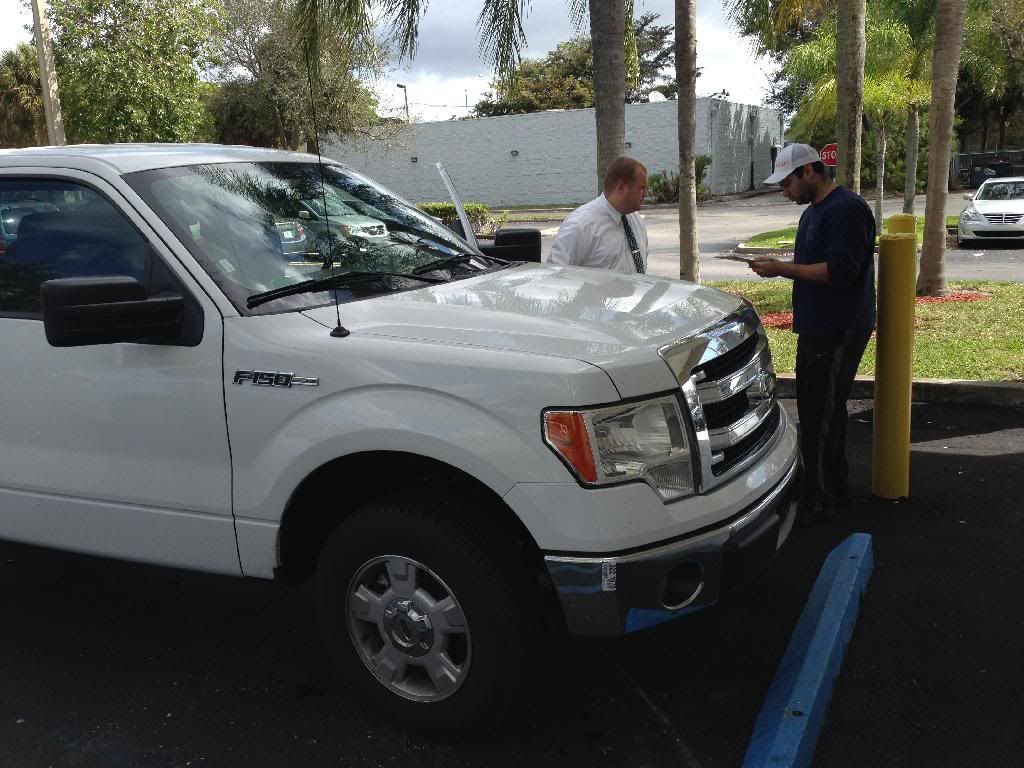 We head back to the Boca Raton homestead so Untouchable can hang out with his mother for a couple hours before we depart. Well, the "family time" was cut short and replaced with "I'm going to the pier to get some ballyhoo" time. Who was I to argue, we needed some ballyhoo . . .
He returned about an hour later with almost 80 fresh and perfect ballyhoo.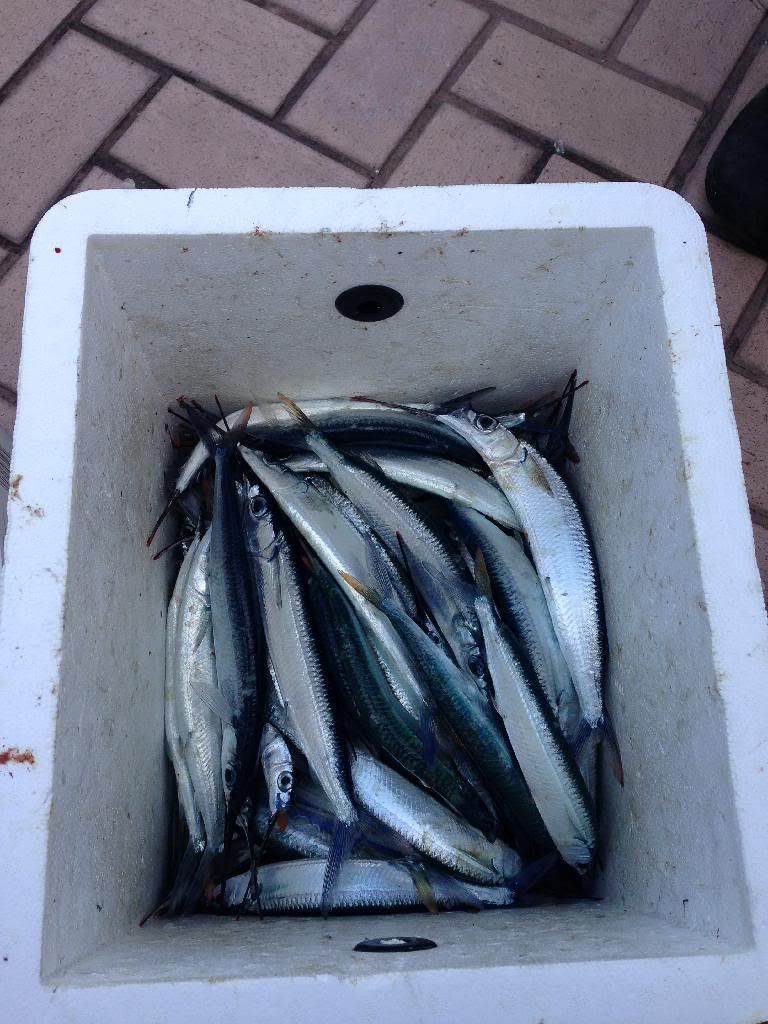 After a quick lunch we loaded-up Enterprise's finest and made our way south to pick up Turtle. Upon arriving at Chateau du Turtle, he greeted us with one rod (sans reel) a giant duffle bag, and most importantly—a bag full of "just-steamed" stone crabs from his traps. Game on. Reel? No need for a reel. Untouchable was kind enough to lend him the Trinidad 30 for the trip.
Conventional wisdom would dictate we hurry-up and try to get down to Stock Island as soon as possible, and then eat the crab at the boat. Team Fiasqo scoffs at conventional wisdom. Perhaps "scoff" is a bit harsh. We have just collectively decided that there are usually better and more creative ways to do things. The crab claws were placed on ice, Turtle grabbed a butter knife to crack them, and we made our way South.
Upon arriving at Florida City, we pulled into the first gas station we saw to get some fuel. And I took that opportunity to grab the crabs and start cracking/eating them. Right there at the gas station. Pump 8, to be specific. We're classy like that. The claws were delicious and consumed in a manner of minutes, leaving a trail of shrapnel-like shell fragments all over the place. Untouchable returns with a few Long John Silvers platters. Time to go . . .
A couple quick stops later and we pull up to the mothership, in all her glory, around 9 p.m. A quick check with Johnny was greeted with a barrage of texts.
"Ugggh"
"OMG"
"On Couch"
"Packed"
"Grumpy"
"Angry"
"Adversity"
Safe to say at this point it wasn't happening for Johnny.
With a sail time of 10 p.m., we quickly loaded our gear onto the boat, greeted some familiar faces and made acquaintance with some new ones. Up on the bow, with the ever-present mischievous look—Jarbas. I love trips where Jarbas is on board for two reasons: we usually crush the fish, and, more importantly, we have a lot of fun messing with each other. That will come into play later. He's also one of the top Mutton fishermen on the Yankee Capts right now and I always enjoy trying to keep up with him.
While catching-up with Jarbas and placing my fishing rods up towards the bow where I would be fishing, we spot a massive roach fly onto the deck, complete with its own cooler full of bait and custom Calstar rods. He headed right for his bunk in the anchor rode box —but not before eyeing-up Jarbas and me, giving us the "what the hell are you staring at?" look and then disappearing into a labyrinth of scales and coils. I'm pretty sure he said his name was "Raúl." His abuelos came over in the Mariel boatlift. They shared a raft with Tony Montana. Raúl no tiene miedo de estos payasos.
I proceeded to tell Jarbas how deathly afraid of roaches Untouchable was.
As the boat pushed-off, I only recognized a few faces, there was a large contingent of patrons that I had never fished with before, and they were congregated towards the back of the boat. Untouchable, Turtle, Jarbas, our new friend "Reese" and I would be fishing the bow of the boat for the majority of the trip, which turned-out to be a wise decision.
Capt. Greg made an announcement that we would be traveling about an hour longer than normal because he wanted to try a certain area. So that meant about a 6-hour ride out. The majority of the patrons headed down to the bunks to catch some shut-eye. I did too, and actually got about an hour's sleep, which never happens. Untouchable on the other hand was not so fortunate, as one eye remained open at all times, looking for Raúl.
As the RPM of the diesels slowed down from their rhythmic "cruise" tone, the anchor was deployed and weary, sleep-deprived patrons stumbled out of their bunks and onto the deck. I know we had gone far because a slight hint of daylight was already breaking onto the horizon.
It didn't take long before a couple anglers up-front hooked into some good fish. A couple smaller muttons hit the deck to break the ice. Then Jarbas and I hooked into a double of good muttons, landing both, while Untouchable also hooked into a nice fish.
Untouchable tight on the pulpit
Turtle waiting patiently for the bite to come, with Jarbas in the background sending bad vibes.
The sunrise and morning bite were excellent. Almost everyone in the front had managed to break the ice with a couple muttons. Can't really ask for a better start than that. The patrons in the back of the boat were struggling with the muttons, but a fair number of yellowtails and porgies were making their way into the stern. [Mutton fishing isn't easy and there's a particular methodology to it. Greg has detailed "tips" on his site and both he and the mates are happy to help in person. The banality of the advice shouldn't diminish its importance]. Suffice it to say, double-hooked pinfish filet was not cutting it.