Home
›
East Central General Fishing & The Outdoors
Late SI offshore 2-14 2-16 bass and sharks
AOKRVs
Posts: 2,082
Captain
Went out on Friday the 14th with the wife – Great Valentines Day – We got a late start because of some truck problems and a late night – I got back from a trip to Ft Meyers around 3 am so we cleared the inlet around 11 am.
Our plan was to head out and troll for some mahi so we headed to 90 to look for signs of life. Green water and nothing looking fishy so we keep going to 180. Started seeing a temp change around 160 and a couple of flyers at 180 no organized weed line. We decided to troll the temp change around 160-180. Used blue – white skirted hoo, green bird chain and cedar plug. Seas were 3-4 but spread out so we trolled in and out of the temp change with no hits. After trolling towards the north for awhile we came across a nice weed line – ran up and down both side with no hits. :banghead
I stopped and drifted a good size mat looking for something hanging out underneath. Threw out some chunks of squid but didn't find any takers. With a short day and my knee still screaming we headed to the bottom spot that was found the other day with Dave (The Great Wall) and crew. The spot was not as lit up as it was a couple of days ago. We did make several drifts with cut squid and picked up a few triggers, lots of sea bass and a few porgys. Seas got calm and we head home with something in the box.
Sunday the 16th, kids had two friends over so we had six on this crew – got up around 5:30 to get ready and it was cold around 45 so we decided to let the kids sleep in a little and left about 7:30. Seas were supposed to be 2-3 on 10 sec but it was a rough ride to 90'. Water was dirty and no signs of life so we headed to 160' and the temp break. Seas still rough 3-5' plus no weeds so we put out a spread at the temp break and headed north. We had 1 knock down on a hoo with blue and white skirt and 2 on an alien plunger jet but no hook ups. With very rough conditions, knee on fire and a family of dolphins playing around our boat we decided to hit the bottom spot and get the kids on some sea bass. Ran to our newly found spot but today nothing shows up on the sounder. :banghead
We did see this guy but nothing under or around him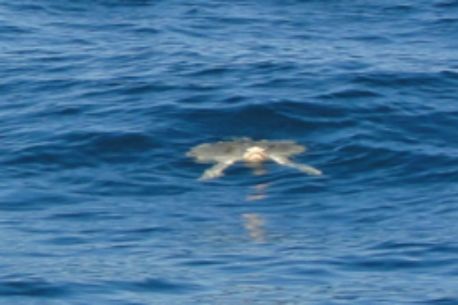 We troll and drift around for awhile and eventually mark something. In go the lines and we start hooking up on sea bass – finally the kids have tight lines. They are not the biggest fish but using 4000 series penns they bent the rod. After several drifts we have sea bass, triggers and one lane snapper in the box. On the long drifts we started getting sharks which the kids had a blast with. Two of them think they are shark hunters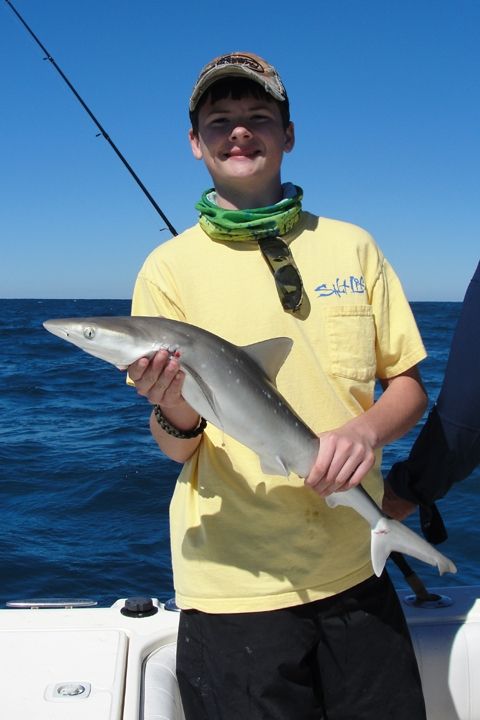 Kids were happy and tired so it was time to point the World Cat towards the inlet and head for home. As we were cleaning up that big Hammerhead made a couple of passes. It was about 8-10' and got everyones attention - they are pretty cool to see. Even with the rough seas we still cruised home comfortably at 33mph.
Can't wait to get out and do it again
Tight lines all