Home
›
Panhandle General Fishing & The Outdoors
LBD... 2.1 (not this little guy's day)
Panhandler80
Posts: 8,038
Moderator
No trophy, but it was a fun hunt... most of it anyway.
As some of you may know, this year has been a real struggle for me. Multiple misses with the rifle (including a giant in GA) and an utter lack of deer activity on the lease.
Woke up at 4 am this morning and it was pouring down rain. Really wanted to roll back over, but I showered up and figured I'd sit in truck until it eased a little bit. With a little light in the sky the rain eased, so I a silently made my way over wet leaves to a lane that essentially parallels my food plot; the two actually almost come togther where I was sitting and then diverge at about a 30' angle.
So, I brush myself in with some palmettos that I'd brought from the house, got my bipod set up, face mask on, rifle resting in yoke with butt in my crotch and it was go time. Rain eased up and about an hour later I thought about hunting the actual plot. Figured if I had the sudden urge to move, so might they! Decided to stay put. Low and behold, here comes a deer! Mind you this is deer number FIVE that I've seen from the stand at my lease, so I was a bit surprised and excited. I watch him walk towards me up to about 70 yards. In scope whole time and it's clear that he's not a shooter. He then gets broadside and rubs on a tree for a solid minute. Cna't see head, but his vitals are begging to be shot. I excercised self control and let him go.
My little spot on the road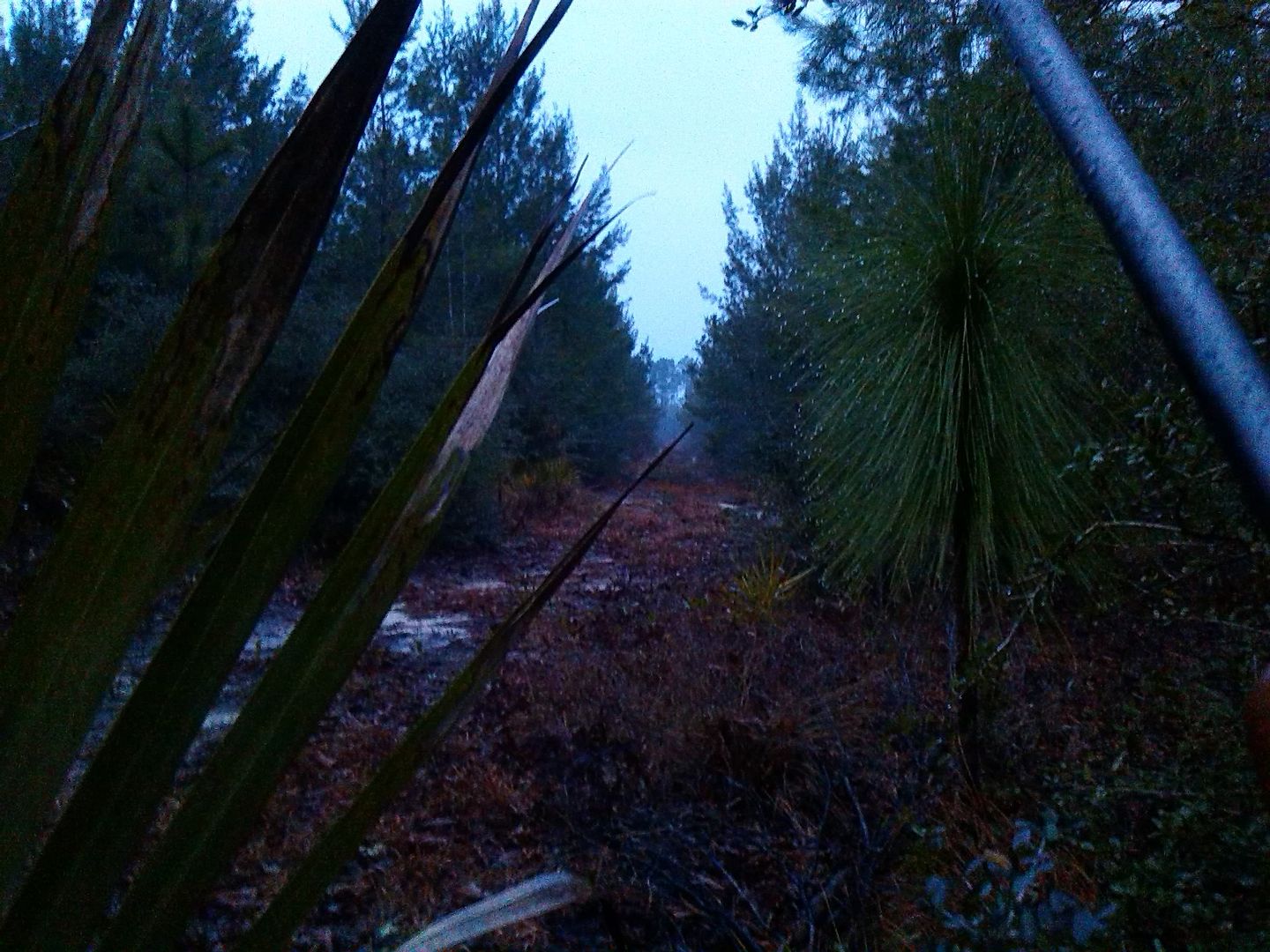 Looking down into my little nook later this morning.... Simple stuff, but effective.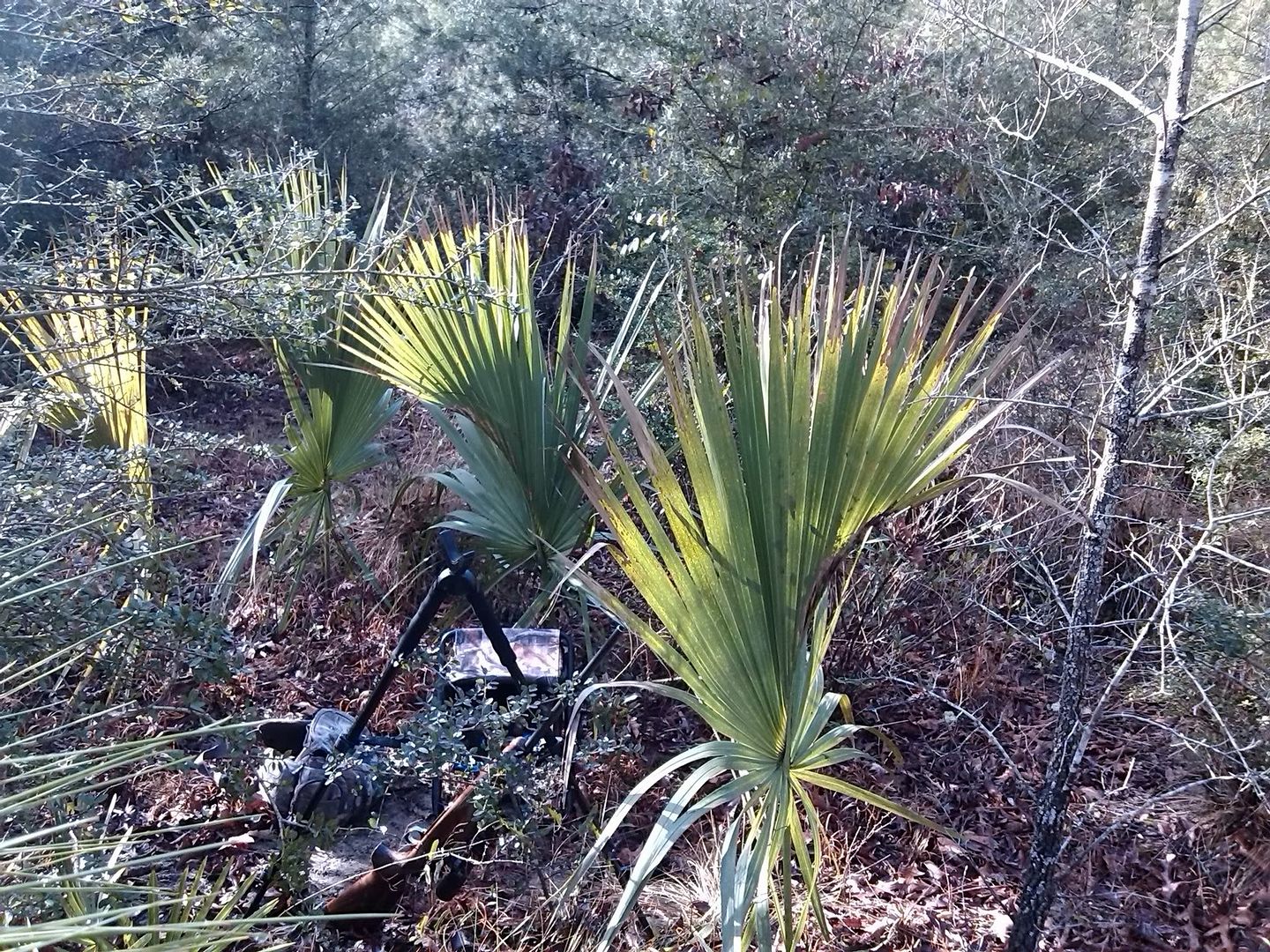 About 20 minutes later another deer walks out at about 150 yards and is on more a mission. Came out of same side the "other deer" went in. He was crossing the road at about a 45 and I barely had time to get him in scope. Given the angle he was headed an the narrowness of the lane it was then or never. I let her rip!
He kicked and headed into the woods. I felt good about it. Hopped off my dove stool and got down to where I thought he went in. No blood or dug in tracks. Head down a well used trail and about 15 yards in I found him.
No trophy, but I'm happy. Hit right were I was aiming. Maybe a touch low, but I put it just ahead of guts and came out his opposing shoulder. It's been a while since I piled one up by hitting where I was aiming. I really think I do better when there's less time to think about it, but who knows.
Anyway, I was not able to hang around and catch **** from the lease members about the "little" deer that I shot. It was an honest mistake and I had very little time to judge him. He had two times busted off... clearly somebody been whoopin' up on him. Poor little guy had a bad year. Probably 135 lb deer. 12" inside.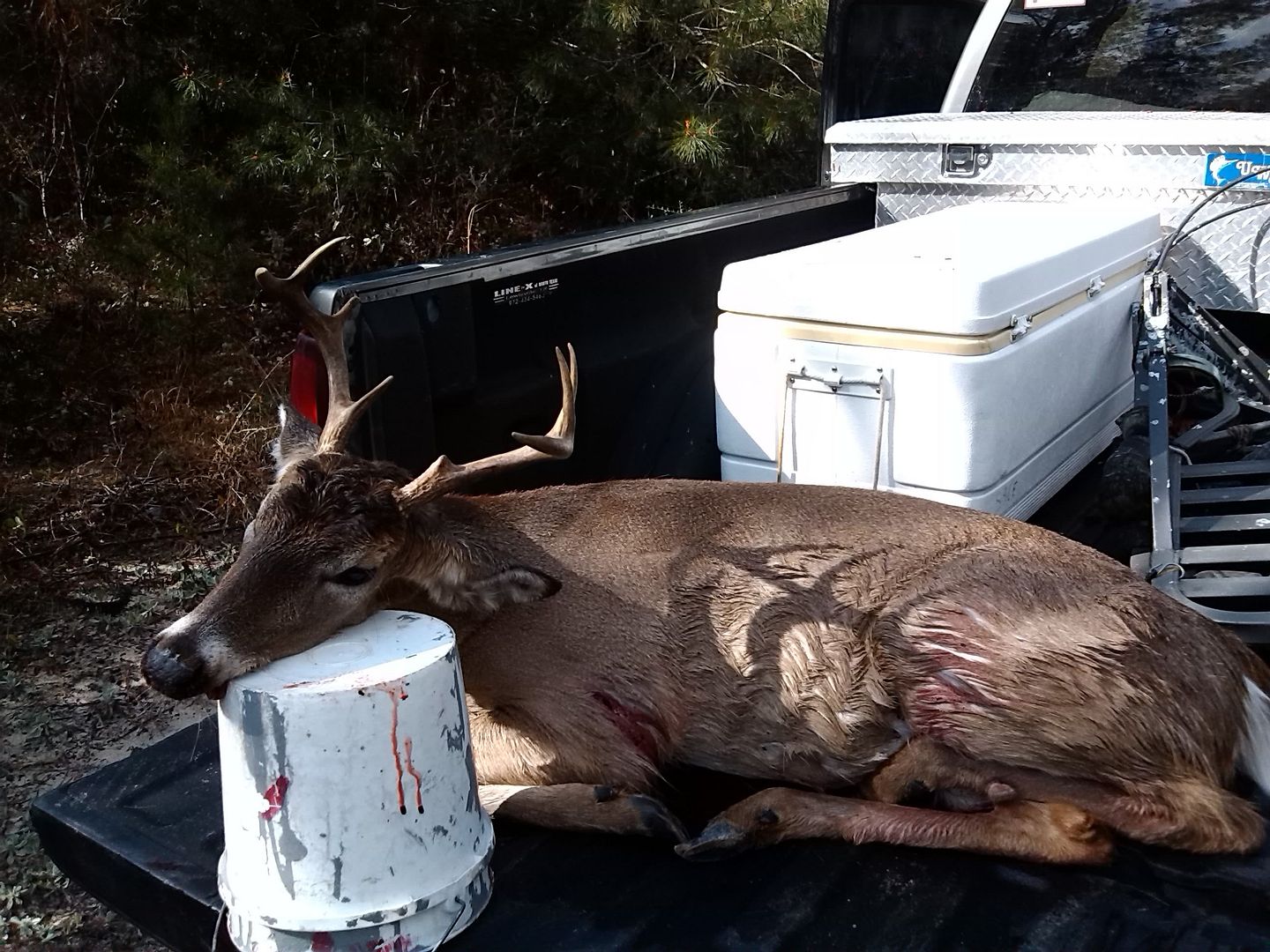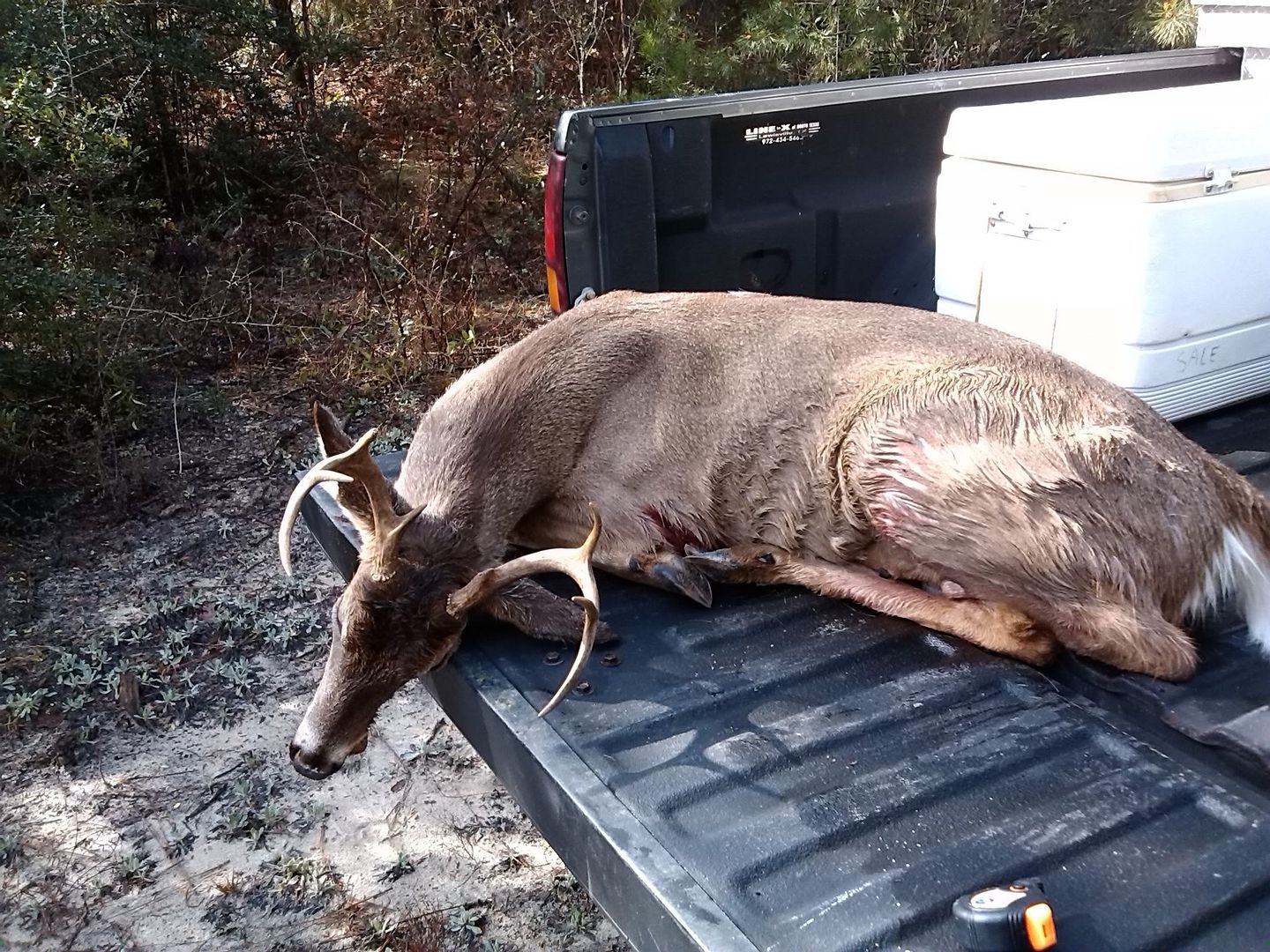 _______________________________________
Rest of story: Call my wife to tell her. She says, "Great. YOu going to hunt this PM or come home?" Told her I'd like to get this guy in cooler and hunt again. She reluctantly agrees.
10 minutes later she calls me...."I"m very upset" and it was obvious that she was on the verge of tears. Well, she had gone downstairs to get some ground vension out of freezer for some stuffed bell peppers and guess what... CLEANED OUT!
This past Wednesday our dug went bat crap crazy around 2:00 am. We woke up, hit the lights under the house and thougth all was good. I figured ****, stray dog, possum, etc. Wife says, "I just saw two guys head off on bikes with backpacks."
Guess I should have called the cops.
I'm not sure if they got it all that night, or if they'd been chipping away at it. I suspect they'd been chipping away. We have not pulled anything out of the freezer in probably 10 days. They made out with....
- Majority of three deer from Alabama... a buddy shot one and gave it to me, I shot one, and a forum member shot one for me and I picked it up headed S after my hunt N of him. All ground meant except BS and Tenderloin... which they took.
- Some of a doe I shote here during archery
- Roasts off of 3 or 4 hams from last year
- Two turkeys (store bought)
- Probably 1.5 gallons of chili in individual bags ready for consumption
- Sausage
They left turkey bacon and some rigged ballyhoo.
Pretty ridiculous. Of course she was shaken up. SHe saw the guys and it was only about 5 years ago that she walked in on a guy who made off with $35,000 worth of jewelry that spanned three generations.
All I can hope is that the thugs at least eat the meat. The fact that they had backpacks makes me think they'd already checked the freezer. Nobody brings a backpack to steal lawnmowers. Had they already been there they would have seen "Doe / Large / Date" or something similar on each bag. So.... they should have known they were stealing a ton of deer meat.
Sucks.
"Whatcha doin' in my waters?"