Home
›
General Fishing
<>< ><> Vertical Jigs/Speed Jig/ Butterfly Jig Tip for the week! <>< >
wellcraft
Posts: 1,333
Officer
So many colors to chose from yet not enough fishing days in the year to cover them all! Many a times I get asked what is the best color for my area? Well there really is no 100% sure fire way to answer this simply because fish can be hot for pink today and tomorrow they want green and the next blue! Heck this happens a lot from morning to afternoon to evening on the same day! Fish can change their mind like a woman LOL but i kid. What I personally do is start off with a light color in the morning and afternoon and switch to a more reflective color by evening. This is of course if we have been catching fish all day long. When it is slow If I am marking fish and not getting hits I will switch colors every 4 drops until I find what the fish want! I personally start off my day with the green terror and or pink thunder colors seen below. If more than one of you is jigging on the boat then have everyone run a different color to start and find out what color is getting the most attention then everyone match that color scheme until the fish get smart to it and you have to switch. A lot of times my day will go like this, morning green, afternoon pink followed by evening silver/blue combo.
keep them lines tight!
Jesse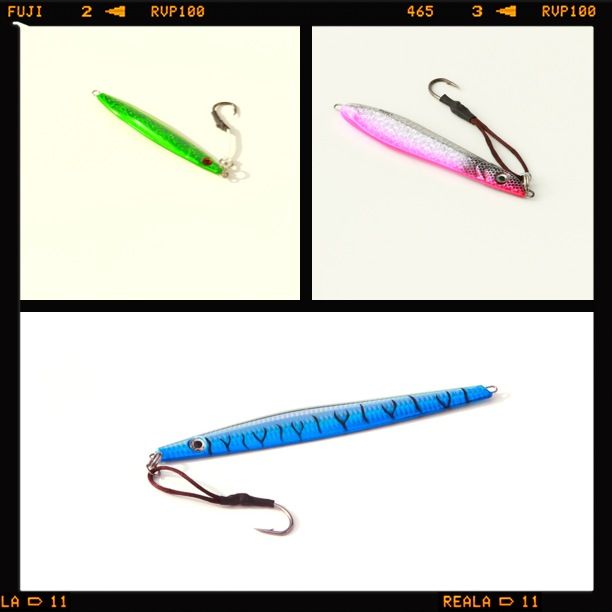 Vertical jigs, Trolling lures, and more! Click the logo!
All V-Series High Speed Wahoo Lures
http://victorylures.com/trolling-lures/v-series.html
Face Book Page for Victory Lures
http://www.facebook.com/VictoryLures
Visit My Blog
www.averticalthought.com