Home
›
Southeast General Fishing & The Outdoors
Crabby Jack's - Gone!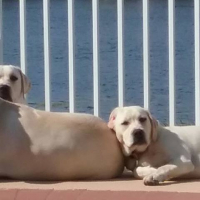 King_Me
Delray Beach, FL
Posts: 6,544
Admiral
My old watering hole is gone
But they lost my business about a year ago when they started charging $4.00 for a tap beer. Looks like they were struggling as when ever I visited, there weren't many patrons at the bar like there use be. This was about the time Mojo left to.
Had lots of good memories at the place in the 90's.
Deerfield Beach— Crabby Jack's, a Deerfield Beach bar and restaurant known for a laid-back, wear-your-swim-trunks atmosphere, was destroyed by a two-alarm blaze on Sunday morning.

The street-side palm fronds that gave the bar its tiki look were reduced to ashes.

Deerfiled Beach Mayor Peggy Noland was among the dozens of onlookers gathered on Federal Highway, just south of 10th Street, who watched the firefighters from Deerfeld Beach, Pompano Beach, and Fort Lauderdale fire departments douse the blaze.


"A lot of people are going to miss it, " Noland said of the establishment famous for Wednesday night karaoke and occasional vintage car shows in the parking lot.

"This is a landmark building that has been here at least for the 32 years I've been here. It is very well-known," she said.

Deerfield Beach Fire Rescue received the call at about 6:50 a.m., and arrived to find heavy smoke and flames shooting out of the roof," said John Quitoni, assistant chief.

"The initial knockdown took about 30 minutes," he said, as two aerial units poured water on the smoldering wreckage.

The cause of the fire is unknown and remains under investigation.

This could be the last large fire that Deerfield Beach Fire Rescue responds to as such, because the city commission recently voted to merge with BSO Fire Rescue.

"We have one of the best fire departments in the county," said Noland. "They will stay in Deerfield Beach. All the fire departments are headed to regionalization. The cities can't afford to buy ladder trucks and aerial trucks, but merged, we can have two or three that can be used in an emergency like this," she said.

http://www.sun-sentinel.com/news/broward/deerfield/sfl-crabby-jacks-fire-20110828,0,4215011.story