Home
›
West Central General Fishing & The Outdoors
It's always something
Bassin Assassin
Posts: 1,248
Officer
Launched out of the Riverside Park boat ramp on the Manatee River just before 7am yesterday with Phi (Mpvu88). We headed into Terra Ceia. We stopped off to work around some islands on the south side. We both started throwing spook jrs. We were getting some follows and short-strikers, but I finally caught a 19" snook at 7:50am. Seven minutes later I caught a 13" trout. Caught a trout just shy of 15" at 7:59am. Another trout for me just over 14" at 8:02am.
We worked it a bit longer, but had no more luck there. We decided to run up to Miguel Bay. Lots of bird activity and baitfish near the mouth. Still working topwater and I hooked a 15" trout on the spook at 8:45am. We went inside, but tide was very low and had no luck. Back out to the mouth and we began to drift south along the shoreline. A small 12 1/2" trout for me at 9:45am. Pretty good sand and grass mix out there and the water was 2-3' deep. About this time Phi hooked into what appeared to be a good red on a topwater lure, but she got off. Another trout just over 15" for me at 9:53am. Five minutes later a trout just over 13" for me. Caught a trout just over 13" on the 3" shadflash at 10:25am.
We got down in very skinny water near the point and decided to go back up and do that drift again. Phi finally got on the board with a nice 22" snook on a suspending Mirrodine at 11:14am. Two minutes later I hooked a very small grouper, gag I believe, on the 3" shadflash.
No more luck there and water getting really low. We went south and hit the northern point of Rattlesnake Key. The waves were too rough so we went back into Terra Ceia. We began to work the back side of Rattlesnake Key, but had no luck despite some fishy activity. We went up and started to work around the north side of Bird Key. Phi was reeling in a weedless fluke or swimbait and something struck at his bait. It struck again and he had what appeared to be a nice-sized mackerel on. He lifted it out of the water and it shook and got off. No more strikes there and the wind was a pain so we moved on.
I had always wanted to check out the very northern end of Terra Ceia. There was some good depth past SR55. Lots of mullet activity and fish movement in this really stained water. I hooked up with a small jack on the spook at 1:34pm. Both throwing spooks and Phi caught a small jack and I caught a 16 1/2" snook just before 2pm. I did have a good blow-up a few minutes earlier from what I am sure was a decent redfish, but it was a miss. We began to work the mangroves on the wind-blown eastern shore of this bay. Phi cast his spook jr, chartreuse head with white body, up into very skinny water and hooked into a decent fish. The fish came screaming out towards the front of the boat. It gave a him a good fight and turned out to be a decent red of 23" caught at 2:37pm.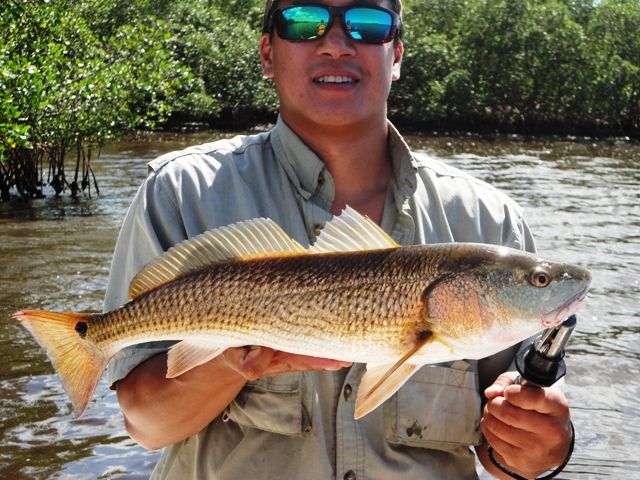 Farther down near some exposed oyster bars and boat docks now. Working my spook back and a decent snook jumped out of the water trying to destroy my spook. She missed and didn't strike again. We worked it a bit longer. I turned on the trolling motor and the left half of the trolling motor came out of the bow. The bolts had come through the holes and the trolling motor was unusable. Unfortunately, that was it for the day and we headed for the ramp around 3pm.
It was a pretty good day until that happened. The wind was kind of bad, but manageable in certain areas. Terra Ceia and Miguel Bay are beautiful areas to fish and I look forward to trying those areas again sometime. Thanks for going Phi. It was great fishing with you and look forward to getting out on the water again with you soon. That is after I fix the mount on my trolling motor. Argh! Oh yea, the boat still leaks.
Improve Our Fishery - Practice Catch and Release