Home
›
Southwest General Fishing & The Outdoors
Full Moon muttons.....Last year and this year. 9/29/12 and 9/19/13
carbo
Posts: 3
Greenhorn
Been a while since I have posted about a trip. Not that I haven't been out......just have not posted about it.
Now for the story. Last September me and some friends made a last minute trip out. Just noticed the forecast was perfect and decided what the heck......Was a Friday afternoon and we left the dock around 6pm. Stopped and filled the baitwell in 40ft and ran out. Seas were glass and when I stopped on my spot in 160' the screen lit up with fish. It was almost 11pm and the moon was huge. I was going to anchor but noticed there was almost no current. 2 guys dropped and immediate hookups......2 ten lb muttons. Then a gag and more muttons. In the next three hours we had our limit of snapper including 12lb cubera. We also had 4 gags in there also. That was on one spot. I moved to another spot and we proceeded to catch and release some red snapper and a few more muttons.....so we decided to get some sleep and hit the grouper on the way in.
Next morning started hitting spikes and got a few red grouper and a school of dolphin came by, after a fun dozen of those I noticed our ice was low and we headed in vowing to do it again on the September full moon the next year.
This was last years haul.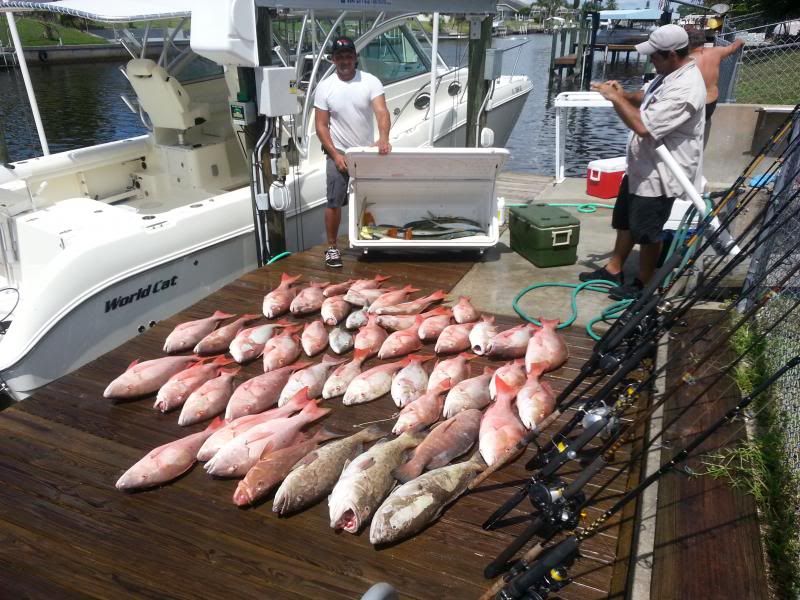 Now for this year. Full moon was last Thursday night the 19th......weather was iffy calling for 3' increasing to 4' and 15knots after midnight. We left at around 3pm and fueled on the way out the river. Loaded the livewell in 40' and headed out, seas were 2' with some 3's. Taking our time we were there before dark and unlike last year we had no immediate hits......then a gag.....then another as the sun set. Then a mutton, then slow but sure we started getting muttons. And some big porgy's mixed in. Muttons were bigger than last year and we had some real beauties this year. Ended up with 23 muttons a few mangs and yellowtails, kept one of many AJ's (they just take up ice). Pretty much fished all night taking turns sleeping.
Sun up found 5'-6' seas and a heading that went right into them. Ran for a while and could muster all of 19mph or so. After an hour we slowed and gave ourselves a break and trolled for an hour. Not much but we picked up one nice dolphin about 35" or so...nice gulf dolphin. Had some frigate's follow us but nothing else to show. We were only dragging two lines with poppers on anyway, I didn't bring any trolling gear as I usually don't bother with it.
Then I just said heck with it and ran in, crappy 5' plus all the way to 10 miles out and it dropped to 3' where I could run across the tops, home cleaning fish at 2pm.
And yes......Next year same time time, same place, same guys (maybe) September full moon muttons.
This years pictures.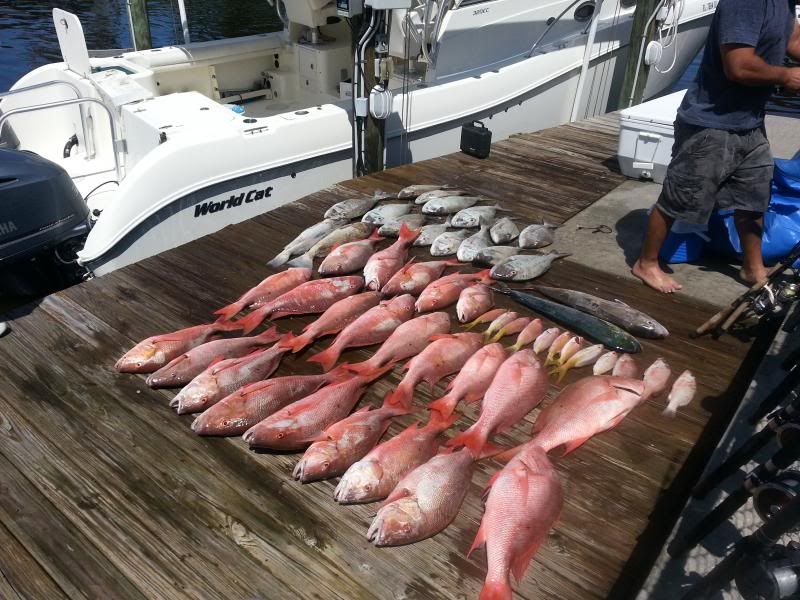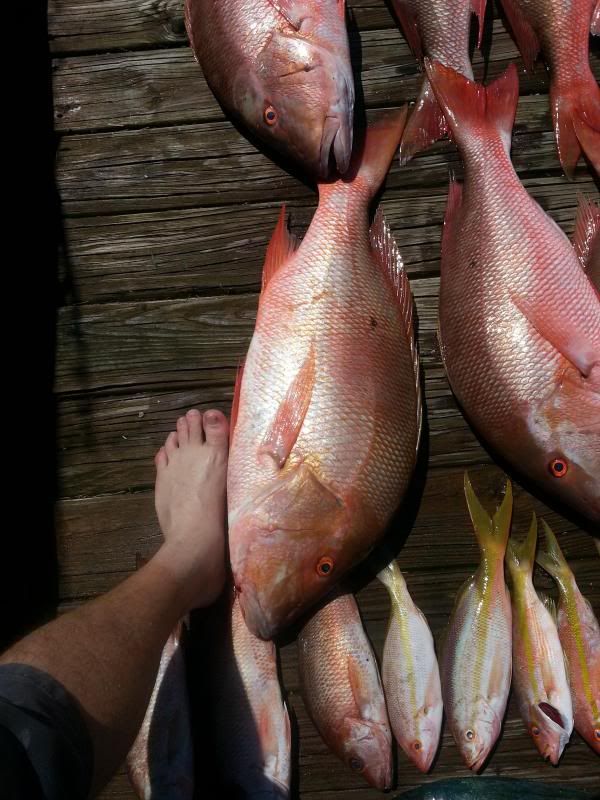 2012 World Cat 320ec 4.2L 300's