Home
›
South General Fishing & The Outdoors
Unsettled Weather
The BEAST
Posts: 77
Deckhand
Our good customer, Jon, flew in from Atlanta for his 3rd trip this year! I can't begin to count how many times he has fished with us since we first met in 1998 but we welcome his every visit. He always comes by himself for these "mental health" days and there is never any pressure to produce fish. He just wanted to get on the water, relax, troll a few baits, and catching some fish just makes it that much better.
As I headed toward the boat on Wednesday morning, the skies opened up. Devon was fighting his way to the Marina in a torrential downpour. I checked the radar on my phone and it looked like a small hurricane, pretty grim for a 7 AM takeoff. I called Jon and him to take his time. He stopped to grab some breakfast and arrived about 7:45. We all gathered and hung out under the T-top checking our radar apps every 10 minutes. Around 8:30 we decided to go sit in our cars for a bit. Devon and I jumped in his truck and monitored the radar. At 9:08 we saw a weather break where the thunder-boomers had dissipated to the East. That is where we were heading for the day. It looked like we had a good chance to get this trip done. We climbed on The BEAST and motored out to catch a few quick baits in case we needed to toss a live bait at some big fish. We got about 8 or 9 baits and headed out through the cut.
There were light winds but the outer reef line had some big water rolling in. The seas were nice leisurely 4' rollers. We made our way out to an area that I had a gut feeling about. We hadn't fished very long when we picked up a pair of Dolphin(fish). One was definitely over the legal size but the second fish was clearly not. Devon unhooked it and pitched it overboard. We worked our way around the area. Ka-Pow! A fish hit the larger rig on the sub surface "hope & prayer" long line. It's pulling like a heavier fish when Jon grabs hold of the rod. For all of the show this fish put on in the beginning, it didn't take Jon long to take the fight out of this fish. When the fish came to the stern we were surprised to see a small Silky Shark of about 3 ½ feet. Devon pulled it aboard and had to work for a few minutes to get this hook out. The hook is out, a quick release, and we got back at it.
The action slowed down for about 45 minutes. We got a couple of swing and misses as we covered water, and the conversation was good. Here comes that feeling again. The water just didn't look right to me. I turned The BEAST and began looking for better water. There was nothing, not a weed, not a board, not a stick, not even a piece of paper floating anywhere. I was telling Jon that some of our biggest Dolphin come out in the middle of nowhere, just like this. Another 10 minutes passed and... Ba-Boom! The right rigger line is screaming out! Whatever this is it's a nice one. Woohoo! The fish leaps from the water and it is plain to everyone aboard that this is a nice Cow. Devon is clearing the other rods and I quickly pin a live bait on a big spinner. I pitched the bait into the vicinity of that cow in case there is a Bull running with her, but once again it's another Cow running solo. One is better than none! Jon works the fish to the port side and Devon has the 5" steel ready. He snatches back on the gaff and lifts her into the boat. Jon is not one for photos but he was glad to pose with this one. Devon scaled the fish and it pulled the Boga grip down to 29.5 pound... WTH, let's just call it 30.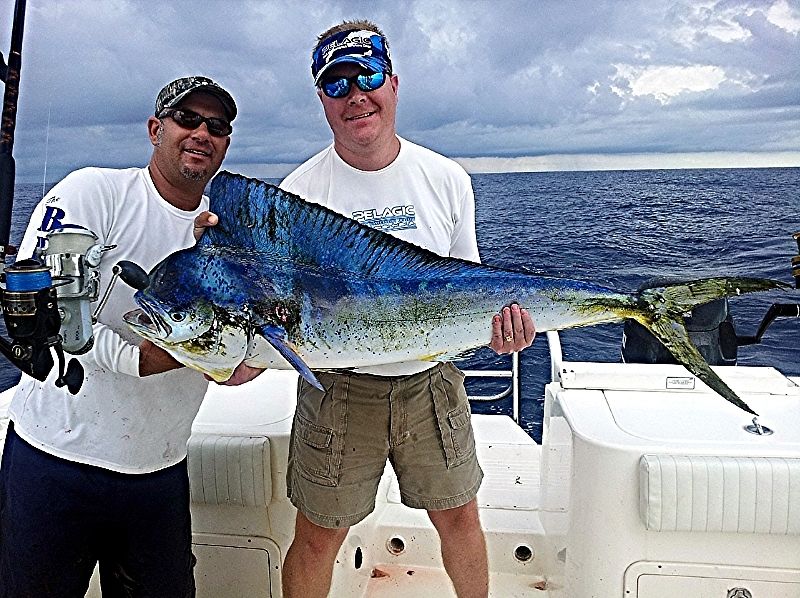 Of course, before we put out the lines we went through the congratulatory phase. Why not? Everything went perfectly, by the book, a well oiled machine, not the usual nervous fire drill. The lines went out again. Time passed and we were in a desert now. We did find scattered weeds with some big mats but down in the water we could see Moon Jellies everywhere under the weeds. No self respecting fish would be taking his chances dodging the hoards of those stinging things. We passed some time as Jon told us of his elephant hunt in Africa and the leopard hunt he had scheduled in the spring. Hunting stories were the topic for a good while. Devon said, "Jon, something just tripped the down rod, it's not big but it is a fish." Jon cranks the fish in easily, because it is only a little 5 pound Caribbean Spotted Mackerel.
I worked in to shallower waters and the Bonito found us. The first pair were better sized in the 15 pound range. We didn't go too far when they found us again but this was a school of 10 pounders. I think we caught 5 out of 8 or10. Jon said "Let's get out of here!" I ran SE and we found a weed line with plenty of flotsam in it but there were no fish. We worked it for a while longer and then we all decided to pull the plug since it was getting pretty late in the evening. We tightened up the boat and I pointed The BEAST toward the barn and pushed the throttles down. It wasn't a banner day but it was a good day, with good company, and 1 very good fish for sure. The total tally for the day was 3 Dolphin, 1 Silky Shark, 1 Barracuda, and 5 Bonito. Not too shabby for an unsettled day in August!
Capt. Jim
The BEAST
305-233-9996
[email protected]
www.beastcharters.com