Home
›
Sportsman's Kitchen
Fresh scallop dinner from last night...Wel
Panhandler80
Posts: 8,851
Moderator
Well, we headed over to St. Joe on Saturday and after sitting out a T storm we headed out form the City Marina in a light rain. We got about half our limit up near the head of the bay with a little work, and then found them a little thicker and bigger out closer to the big bay in a little deeper water.
Definitely not the most plentiful year, but there are enough over there to warrant the trip.
Spent the night Saturday at the Port Inn and then went with a different group of folks on Sunday. We were not out nearly as long due to a late start, fairly high winds and the fact that it was Sunday. Still a good time.
Fruits of our labor...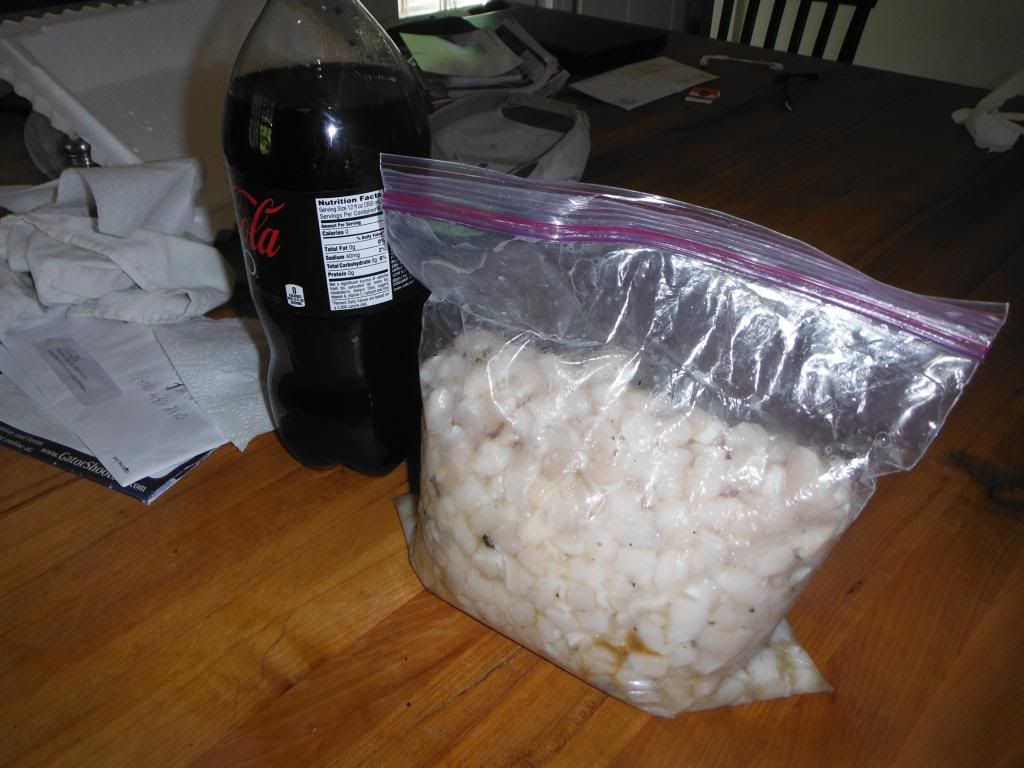 With the fresh scallops were these tasty critters...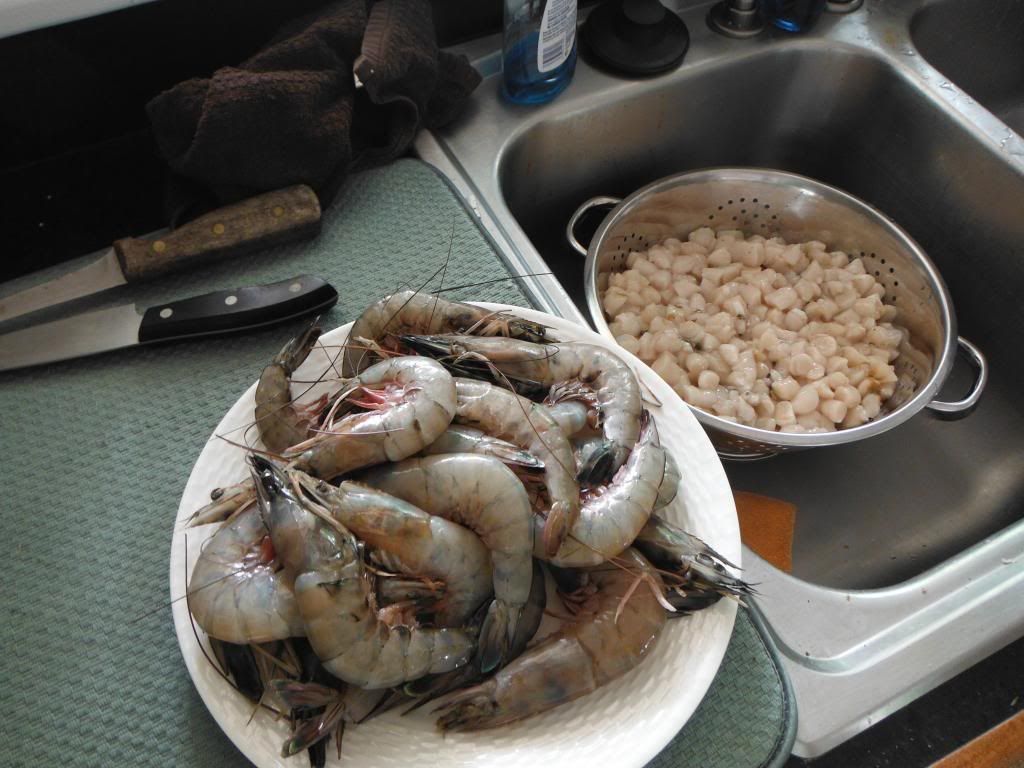 They were split down the middle in order to cook a little quicker and be more similarly sized as the scallops on the plate. Ingredients were pretty simple. Here are the scallops, shrimp, green onions, fresh garlic and very thinly sliced onions...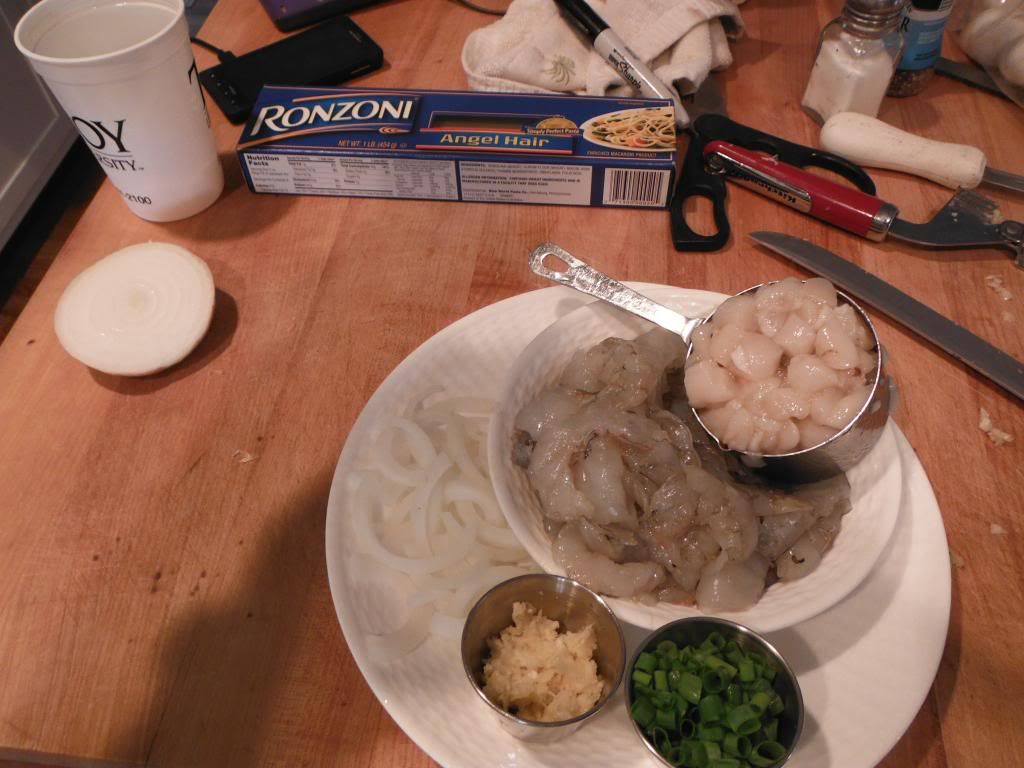 In addition to what's pictured above was:
Salt
Pepper
Tiny bit of cayenne
Sun dried tomatoes
Parmesan
white wine
Angle hair
First step was to heat onions, sundried tomatoes, fresh garlic, salt, pepper and touch of cayenne in some EVOO under very low heat for a while. Once the onions were all but dissolved and the sun dried tomatoes nice and tender.
These items doing their thing...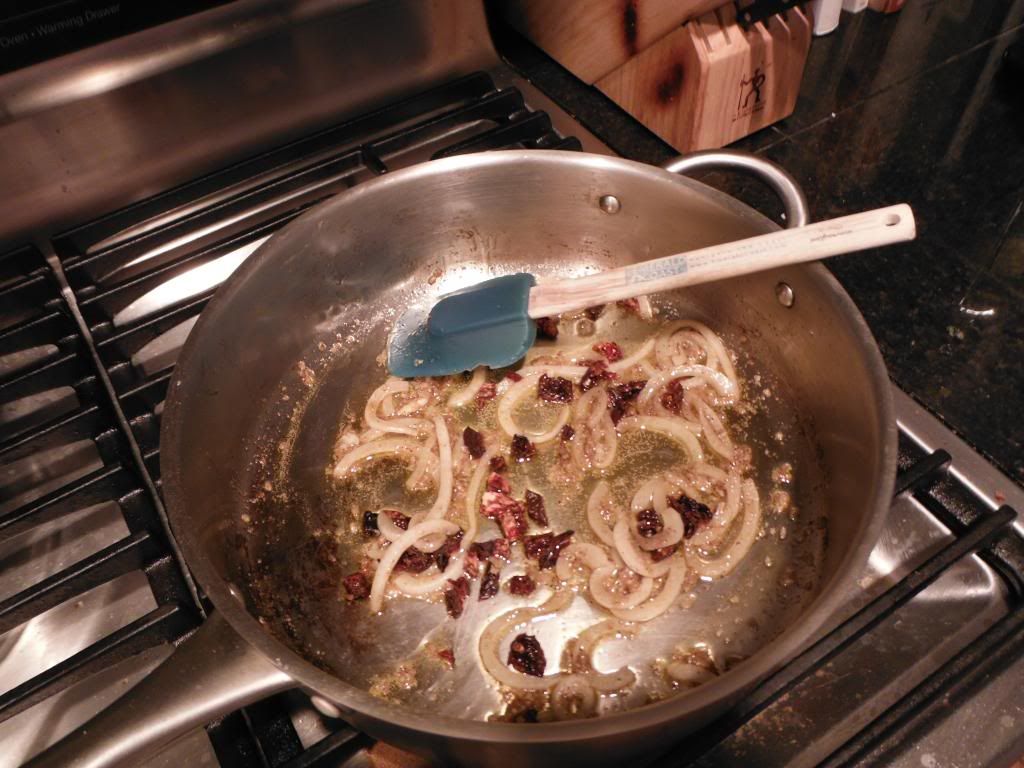 Here they are placed to the side...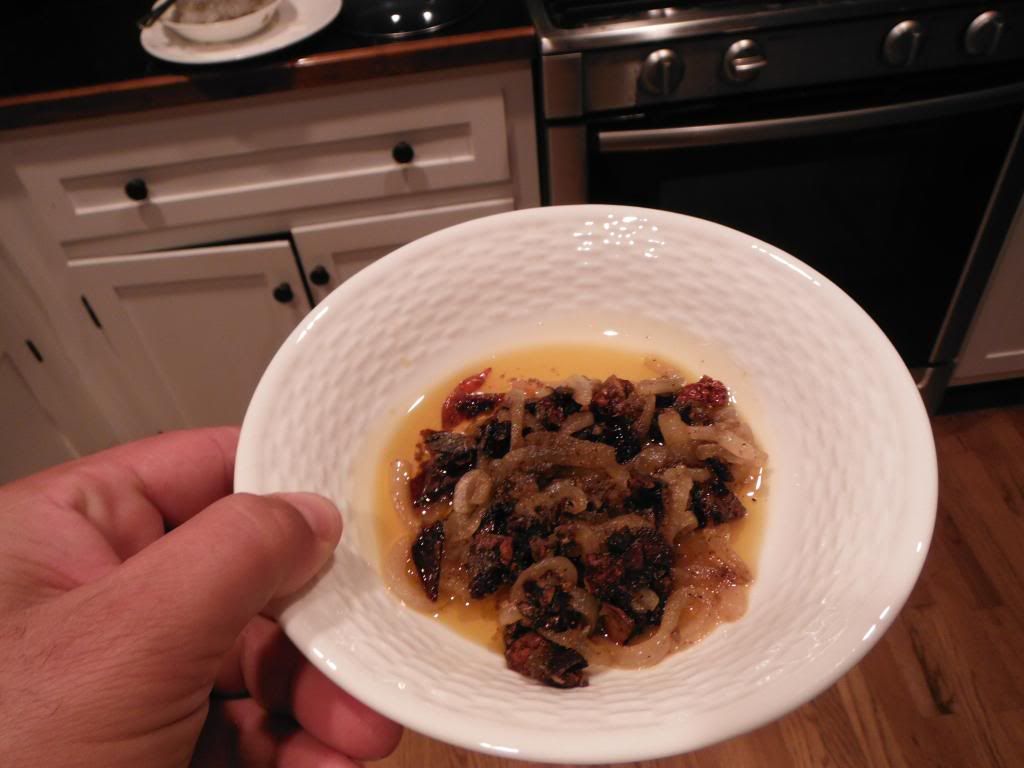 Next was to add a little more EVOO and some butter. Once medium to high heat was achieved the shrimp were tossed in first. Once about halfway cooked the scallops went in and heat went to high. After all butter was gone and they were cooked I deglazed with maybe 1/4 cup of wine. It burned off and then the EVOO / Onion / Sundried Tomato / Salt was added and stirred in.
Here are the scallops and shrimp right before deglazing and the few onions and tomatoes going in...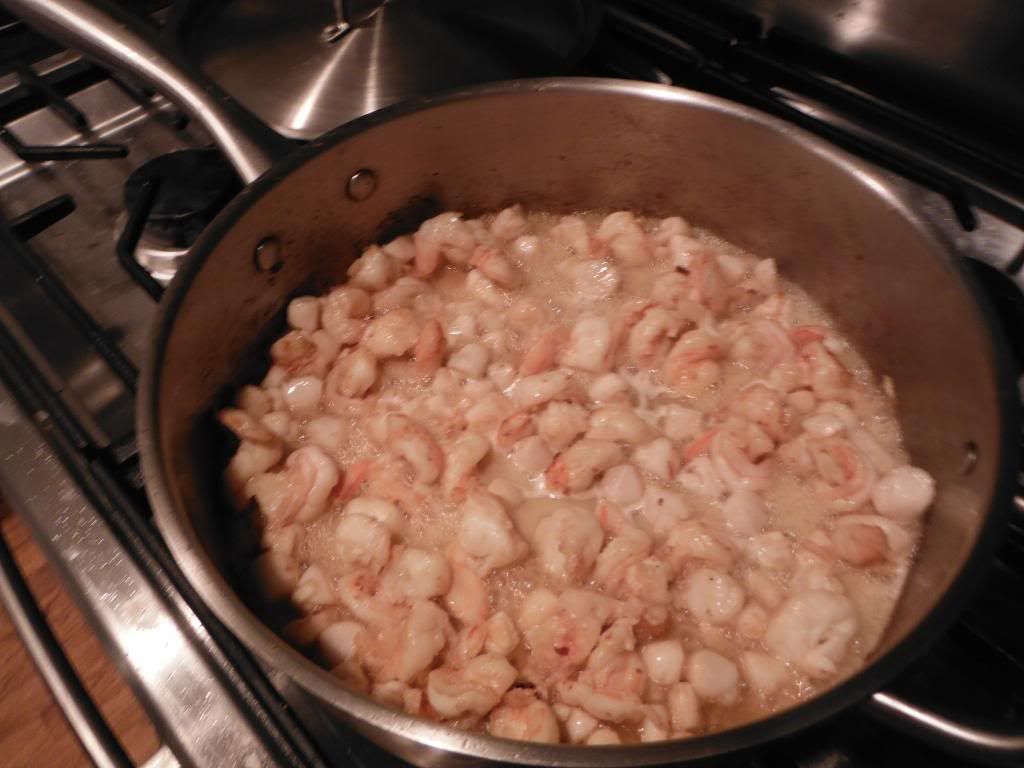 Final product on the plate. After plating the seafood, I put just a little bit of freshly grated parmesan over it and then tossed a few green onions over it. Really good stuff!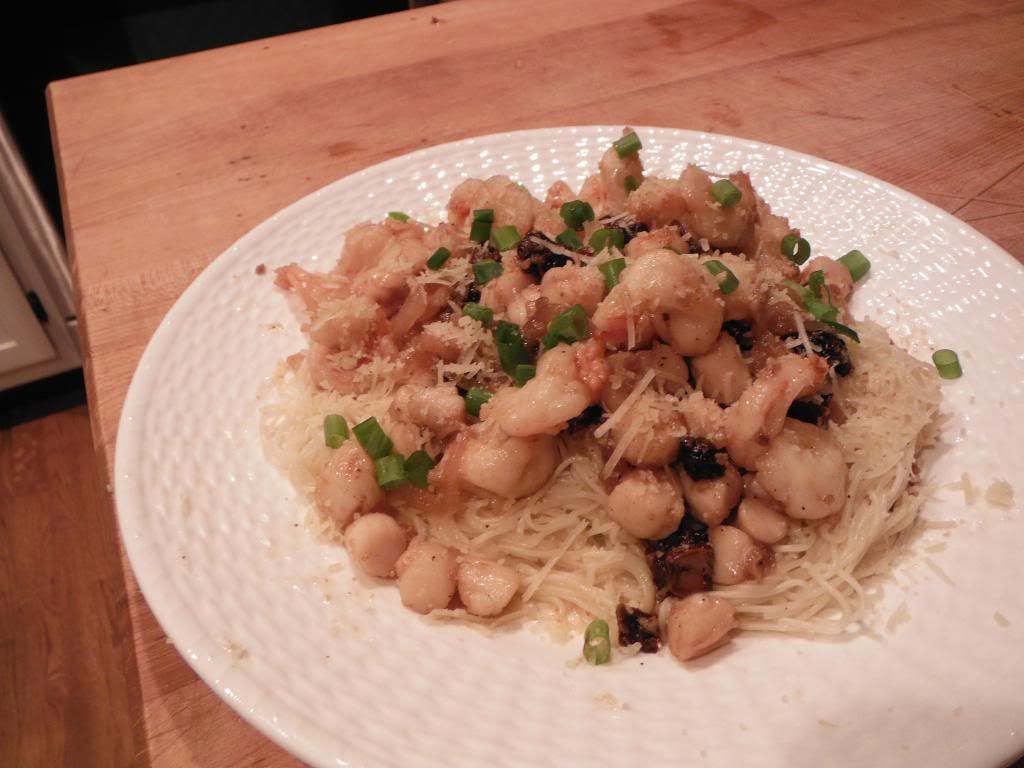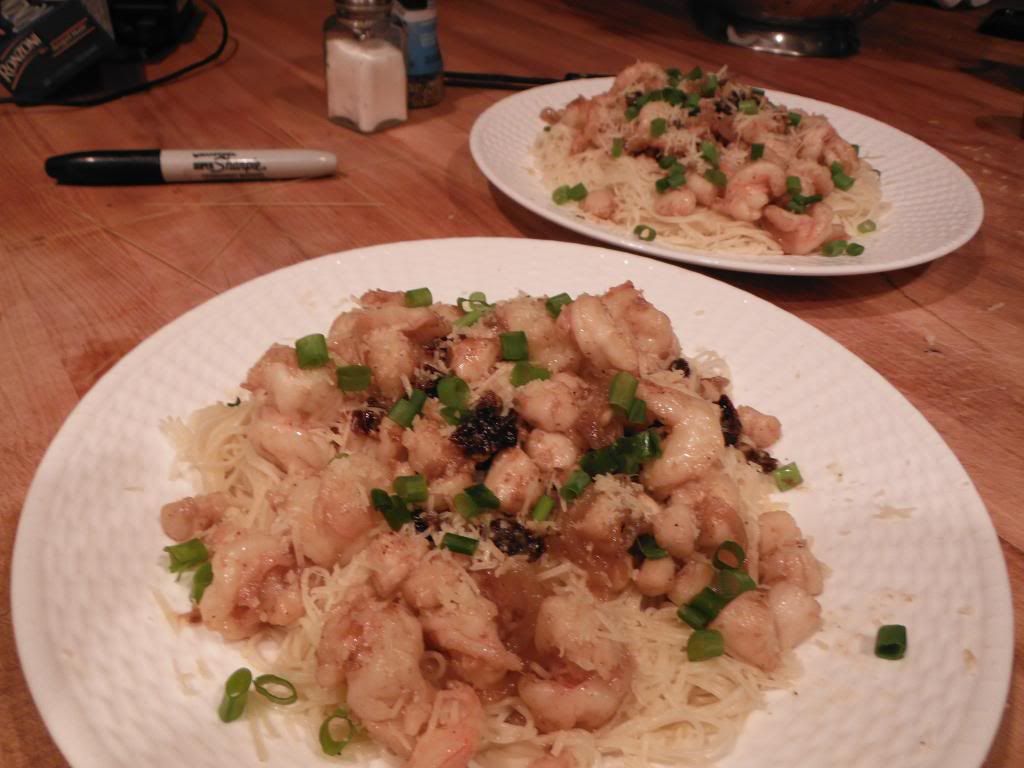 "Whatcha doin' in my waters?"