Home
›
Ten Thousand Islands General Fishing & The Outdoors
This kid was AMAZING. A Prodigy 6/9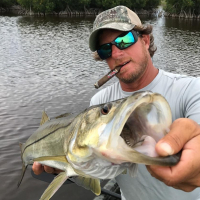 Joe Snook
Senior Member
port of the islands in Naples
Posts: 468
Deckhand
I had a mother and a son duo today. I figured it would just be a regular kid n parent trip. So were idling down the canal and the kids talkin my ear off, wich I dont mind it happens alot because people are excited and jacked up about their day wich gets me goin then too. Well the youngsta is 8y/o and im chattin about fishing with this dude and what hes sayin is all just about right and wondering wheres he pickin it up from. I asked mom she says hes self taught, im guessin mags and TV cause I let him root around my tackle bag and he knew what everything was and what it would be used for.
uploadfromtaptalk1370821746542.jpg
so were approaching our first spot. The kid was dead set on throwin a doa cal. so im on the cooler using the remote bringin him around the shore line. Oh Snap!! Maaan Dominick can cast... Like a freekin pro. He was hittin every little hole I had my eye on. He brought his left hand up to feather and stop the line, it was amazing to see. And the kid talked some smack too. Unfortunately it wasnt a shore I catch fish on so I trolled to the spot just watchin him all relaxed shootin the **** working the mangroves. once we hit the spot I had to catch some lil fish on shrimp to get him to throw a live shrimp.
uploadfromtaptalk1370822511952.jpg
so we got some nice snapper then I saw a couple lil sharks cruising around and pointed them out. So I turn around for a minute and I hear, I got it! I got it! Apparently Dom took his snapper and hooked up a shark with it and we landed it. Alota jumpin around First Shark! so we took off a lil after that and hit a redfish spot.
uploadfromtaptalk1370823148948.jpg
its a pretty technical lil spot and man the lil dude tore it up. Mom was "ROASTING" so we were back at the dock in under four hours. I filleted the fish, wich Dom wanted to throw back but mom said "i wana recoupe some of the cost of the trip" lol I guess he fishes the dock all day n night n all mom hears is fish fish fishing fishing fishing all day everyday. ya I knew a kid like that once.
Sent from my SPH-M820-BST using Tapatalk 2
southwest florida fishing guide in the beautiful 10k islands, everglades and more
www.Joesnook.com