Home
›
Ten Thousand Islands General Fishing & The Outdoors
Wow! What an AWESOME DAY!! 6/4/13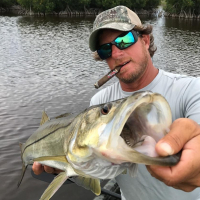 Joe Snook
Senior Member
port of the islands in Naples
Posts: 468
Deckhand
Man! Today was a great day with some really great guys and great anglers so it was pretty much a day where I was able to do what im really hired to do wich is find fish and concentrate on putting people on fish and come up with a game plan to keep em on fish.
So the one dude was dyin to catch some redfish and another dude wanted to catch a shark and the third was like whatever you think cap. So I went into an open area where ive been catching trout just to see what im dealing with and 3 big trout landed and 3 lost some kinda fish later I liked what I saw so to the mangroves we went at the top of the incoming tide. About 20 yards in and the first red is in the net. The rest of the shore produced 2 more one being 26"
uploadfromtaptalk1370395930817.jpg
after it slowed a bit I decided lets run out it doesnt look so bad, I was wrong and we ran back in to an outside point that was lookin good. There we picked up 2 more big reds a big black drum and a huge freekin jack that really got us all fired up.
uploadfromtaptalk1370396225481.jpg
it was a lil too bouncy so we figured lets go in back to a spot where the sharks have been biting pretty well and some true monsters have been lost. Plus at this spot people dont get bored by being close to a bar and playing with the red groupers, lane snapper, sheephead and mangos, macks n jacks. We hooked four and landed these 2.
uploadfromtaptalk1370396506223.jpg
uploadfromtaptalk1370396526927.jpg
these guys have been out here for 2 weeks and fished four days before me out here and one day in ft.myers. They didnt feel they were leaving feeling satisfied that they had come and got any real good fishing in. so they asked around and got my number. Well lets just say they were looking for a way to stay out here after seeing how much fun fishing out here can be and cant wait to come back down. I recomended they go to the Marco Brewery to have them cook their fish for dinner and they insisted I join them. I did and it was an incredible platter of fish as always and delicious micro brew beers
uploadfromtaptalk1370396938968.jpg
thats a platter of black drum, redfish, mangos and trout.. GO BLACKHAWKS!!!!! Tear em Up!!
Sent from my SPH-M820-BST using Tapatalk 2
southwest florida fishing guide in the beautiful 10k islands, everglades and more
www.Joesnook.com