Home
›
Sportsman's Kitchen
Fresh (read... fresh, not wild) rainbow trout... AMAZINGLY GOOD!
Panhandler80
Posts: 8,928
Moderator
We hit up a trout farm and it was a good thing that after about 20 minutes we counted the fish... we were sitting on 17 total and that adds up pretty quickly. The folks advised that we cook them whole, which I was not wild about. I'm also not wild about salmon and this stuff looked and smelled like salmon.
Here's my buddy with one of the fish that I believe he "caught" on a bare hook... Don't ask me why he looks so "funny" here... not funny Ha-Ha....
If you look closely you'll see yours truly also tied into an elusive monster. Still fun and after you've walked main street once, hiked the easiest / coolest trails and been gem mining... what else are you going to do? Plus I had not caught a fish in almost three weeks so I was getting little batty!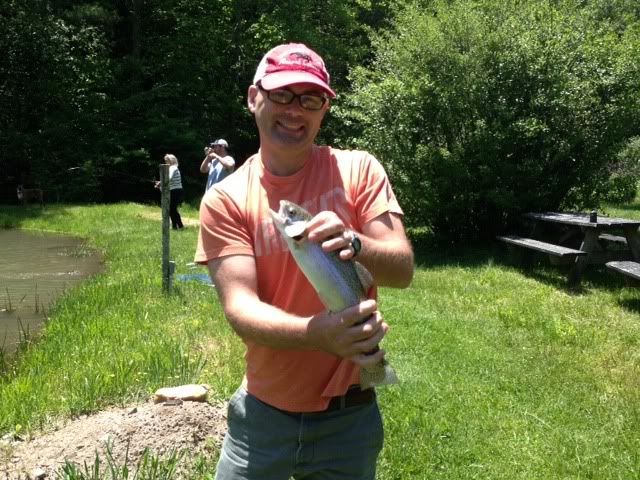 Back at the house...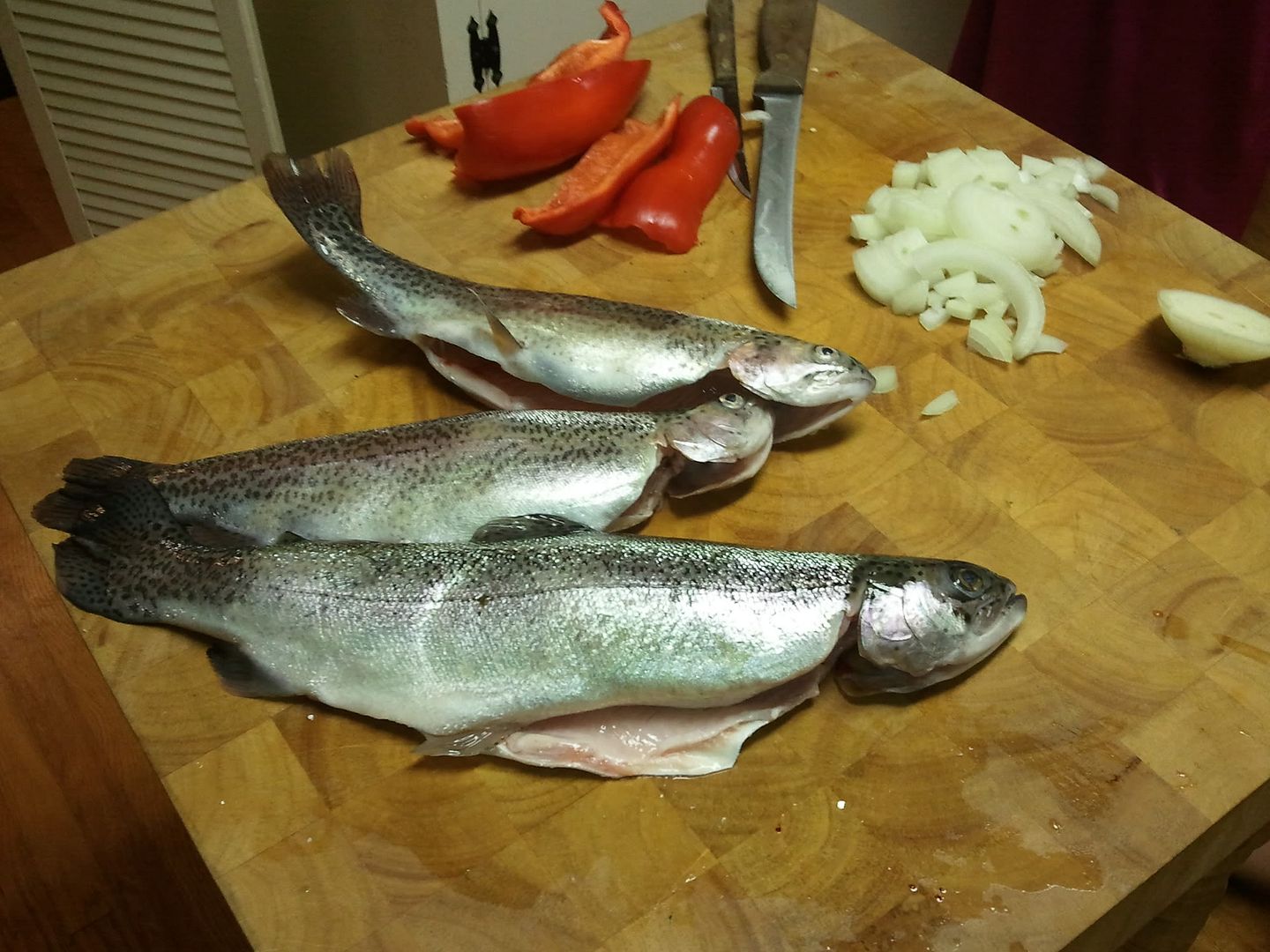 The trout farmers said not to filet, or try to skin. Just cook like it is and the meat will just flake right off the bones. They said something about them being genetically engineered to do this. I believe it because this fish were not natural looking. THat being said, I was a big skeptical, but I figured what the heck! Although I was a bit worried that we had no other food in the fridge if this was a disaster.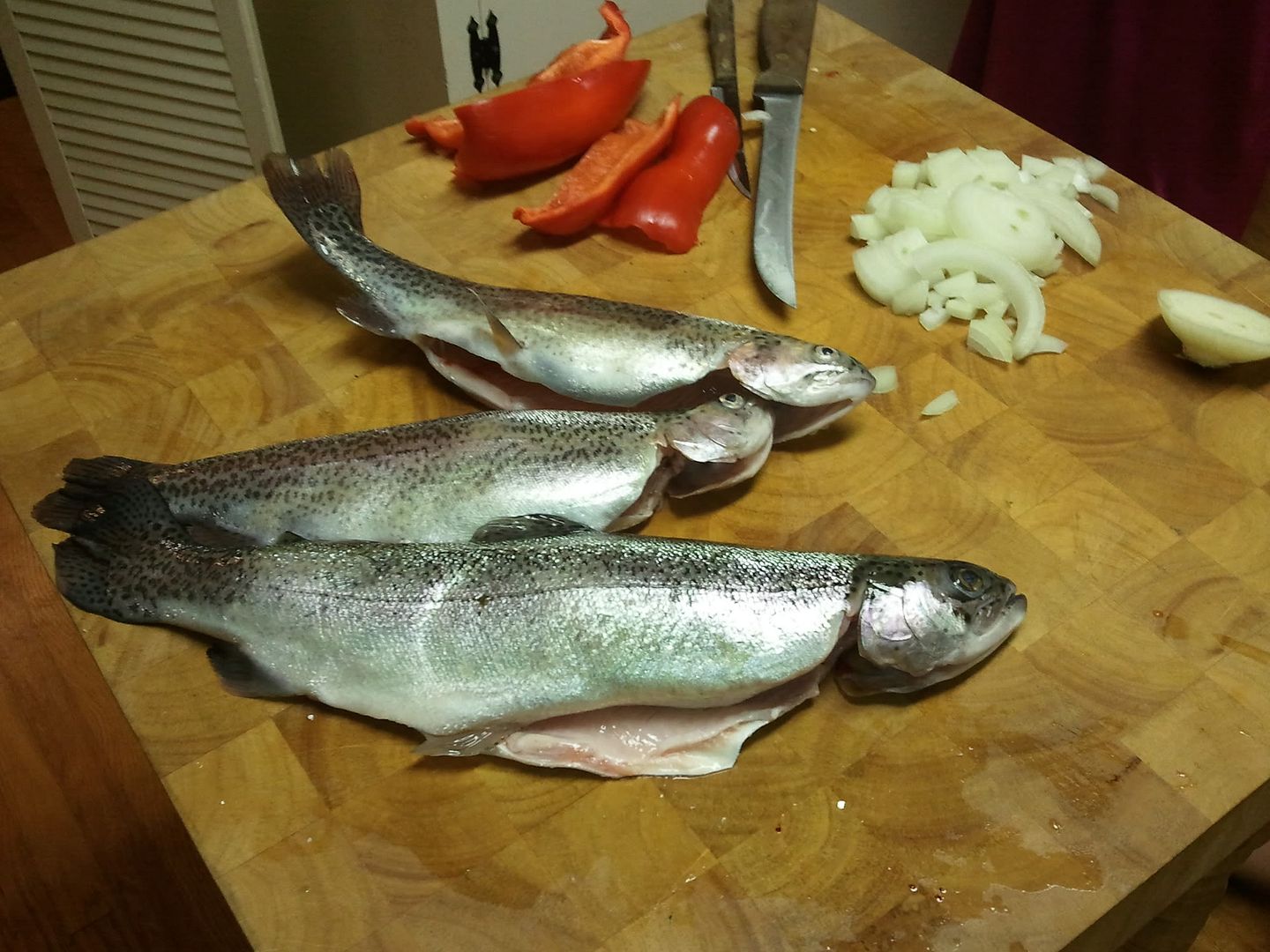 We laid each fish in its own foil boat on top of some cavendars, a touch of cayenne, some lemon slices, lemon juice, sea salt and whole pepper corns. On top was cavenders, butter and EVOO. Put on grill and it was time to eat. All the while, I'm nervous as a cat. They just smelled / looked / felt so much different than the saltwater fish I'm used to. WE'll see!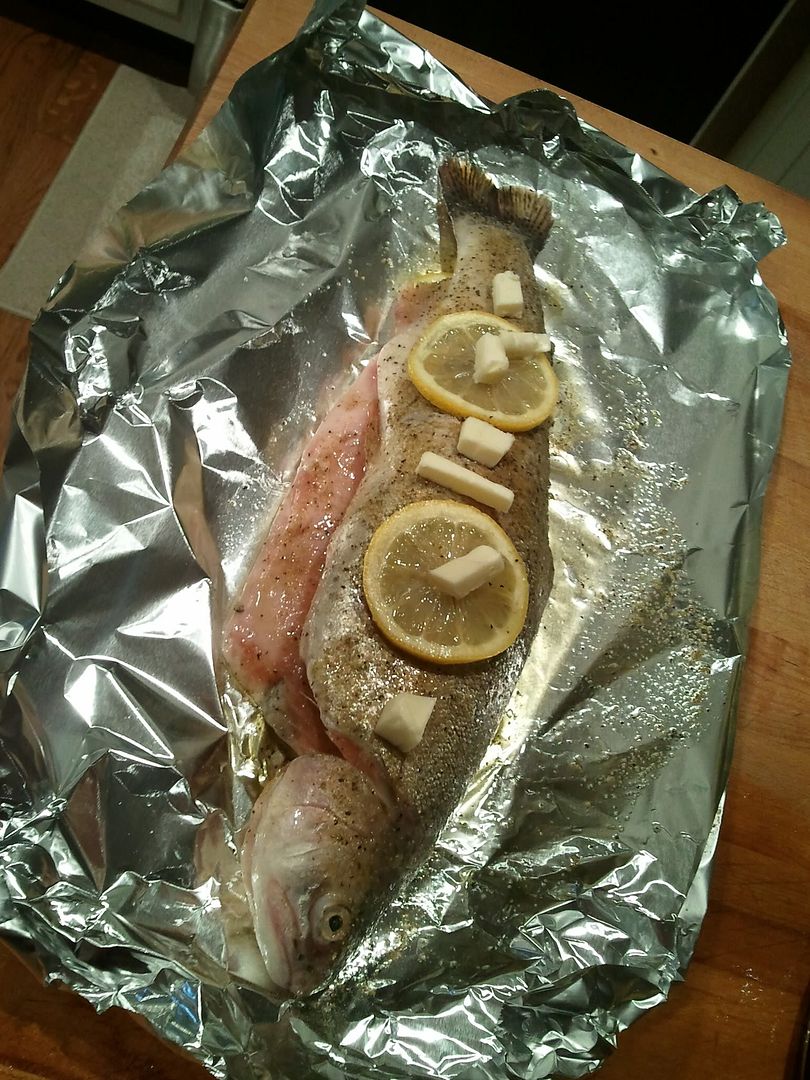 Terrible picture, but the fish was AMAZING. We had it with some kind of olivada type topping that I was not wild about, along with roasted red pepper and grilled zucchini spears. Good meal, but GREAT fish. I have never had a fish that oily that was not also strong. It stayed moist and was just a real pleasure to eat.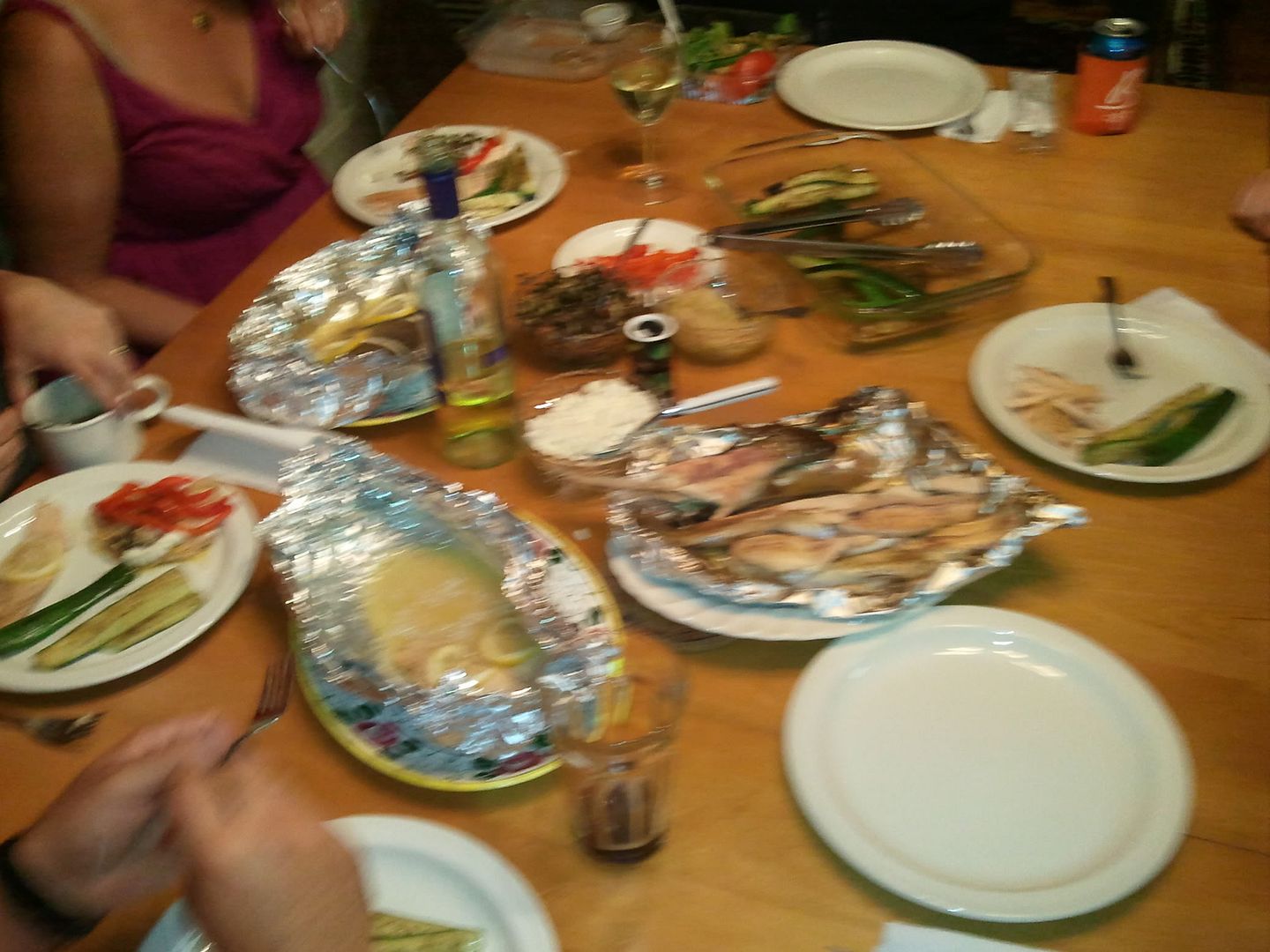 This was Sunday night. We got back to the house around 6:00 pm on Monday and ate some thawed out chili before getting some rest for work the next day. We had like 9 fish left, so we cooked three of them Tuesday night and I was certain they would have either gone bad, or just weren't that great to begin with and I was confusing too many adult beverages with good eats.
Cooked them again at home the exact same way on Tuesday, and STILL AWESOME!
Here was Round 2 in Panama City....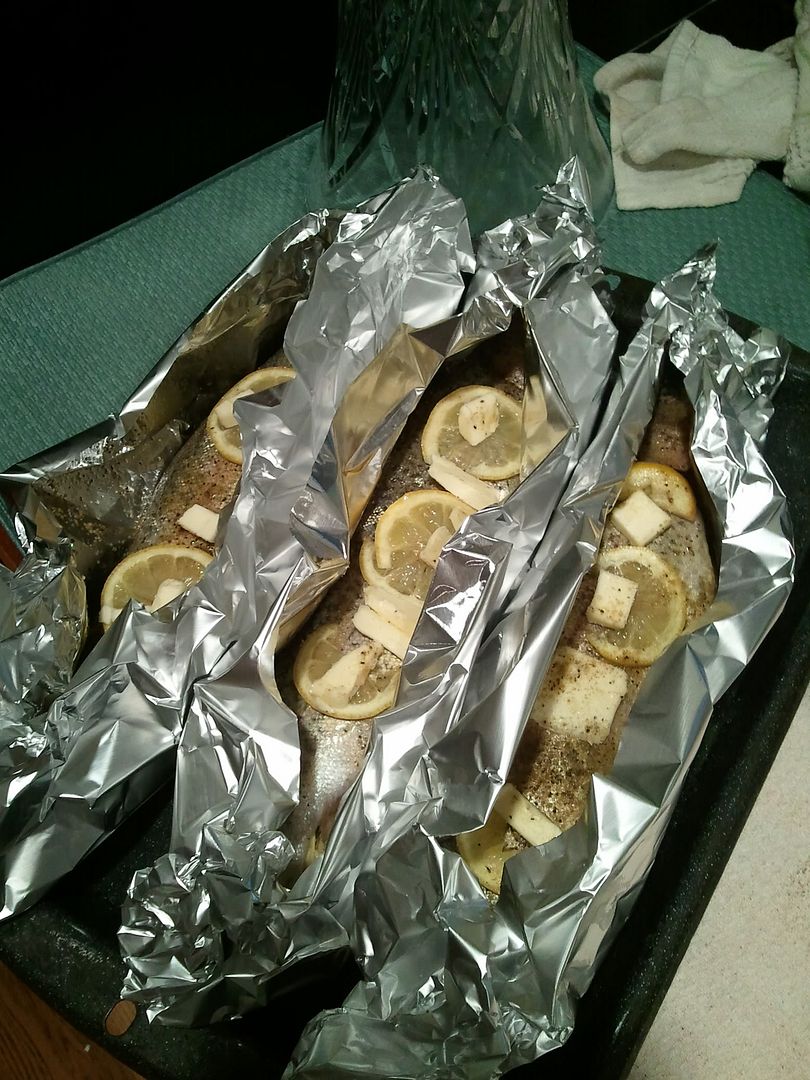 Here's what I did with my FIRST fish that night. Keep in mind, I'm really not all that wild about most fish...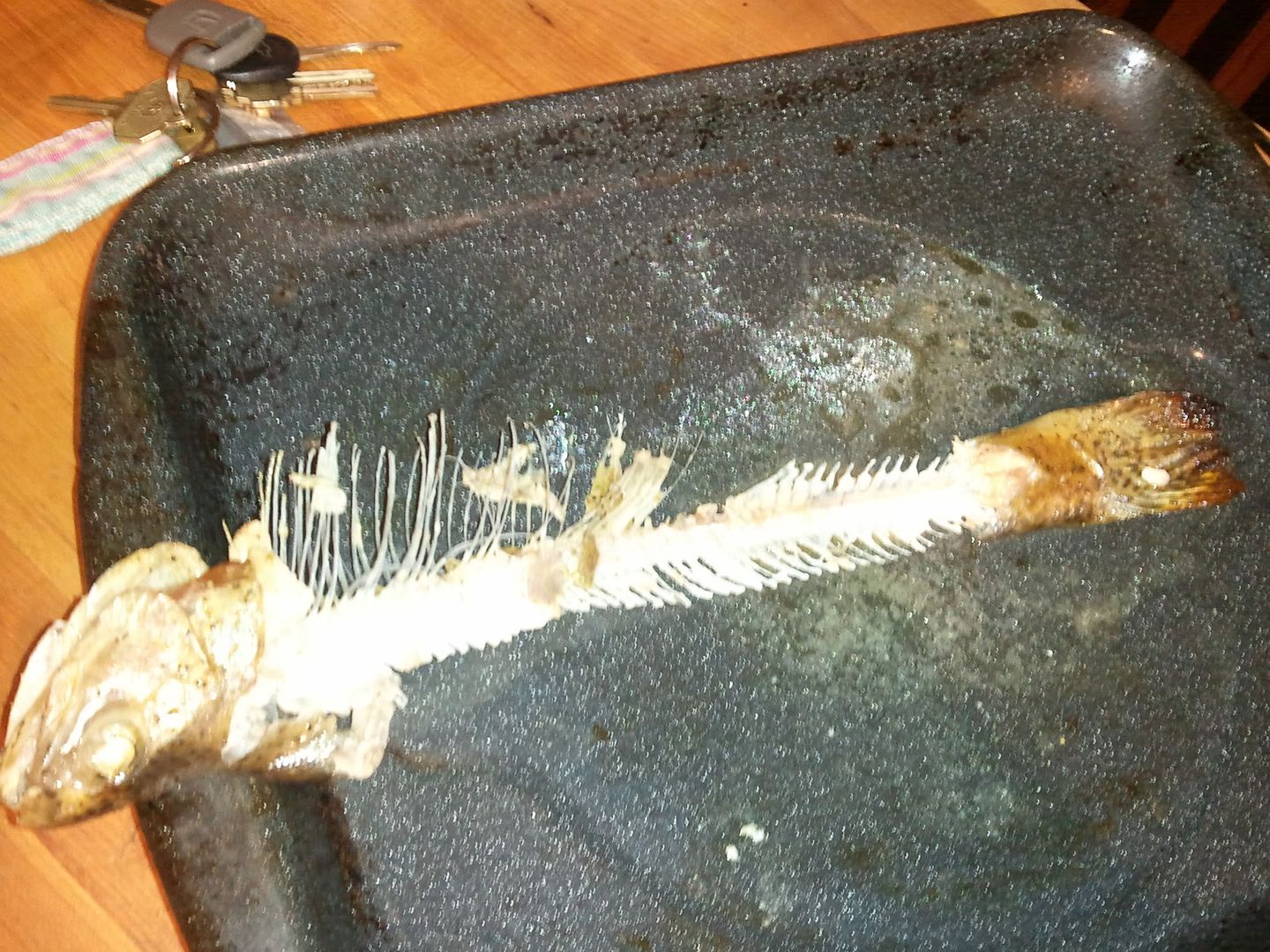 Really good stuff.
SO... on Wed we still had some left over. Gave three to my parents and I think two more to my wife's parents then. They ate on Wed and Thursday night and said they couldn't get enough either! Crazy. I wish I could raise some here. I know it's about like comparing a wild turkey to Popeyes... but guess what, they're both darn good!
"Whatcha doin' in my waters?"