Home
›
Sportsman's Kitchen
Pork shoulder on electric smoker
bassman
Posts: 264
Officer
Figured I would post this up with the electric smoker thread still going on.
Trekked to Sam's for a butt. Cant find a single boston butt around 8-12 lbs from them (only their bostons in 17-20+ lb cryovac). I was only cooking for about 8, so I settled for the smaller cryovac picnic. Both boston and picnic were $1.29/lb. Great prices, considering my other possible source (publix) wants a ridiculous price ($3.XX) and the butcher tells me the largest size they probably have in the back is no bigger than 7 lbs trimmed.
The day prior I trimmed it down. Started at 9.54 lbs but lost a considerable amount after skin and fat removal.
Rubbed down with mustard and a generous coating of Jeff's Naked Rib Rub from smokingmeatforums
To the fridge for about 24 hours. Will remove a couple hours prior to smoking give the smoker an easier time getting it up to temperature.
I smoke on a Masterbuilt Electric Smoker (MES) 30. The smaller version of their MES 40. This one happens to be stamped with the BassPro logo instead of Masterbuilt, but essentially the same smoker. Though, I only use the smoker for its heat. Smoke is created with Todd Johnson's A-MAZE-N Pellet Smoker (AMNPS), and the chip loader and chip tray opened a couple inches for draft. The AMNPS is essentially a maze that slowly burns pellets (or saw dust). The MES needs chips added roughly every hour- less than ideal for long overnight smokes. Todd's product has got me anywhere from 6 to 10+ hours of smoke and many hours of sleep saved.
For the picnic I used a blend of hickory/cherry/maple pellets. Preheated the smoker to 270* as the cold meat would dampen the high temp. Once things started to climb I set things in the range of 225-250*. My Maverick ET732 actually reads 18* off from the MES 30 digital readout, so that makes things fun. Once the AMNPS burned out (somwhere maybe around 6 hours), the meat likely had all the smoke flavor it would take so I relied only on the heat.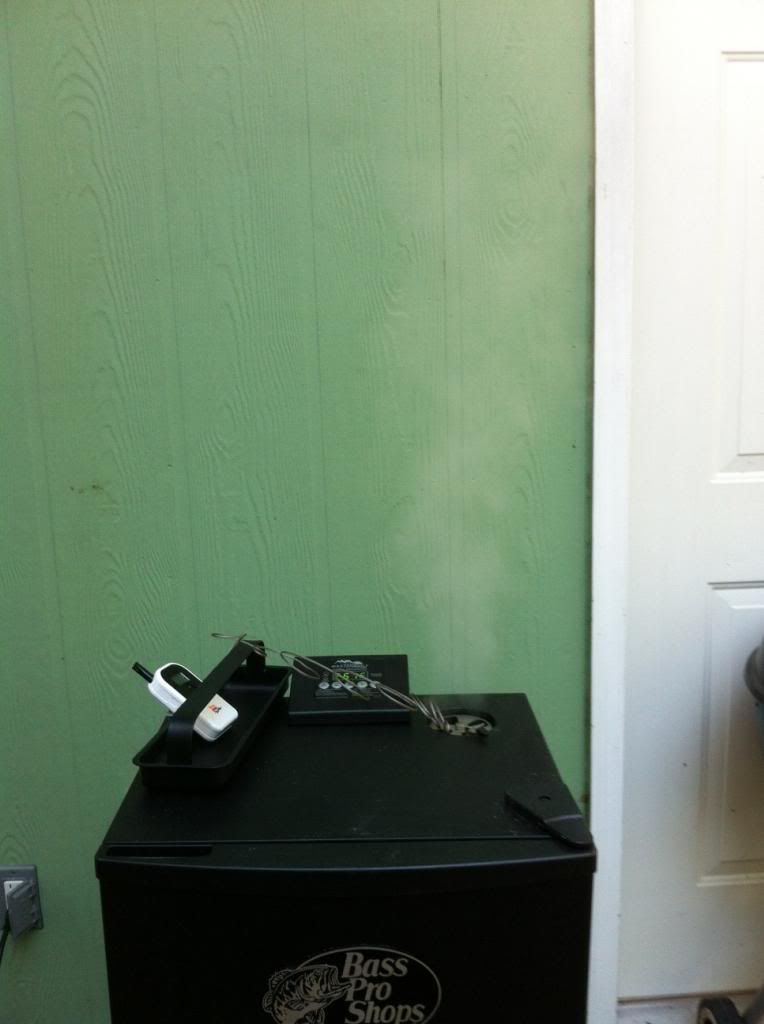 Put the butt on at 12:00 AM. Removed it after reaching 200* at 1:40 PM (nearly 14 hours). I hit a big plateau around 160-170* for several hours, but did not worry about using a foil crutch. I had plenty of time to meet my planned eating time so I just let it ride through the night. Because I lose about 20 minutes of smoking time each time I open the smoker door to check on things, and because the cut is pretty forgiving, I did not end up using the apple juice+spiced rum spritz I had on hand.
Rested it in double wrapped HD aluminum foil and a beach towel in a cooler for several hours, then pulled. Bones pulled out clean and meat was nice and moist. For great flavor and added moisture I used SoFlaQuer's Famous Pulled Pork Finishing Sauce. It not really spice like it might seem.
1 Cup Cider Vinegar
2 Tablespoons Brown Sugar
1 Teaspoon Tony Chachere's Cajun Seasoning
1 Teaspoon Course Black Pepper
1 Teaspoon Red Pepper Flakes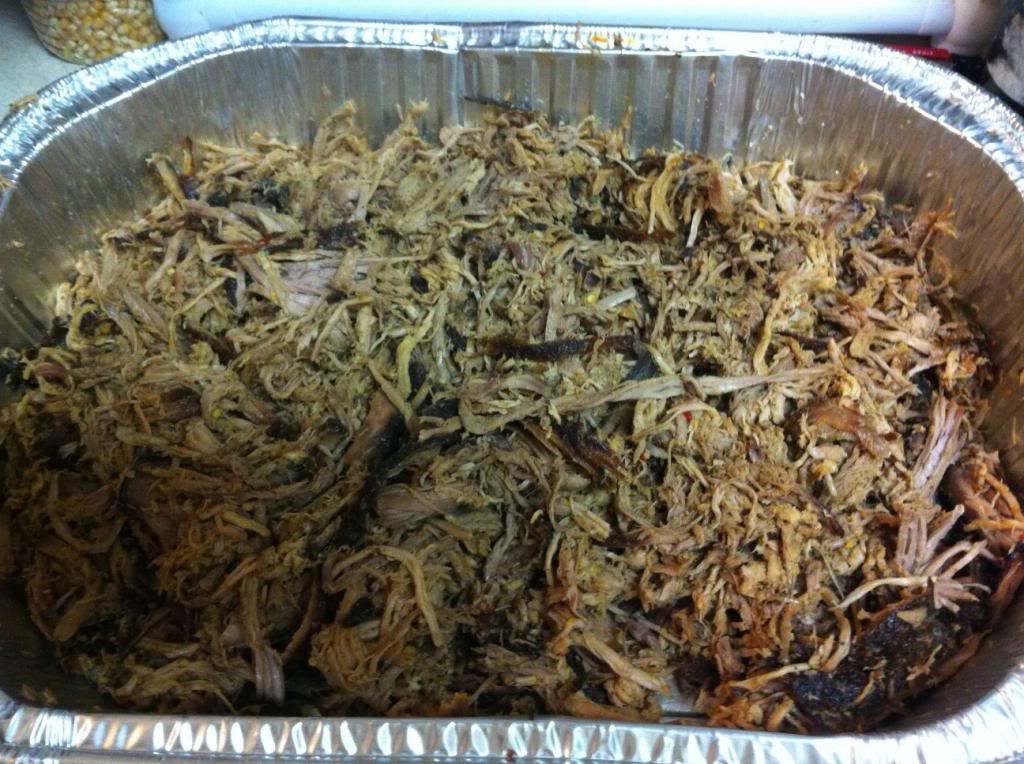 Some guests topped their sammies with Sweet Baby Rays, Sticky Fingers, or Stubbs. I personally loved it without any sauce.
The commericial brands above are nice and all, but does anyone have a Q-sauce they make and everyone loves? Dont really have a style preference, just wondering if anyone has a sauce recipe to share.