Home
›
Photography Corner
Hi Chuck and Mac. You like falcons?
redsgurl
Posts: 618
Officer
Another of Bio Lab's residents. There was an island with a bunch of seagulls, and I mean a bunch of 'em. An Osprey was fishing just off the point, and the gulls didn't seem interested or impressed at all. I threw the net once for enough bait to keep us busy for the afternoon, and as I got the last chair in the perfect position to be able to reach the cooler
and
the sand spike holding the "sprint rod", I heard a thunderous ruckus. Looking over, the sky was suddenly full of screaming gulls, and the Osprey disappeared. It took a minute to realize there was a bird on the island where 30 seconds before, you couldnt see a speck of sand, because of the dense population of lazy gulls. I thought it was a buzzard at first, and then watched in amazement as I saw the hunter eating the one gull that didn't make it to the air. I thought at first it was a Caracara, and then remembered my camera was in the truck. By the time I had made it out of the river and up the hill to the camera, more than a couple of minutes had elapsed. Another couple of minutes went by before I could get into a shooting position. I shot some frames before he took off to a not so near-by tree, and this is one of the few I liked. I have not seen the Peregrine Falcon out on the refuge before, but I'm sure I will now that I know where to look..............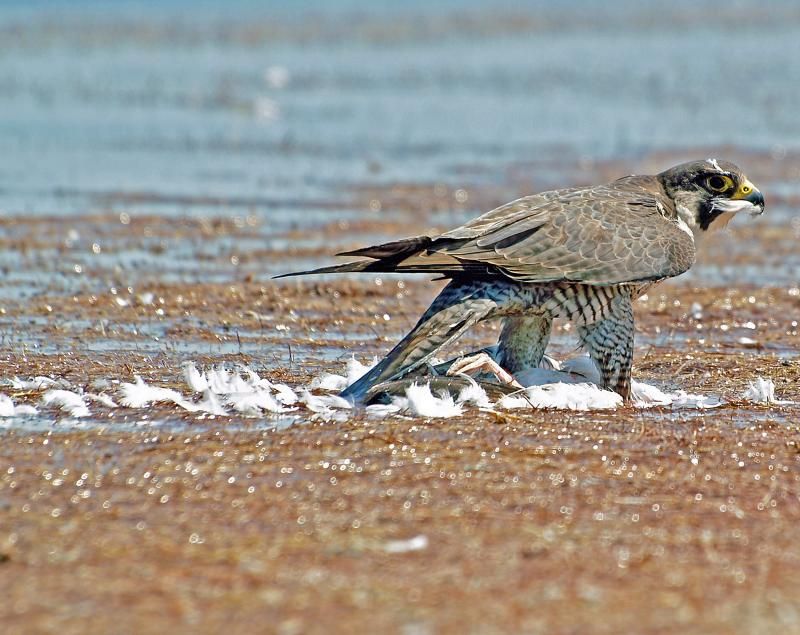 Suz


Capybara's are vicious and should not be let alone with small children. In-laws are another matter.............