Home
›
East Central General Fishing & The Outdoors
Redfish, Black Drum, and Dead Marine Life
Capt. Tyler Vollmer
Posts: 414
Officer
With the added bumper traffic in the lagoon, I decided to spend a few weeks in the NIRL fishing my home grounds that I grew up on. Don't get me wrong, fishing in the Mosquito Lagoon is still red hot but I unfortunately had a client who had to hear 2 boats mouthing off at each other and it totally ruined the experience for him. With that being said, fishing in the river is still as good as ever. Heavy north winds drove down the water levels for a period of time which schooled the redfish up in good numbers. These fish were happy to eat a well presented soft plastic bait as usual. Look for the redfish hanging over grass ledges and some very skinny water. Some of these fish are almost beaching themselves trying to get warm in the cooler waters. With the temps beginning to warm up, look for them to start moving in the 2' water range.
Black drum are swarming the flats in some of the biggest numbers I've seen in a long time! As you know, these fish aren't always the easiest to get to eat. If you run across some and don't have any bait, try throwing a soft plastic that has some good scent on it. If that doesn't work, find some snails and break them open and that should work as well!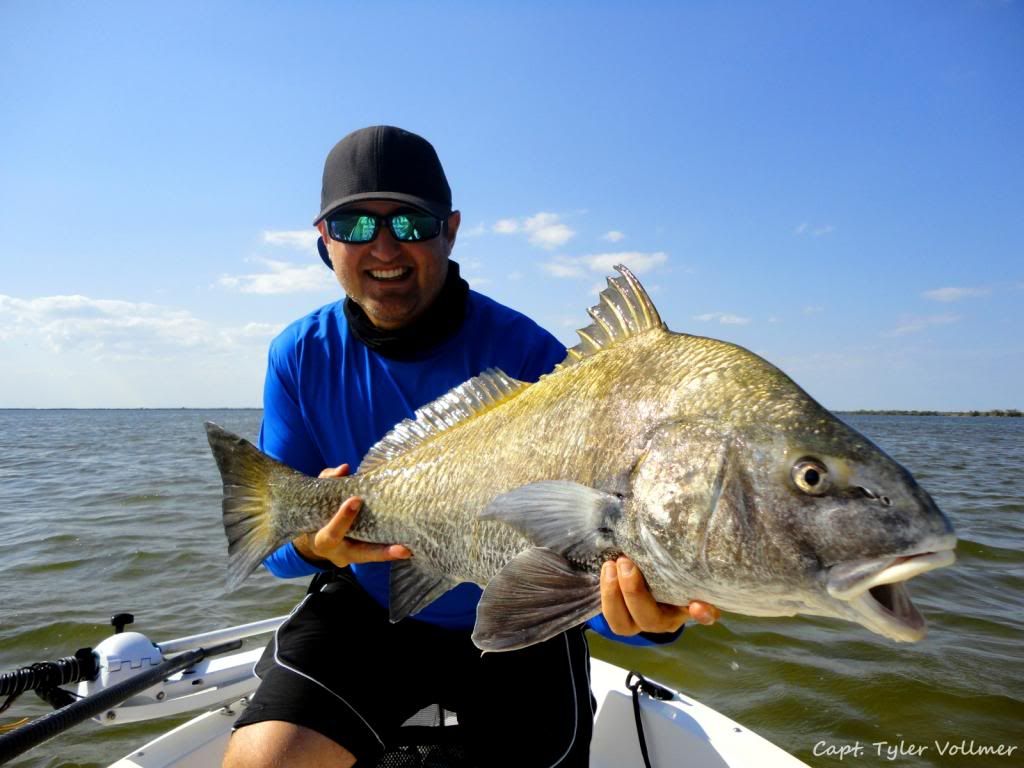 Now to a more of a sad report. Many of you know that our waters in a lot of turmoil right now. Recently, a lot of anglers and guides are finding dead marine life such as brown pelicans, manatees, and porpoises. If you see ANY dead marine life, please report it to the FWC hotline. We're not certain as to why the massive kill is happening but one could speculate that something in our waters are hurting the wildlife. Please try and practice Catch Photo & Release so we can salvage what we have left. Store this in your phone! FWC's Wildlife Alert Hotline: 888-404-3922.
Good luck out there and tight lines!