Home
›
West Central General Fishing & The Outdoors
2/27 Anclote...First Time out since last July
Juicebucket
Posts: 139
Officer
It's been a loonnngggg time since I posted on here or even fished. I haven't gotten my boat wet since last July for a number of reasons but finally got to get out today. Actually thats a lie I put in in last week but wasn't getting power on all cylinders so I basically did a lap around the area, ate lunch at Miss Vickies and called it a day. So today was the first REAL time I've been out in 8 months. Tides looked lovely and the weather was forecast to be a bit breezy but otherwise warm and sunny...hitched up and headed towards the ramp...only an hour later than planned.
High was at 1 and we got the boat in around 1030. My girlfriend's never fished before and I'm so far out of the loop its not funny so I just wanted to go for a boat ride, scout for fish and bait and maybe get ahold of some dinner. My tip on where the bait was didn't pan out and we ended up with about a dozen pins. Scouting quickly turned into hiding from the wind to keep the gf warm. I basically resorted to sticking to the lee side of everything since it was 10 degrees warmer and the only place I could actually see anything if there was even anything to see. After a few stops seeing nothing but Sheepshead and mullet I ended up on a shoreline thats been a deadzone for the past 3 years or so. One of those places I drive by every trip and never give a second look at. Decided to check it out anyway and ran over a nice 20+" Trout pretty quickly. A good sign.
After about 100yrds of idling I saw an upper slot Red scoot off...then another...then two...then about 20yrds later I went right over a school of about 100 mid-slot to well overslot fish. After stomping, pouting and cursing myself for scattering such a nice batch of fish I decided to keep moving and be happy that I least found something to check on later. Around the corner we motored over another 2 dozen fish around the same size. The life of a guy with no trolling motor strikes again...
We went back to the original spot and set up about 100yrds South of where we saw the school since thats the direction they all headed and hoped they'd come back in and settle down.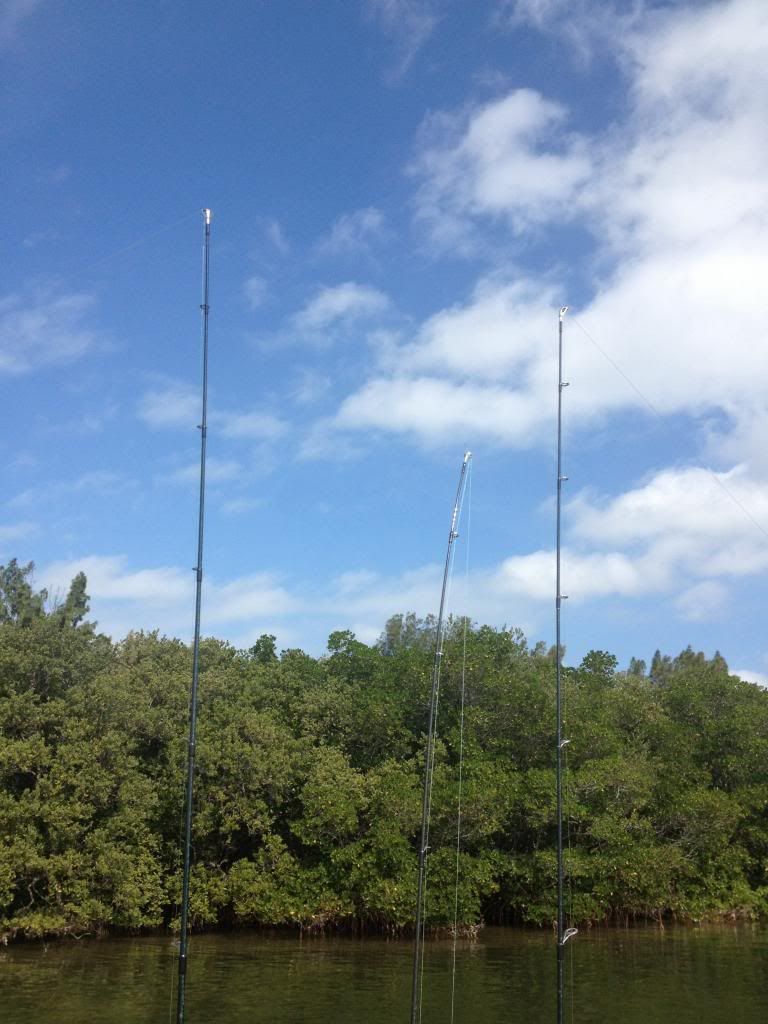 Lines in...
We drowned a handfull of already dead cut pins for about 10mins before the first rod went down. I was suprised to see 20'' class Trout on the end instead of a Red. I've caught em on cut bait before I just wasn't expecting it today. Suddenly it became a day of Trout fishing...every few mins a bait would get picked up and Trout after Trout came aboard. Decided it was time to get the GF involved and had her grab the next rod to go down. It did and she did. A couple mins later she had her first fish...A rather healthy 23" Momma Gator; not a bad way to get into fishing I'd say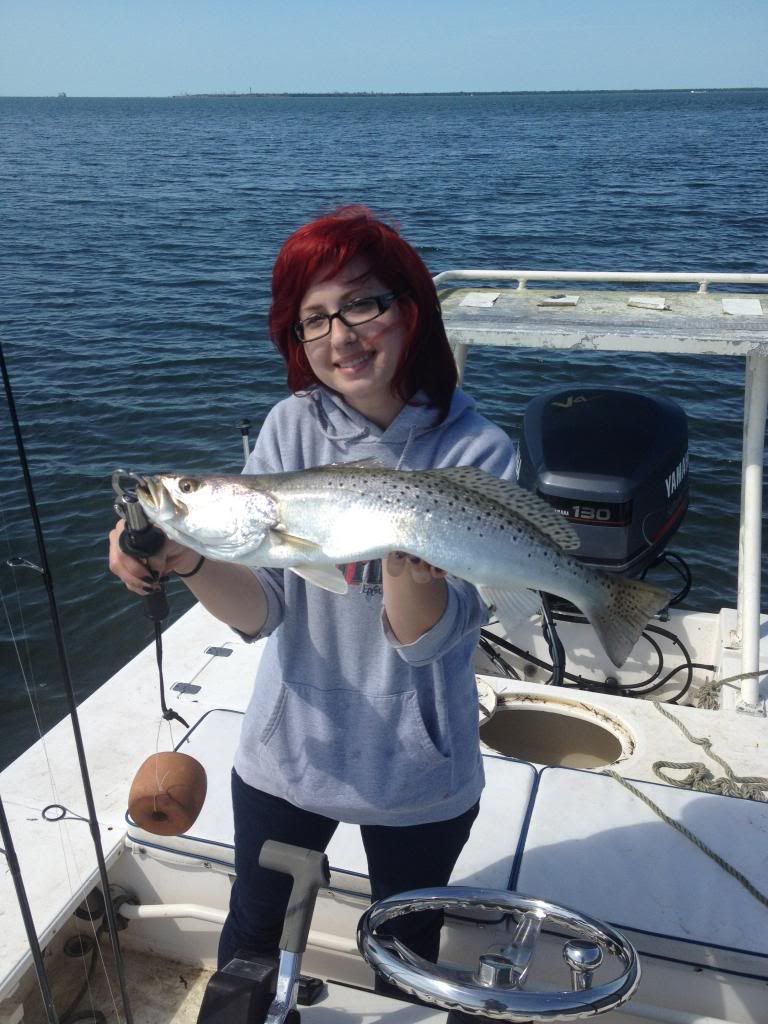 She's still a little cold even covered from the wind
Few more Trout later and FINALLY got through em long enough for Mr. Red to chew. He's out there waiting for me tommorow because he was too big to hang out on the halfshell in my kitchen tonight.
A few more fish later and I packed it up and went to check out some more ground. Found a few more pods of fish around the area for another day and decided to head in...
Love me some Pelicans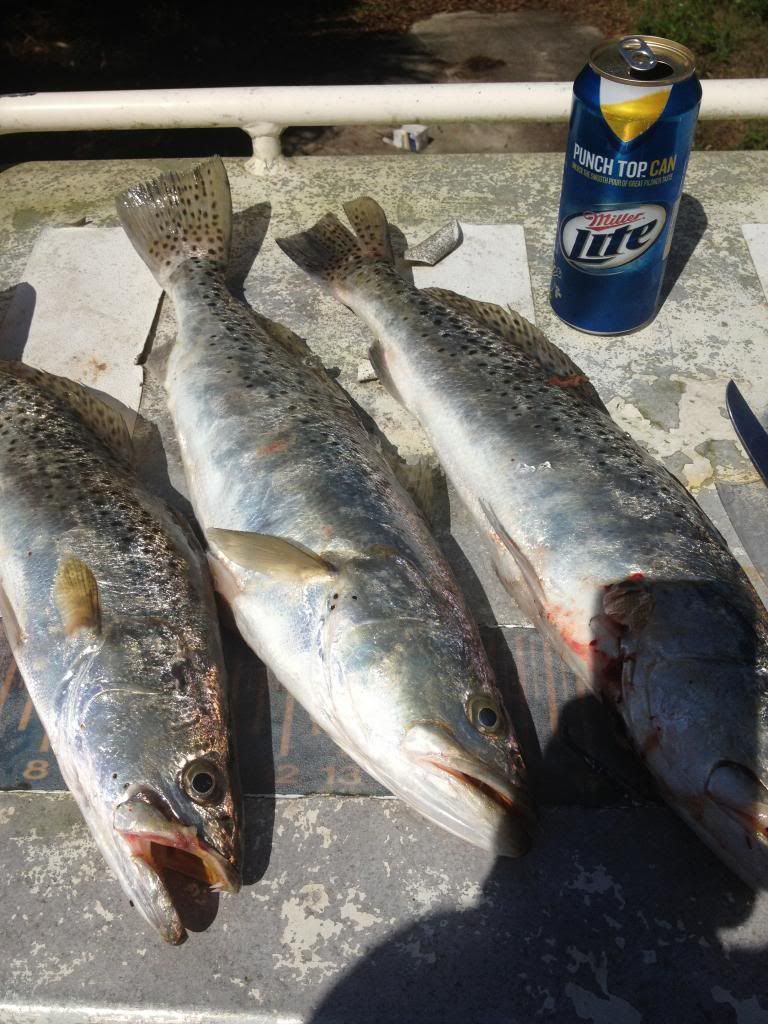 Don't judge the poling platform...like I said it's been awhile and I still have some cosmetic work to do. Cleaning fish is always better with cold beer.
All in all it was a pretty good "first" day back from hiatus and hopefully the GF catches the fishing bug. I'll be back there very soon and set up from a distance hoping they stick around for awhile. I plan to have many more and much better posts as the year goes on and its nice to be back on the water...maybe even starting tommorow.
Go home when the fishings done.
Commercial fish murderer.