Home
›
General Freshwater Fishing
2 Bass 1 Cast TWICE!!
Bass2bucks
Posts: 652
Officer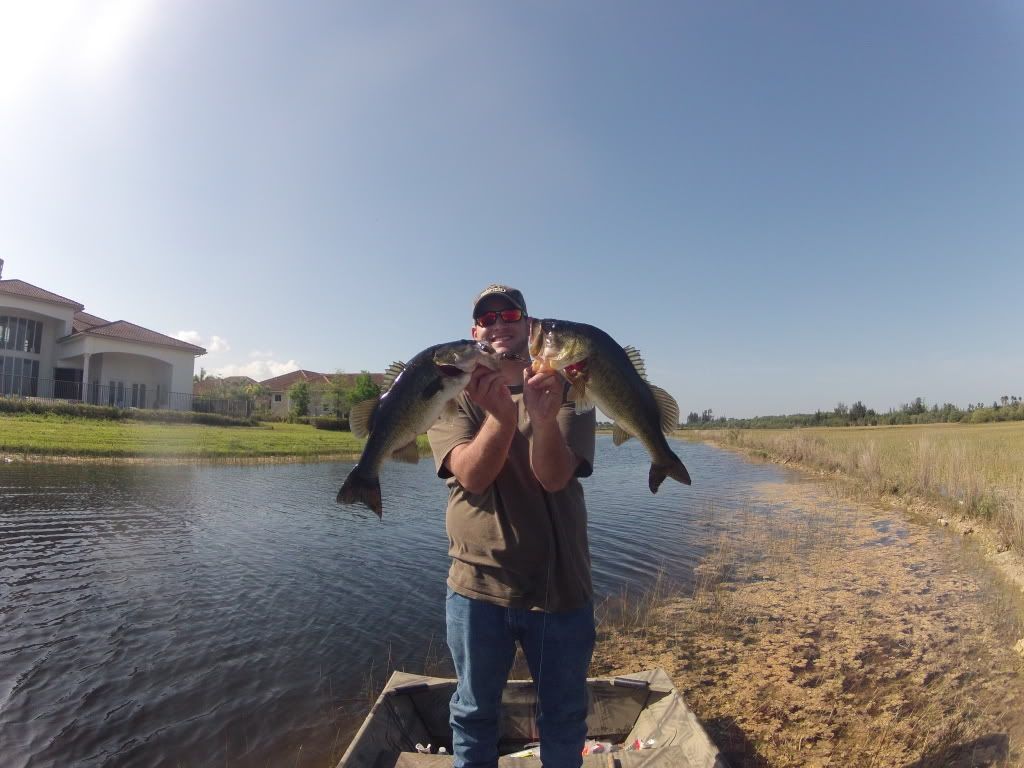 This past weekend I went to see my sister and her family in South Florida for the Easter Holidays. She lives 5 minutes away from Holiday Park in Weston and the everglades backs right up to her neighborhood. She also has a large lake in the middle of the neighborhood that seems to hold a large amount of bass. I decided to bring my poles down with me a long with a truck full of bass tackle and try my luck. I caught very few top water fish on a frog early in the morning so I decided to switch to a watermelon super fluke. I did alright on the fluke but the bite just wasn't there. I tied on some worms for a while and picked up a few more and as I made my way down the canal I came across a very steep bank where the levee ran into the canal at a 45 degree angle. Towards the bottom of the canal there were huge boulder sized rocks and I immediately thought to pick up a crankbait or a rattle trap. Well I already had a lipless Koppers LiveTarget rattle trap in the bream model. I started throwing it up on the rocks and reeling it across the bank and immediately started getting blown up.
The action was non-stop. Fish after fish and not just dinks, but quality fish. I caught a lot of bass in this one area in the 3-5 pound range. I also boated two this weekend in the six pound range.( I recently purchased a Boga Grip so I can have a more accurate guess at these fish's weight.) I was fishing with a buddy and let him try one of my Koppers LiveTarget rattle traps in the Golden Shiner model and he started catching a lot of fish too.
We were having a blast and then the fishing got even better. My fishing buddy had what we initially thought was a big bass but a few seconds into the fight we discovered he had two four pound bass in one cast! Eventually the fishing in the canals slowed down so we decided to move to the lake. Once again we loaded the boat and then I caught two bass on one cast as well on the brim model. I can't wait to get back down south and do it all over again.
Leave a Comment