Home
›
Big Bend General Fishing & The Outdoors
" Ling For The Ladies" Homosassa 4/9/2012

Ruff One
Homosassa
Posts: 1,779
Captain
Seas were beautiful. It was one nice day to head out fishing. Crew for the day was Mrs. Ruff One, friends Gary and Carolyn. Stopped at Bonnies and picked up some excellent livies. Our goal for the day was too get the ladies a big fish! We started out hitting all the shallow areas first, even stopping at most of the outside markers. No takers. Hit and area in 12 ft, saw 4 cobes, with one being a real beast. We worked on these guys for awhile, with no takers. Headed out to 20 ft and set up on some nice structure. Got the chum going, packed the chum churn, and settled in. Current was moving nice, and the groupers were of course there. No cobes. Then quess who shows up--The Troutman!! He idles over and we talk fishing. He roars off, churning up the water. I hit the chum churn hard. All hell breaks loose! Gail's pole goes off. Cobia in the boat. Short(32in). I pitch my Hammer Head jig. Cobia on. In the boat(32in). All released. We are in Chinese fire drill mood. I get Gail's bait set out at the 12ft depth with the Redi-Rig float. Cobia on. This one is no short. Gail's got her hands full. Nice fight, and this one get the gaff. 32lbs.!! Grab another pole, same deal, set bait at 12 ft depth, and Carolyn in on. Cobia in the boat(32in also). Man, 30 minutes of mayhem!! I guess the moral of the story is-- get Troutman to do some figure eights around the boat, and the cobia will turn on!! It seems that Cobia have to come and see what the noise is. That's why that chum churn always has a spot in the boat.
These guys seem to always be around!
The Ruffs.
Carolyn gets in on the action.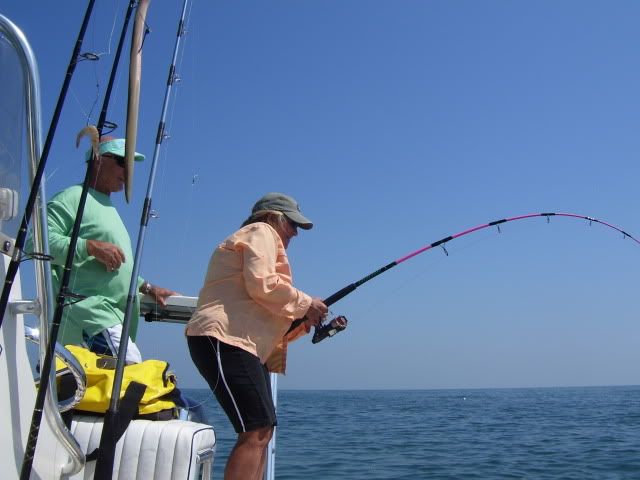 Ladies are happy with the Lings.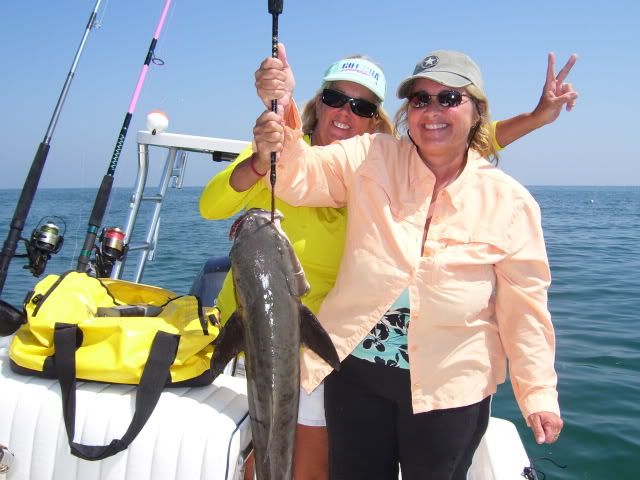 Gail with her Beast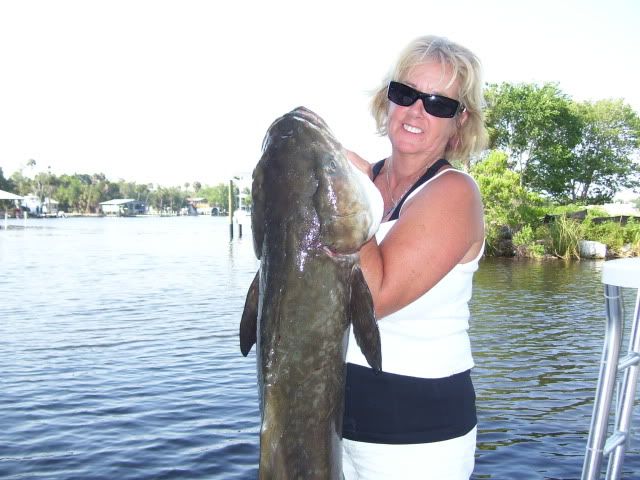 I am going to have to get a bigger cooler!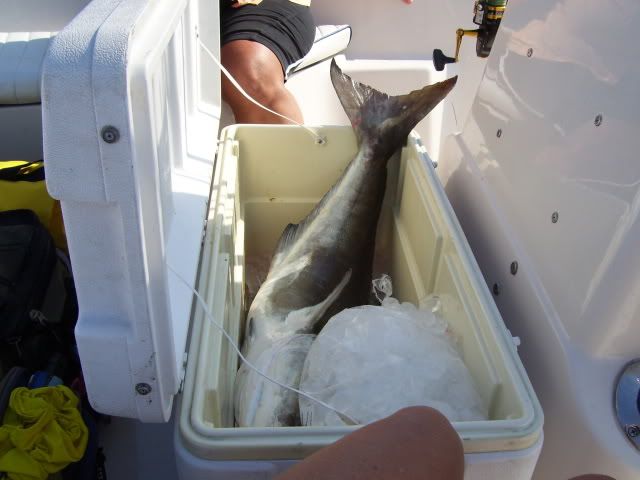 Nice 32lb er!!
Finally a Ruff One shot.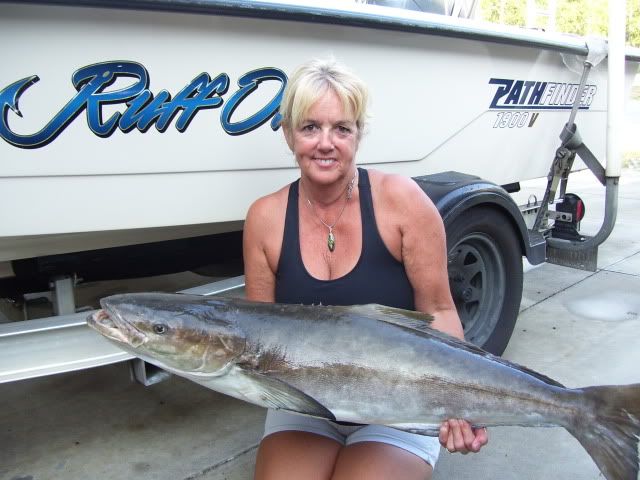 Enjoy
[SIGPIC][/SIGPIC]
Leave a Comment