Home
›
Southeast General Fishing & The Outdoors
FS FORUM MEMBERS FISHING TOGETHER IS FOR "THE BIRDS"
Plane Fish n
Posts: 6,428
Admiral
The team assembled at Captain Don's dock to board the Sea Lust.
Jim (Junior Baiter), Bo (Let's Go), Sean (Shoeless) and Eric (Plane Fish N) were aboard today as Capt. Don's guest.
We left the dock about 7:45am and headed out of the Ft. Pierce inlet hoping to find some live bait.
We hit the 10A buoy and marked a few however they wouldn't touch the rigs. After spending about 20 minutes trying for live bait, we decided to start trolling.
Seas were about 2' with a large swell which got even larger as we hit the Gulfstream.
We searched for the elusive weedline, rips, slicks and "nervous water."
We finally hit the jackpot in 175' of water and found a perfectly formed weed line with a beautiful rip. We trolled on the east side, the west side, inside, outside.. and NADA!!!!!!
We continued east southeast and finally ended up in the Gulfstream... with not a nibble, bite, etc.
On the way back towards shore, in 225', we finally get a solid knockdown but as quick as he mouthed the bait, he released it. Bo expertly dropped back the bait and nothing. We at least watched the sail use his bill to whack the bait.
As Bo reels the hoo and within 30 feet of the stern, Seans flatline takes off like a freight train but again, the hook is spit by the sailfish.
Our true excitement for the day was a little finch who was about 18 miles offshore and found our boat. He landed and was exhausted. He ate, drank, walked about, did the chicken dance, etc and kept us all entertained for a couple of hours. This guy flew in the head, in the cabin (bunk area) and just helped himself to whatever he needed. He later flew off.
Although we didn't catch anything, we did enjoy our usual brunch which consisted of Bo's famous chicken wings, Seans beef jerky and garlic sticks made by his family in Wisconsin, Doritos, Fruit and Jim's delicious blueberry muffins.
Coming back with our 21 mile run back to the inlet, the seas picked up to 4-5' but the 32' Twinvee was masterful. We ran back at a speed of 28 mph and you couldn't tell how rough it really was.
Yeah, admittedly, it's a boring report but it is what it is.
Enjoy the video clip below.. have a few laughs and remember, if you can't catch.. have fun.
Pay close attention to the end of the video with Jim sitting on the stern. CLASSIC!
Cheers
[video=youtube_share;VO6YiOGo6qA]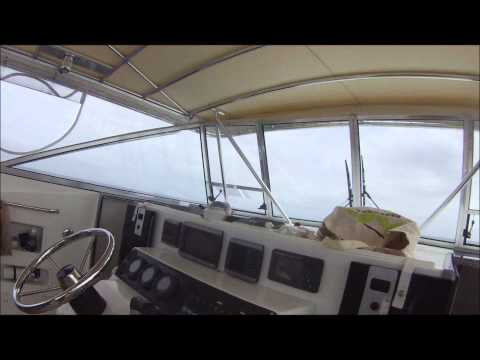 [SIGPIC][/SIGPIC]
Eric
PLANE FISH N
Leave a Comment