Home
›
Panhandle General Fishing & The Outdoors
Panama City - Sheepshead and ling search - Sunday 3/25
Panhandler80
Posts: 7,799
Moderator
Well, we got away fromt he dock at a decent hour and we were the second boat to get to my favorite area of the jetties for sheepshead. Not only was there only one other boat nearby, but my exact spot was open and tide was doing exactly what I wanted it to do.
We anchored perfectly and in short order had blazed through our live shrimp and had 16 sheepshead in the boat.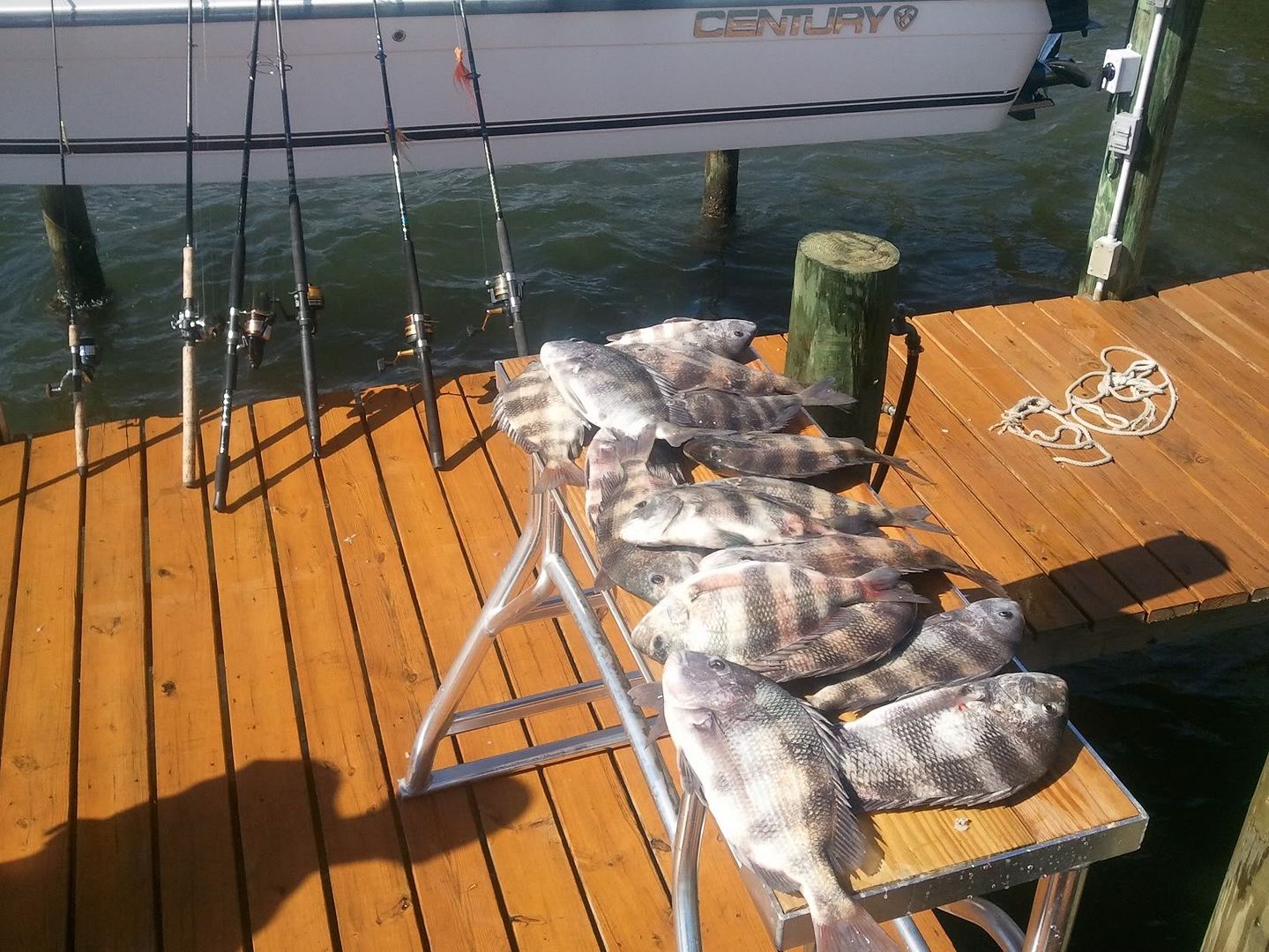 We also got instsant bull red hook ups on live chofers. After releasing two, I quit putting chofers on the bottom and repeatedly fan casted one across the current about 8' underneath a cork and hooked in the tail. We were right in the tide line and I figured a cobia could be near by an might hear that tail hooked chofer tring to dig against that cork. Nothing tht could be confirmed on the ling front, but something (i'm guessing probably a king, but could have been a cobia... you never know. It was certainly NOT a spanih) did hammer my chofer. I saw a huge boil (which makes me think more cobia than king) next to my cork. The rod was in the rold holder. It doubles over for a second, cork goes under and then slack. I reeld it in and right beneath the cork the 60# mono has been sliced... little curly cuues... I'm guessing that when that cork went under, a spanish went after it and severed my connection to whatever was on the other end. I guess we use baloons next time.
After that we did some cobia searching, but it was pretty snotty out and standing on the roof was tough. Pretty sure we saw one fish, but it was in some pretty sorry water and we rode right up on top of him. I fumbled for the rod, about fell off the roof, finally got situated for a cast and couldn't find him. We circled back... nothing. Went ever farther west and sat and watched or a while to see if he popped up down the beach... nothing. He was a good sized fish adn was eaded the right direction (but bucking the wave action) and angling towards hill from offshore.
After that we came on home. Pretty far into the bay we saw a pretty large king (20#s) sky rocketing 5 or 6 times. Pretty neat. Not sure if he was on bait or if a dolphin was on him, but that may have been the first time I've ever seen that way inside the bay.
"Whatcha doin' in my waters?"
Leave a Comment