Home
›
Northwest General Fishing & The Outdoors
Have you ever had that feeling, when you knew the deer should move?

micci_man
Somewhere in FL
Posts: 11,960
AG
Jaden killed one opening morning, a good one at that. She's hunted a few times since but Jordon has hunted hard at least 15 times passing on spikes and 4 pts that she chose not to shoot but not really seeing many deer at all . The temps have been bad but bucks were being killed in the area so we kept going. Today was the 5th evening in a row she has hunted. With the temps dropping, front moving in and a light rain I knew we needed to go and before I called her she called me and told me "we needed to go because they should move" so we went. we were in the stand and she was down I could see and we were talking about that's why it's called hunting and killing and being consistent in going helps.
Long story short, it was 5 min before shooting time, pretty dark and a doe runs out in the plot. It was overcast and getting dark quick. 2-3 minutes go by with her looking around and Jordon saying "there is a buck back there somewhere" and he steps out facing us at 70 yds.
Just then I look to my left and a smaller buck comes out 30 yds from us (50 yds from the others) and heads to the other deer which is what we needed to turn the other buck for us. I told her if she couldn't see him good to let him go and we'd see him later and then BOOM!! And she says "I got him dad, I seen him buckle" which I didn't from the muzzle blast but I did see him going low, fast and in a straight line. I knew she hit him good. Went to the house to get a light and a bloody 45 yds later there he was. Perfect slight quarter to double lung and no guts.
I'm a proud dad fellas, as I know the rest of you dad's are too.
150 lb 8 pt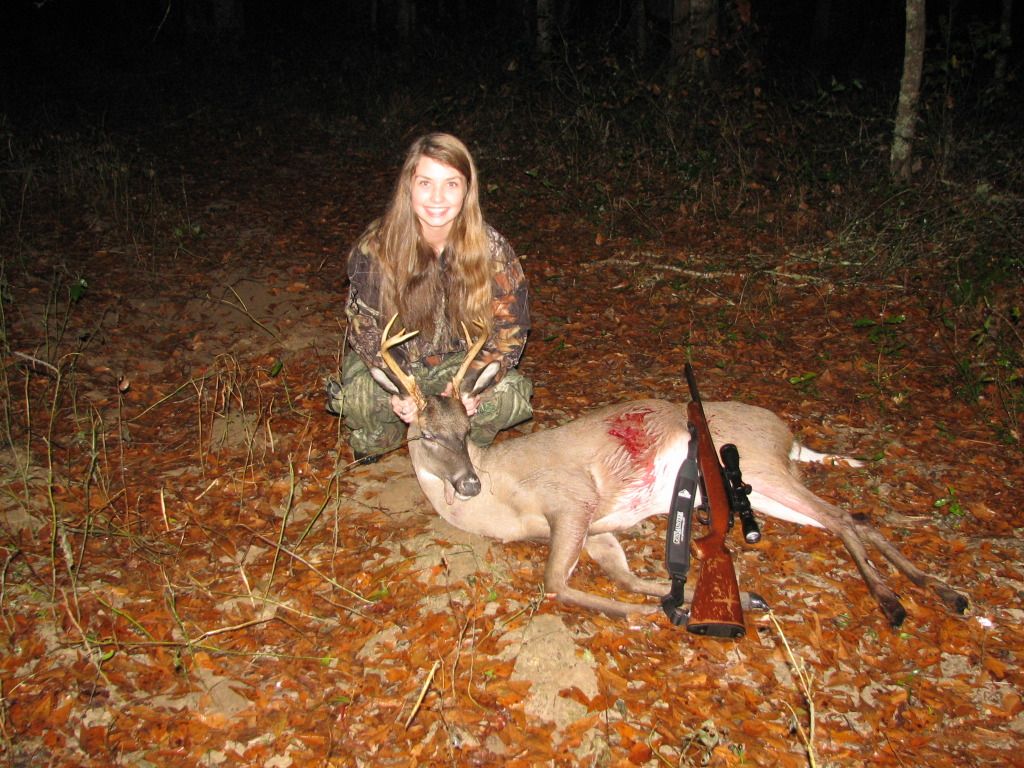 Common Sense can't be bought, taught or gifted, yet it is one of the few things in life that is free, and most refuse to even attempt to possess it. - Miguel Cervantes
Leave a Comment