Home
›
General Hunting
3rd time to midwest (long read)
hooksetter
Posts: 505
Officer
I have hunted the midwest a total of three times now.
I hunted public land in Illinois once and I have hunted ohio public land once. Both of those hunts I tried to hit rut dates which is archery season in both states. Both of those hunts I had a great time, saw plenty of deer and I just had not had the chance to shoot a deer that I wanted to kill. In Illinois I passed deer at 15 yds that were larger (by inches) then any deer I had taken. However, they were youg and they were not deer that I wanted to take to the check station.
Fast forward to this year. I cancelled an early season muzzleloader hunt with the outfitter that I hunted rios with last year. They actually called me and told me not to come due to the drought conditions they were having. I had already been drawn for a tag and spent 350 bucks getting it but took their advice and decided not to go. I had no intentions of going out of state and I have to choose my out of state hunts wisley due to my legs not liking steep terrain.
A buddy of mine in SE Ohio called me just before Thanksgiving and told me that I should come up and hunt with him. He said it was possible that his neighbor would lease 110 acres for the week of gun season. This property had not seen a gun in over 8 years and it had not been bow hunted this year either. The icing on the cake is the locals all do deer drives and the good ones in the area are known to head to this particular piece of land. I really did not think I could swing it then another buddy of mine from down here mentioned that he wanted to go to Southern Ohio and hunt the gun season with his cousin on public land. I quickly put 2 and 2 together and plans were set. My buddy picked me up in Georgia after the Thanksgiving holiday and we headed north.
We got to my buddies house in Ohio on Sunday they day before the opener. My buddy helps out at a local gun shop so we had to hang around a gun shop for a few hours then we ran out to the 110 acres, met the landowner and scouted for about an hour.
I left my climber about half way in the property on the ground and my buddy hung his on the end of a knob where he could see 2 different ridges. There is not much ag in this part of ohio its just steep hills and hollers but there is some ag down by the rivers. We were in the steep stuff. We decided we would stand hunt and use our muzzleloaders and the plan was to let it break day and creep into the property.
Well the next moring came and we had all our packs loaded to sit all day. My buddy and I split up mid way in the property and I picked up my climber and threw one starap over one shoulder. I made a wrong turn and walk a whole ridge before I found out I was on the wrong one, then I made another wrong turn and did the same. I finally realized where I was and found the ridge that I wanted to hunt. By now I was sweating like crazy and had already slipped, fallen and dropped my gun once. I was a complete disaster. I kept my mind right and kept telling myself how this would probably ruin most folks brain.
I made it to my tree, hung my climber and climbed up about 12 ft. any higher and limbs would stop me from shot opportunities on some of the openings I could see. By now it sounded like a war was going on around us and when I finally settled in it was 8:00 am.
I kept trying to calm my mind and get my thoughts straight. I saw a few deer running down in the holller and trying to get a bead on em the best Icould tell it was 4-5 does and a basket rack buck. Around 10:00 I had 4 does and yearlins come up to me and feed on acorns around me, and chase each other around on the side of the ridge I was on. It was still and they were quite loud in the leaves. As they started to leave my ridge I grabbed my grunter and ripped out 4-5 tending grunts. About 10 minutes later I hear that awesome sound of a big deer just walking in the leaves. Only egual to a good buck stady walking in a foot of water. I grabbed my gun and shooting stick and caught a climpse of a rack comming up a thick drain.
This is where it gets tuff.. First day of the hunt....What do I not pass. I asked everyone I saw this and it seemed everyone said opening day first thing dont pass a 140". I had been thinking about this ever since I left the house. The landowner just said shoot what makes you happy. I was more intrested in not shooting a 2.5, not shooting a broke up rack deer or not shooting a one horn buck. All which would be possible in a quick situation with a gun.
So I turn my scope to 9 power and put it on his rack. Wind is in my favor and my best shot opportunity will be when he is about 20 more yards.
He is walking from left to right and I check his right beam. I count like 5 small points on the top. Oh boy. Then he slightly turns his head to the left and I can see he has his other side and it does not look like he has any broken tines. He starts to exit the thick across from me, he is at 50 yards and starts to 1/4 away. Then within a milasecond my brain said, pretty wide, good mass and the next thing I knew the gun went off. I had shot through some brush.
He did not even hardly react. just kinda trotted off directly away from me around the edge of a knob across this drain. I did not have a good feeling.
I reloaded, waited about 20 minutes and climbed down. I went over to were I thought I shot him and no blood, I started zig zagging hill side and going driection he went and no blood. about 40 yds into this and I start seeing tons of blood. i round the knob that I last saw him go around and there is this huge open holler. I should be able to see a white belly or a rack or something but I dont see anything. So I look back down at blood and start walking it. It goies over to a steep edge and I look down on the little bench below me and there he is. Dead as dead can be and his left side of his rack is sticking up. Looking down I was thinking oh no he aint very big. So I droped down on my right thigh and slid down to the bench.
I grabbed his rack and picked it up and looked and really did not get as excited as I thought I would. I got my temp tag out and started filling it out. everynow and again I would look over at him and think. ya thats a good deer. I set his rack up against a tree and tied the tep tag to one beam.
Then I counted up his points and just sat there trying to take it all in. I knew for the area he was not a giant. I knew it was by far the biggest deer of my life and I was happy but was it the right deer to pull the trigger on on the first day of the hunt????
Never pass on the frist day what you would be willing to kill on the last... I think they saying goes.
As I looked him over I started to like him more and more. His bases were awesome, had a pretty neat rack and it ws time to get to work. I called the landowner and he came out. I got him gutted and we drug him down a holler and up a hillside to a little logging road. The landowner went and got his tractor with a front end loader. Thank god!
It was not a big body deer. I did not weigh him but we all guest him at about 180 dressed. After taking him to processor and taxidermist he grew on me a liitle more and I was very happy.
My buddy sat all day everyday for the rest of the week. He passed a 125" young 10 on Wednesday and on Thursday he moved his climber to where I shot my deer. At noon I went in property up wind of him and started launching logs off hillsides into thick brush. By the time I id this to the seciond ridge he shot. I had knowingly got a few deer moving but did not see any big bucks. Well I guess I kicked up a good un cause he had a GIANT come slipping in behind him from my direction. He got the deer stoped in a small thicket and tried to slide one in there. He hit a small branch and the bullet never hit the deer. Bad thing was the deer ran 30 yds then stopped. My buddy is not happy that I talked him out of not using his slug gun. Oh well.
The last day he saw a 140" and about a 150" running together but could not get a shot.
here is some pictures
check out this mammer jammer. old savage bolt action goose gun. if you miss you can just swat em wit it
Here is my deer. He had 13 scorable points. Was 19 5/8 inside and grossed 154 6/8" He nets under 140" and will not make the buckeye big buck club.
I really dont care. He is mine and I am happy!!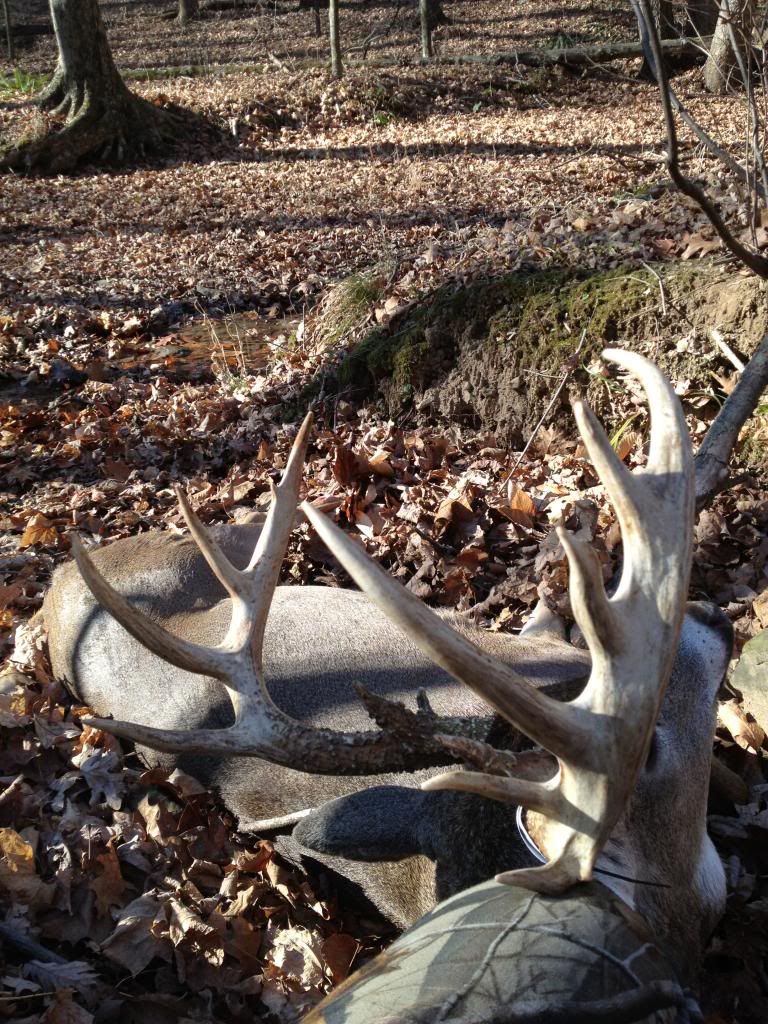 NEVER START A FIRE IN THE WOODS THAT YOU CANT STOMP OUT. IT MAY COME BACK AND BURN YOUR A$$!
http://tintkingfl.com/
Leave a Comment