Home
›
Southeast General Fishing & The Outdoors
Crazy Awesome Day On The Yaks 11/2, Delray
Mmusser0
Posts: 22
Greenhorn
This is my first post on the forum so I hope it turns out. My buddy Justin and I had the day off of work so we decided to head out on the Yaks. After finding some bait we had the yaks in the water around 10:30. Lines in the water about 105 feet and within seconds my buddy Justin spots a 6 foot Hammerhead on one of his baits. He didn't have any wire on so he reeled his baits up and the hammer followed his baits up to the yaks and was circling between us.
I had a wire leader on one of my rods so I tossed it to him and no more then three seconds FISH ON! Fought that bad boy for about 20 min then broke him off next to the yak. Got some great pics of him under water.
After that awesome fish, we worked our way out to about 200 feet (this is an estimate because Justin's depth finder is busted) and started looking for something that looked fishy. We saw some bird working so headed out there and found a awesome color change about 2 miles off. It was perfect scattered weed, birds, and and awesome rip. We start working this line and I'm about 200 yards off of Justin when I hear him screaming, "MATT GET OVER HERE I HAVE 2 DOLPHIN ON, GRAB A ROD!!!!" I start high tailing it over and see this really nice bull get airborne, about 25 pounds of pure power. Then the other one jumps, 15 pound cow. I'm screaming, "I'M ON MY WAY!" I'm booking it over there when my baitrunner starts going off. Thinking it was just weed, I start cranking it in fast. I get the bait right up on my yak and see a good fish following it. I scream, "I GOT ANOTHER DOLPHIN RIGHT ON ME!" Then I really get a good look at it! "SAILFISH!!!!" I free spooled my bait and this thing lights up and throws up his sail. I see this sailfish slashing at my bait and then the silver of the mullet just disappears. I set up on him, "SAILFISH ON!" He makes a jump no more then eight feet from the yak and it's off to the races. So this is three fish on in about 30 seconds. 40 minutes and 12 jumps later I boated my first Yak Sailfish. He dragged me all over the place. I ended up about 5 Miles north from were we put in and in around 527 feet (I asked a passing boat about the depth). Justin comes right up on me as I'm reviving the fish saying he got both Dolphin in the boat. Total for the day One Hammerhead, 2 Big Dolphin, and Our First Yak Sailfish! Awesome day and so worth the crazy paddle back. Got an awesome gopro video that I edited up. The song selection needed to be edited for obvious reasons but I still think it works. ENJOY!!!
[video=youtube_share;PAPhqHXJv38]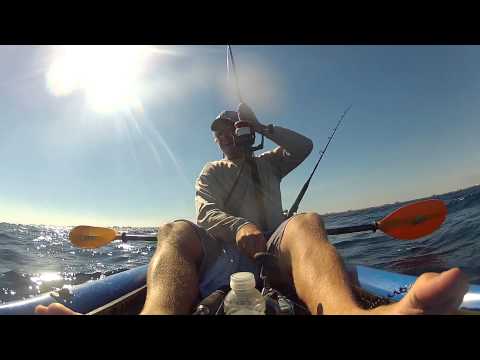 Leave a Comment