Home
›
General Hunting
They keep on dropping
down4dacount
Posts: 2,580
Officer
This was another succesful weekend even if I hadn't killed anything . I managed to pickup a return on Wed . Called my buddy he couldn't make so I called another friend . Friday we left and got there 3:00pm . Had several options on where I had seen bucks so we did a little stalk hunting / scouting. Wind was blowing 15-20 mph which was good for stalking . Walked up to 2 does within 25 yards . Saw very little sign of deer , lot's of rottin , and none of who made them . On the way out decided to check out several oaks and saw a hog that was easily 250+ . The though at first was **** that would be a ***** to load in the truck . I didn't want to shoot it so I told my buddy to try to shot him . He disappeared before he could shot . We went around but never saw him again . Oh well atleast that saved my back from going out .:grin Sat morning I was still uncertain were to setup . So another stalk hunting scouting morning . Right off the bat we see a white **** running . Never made out what it was , and it looked like alot of the other white **** I've seen before :grin . Lots of rootin and no hogs . Did more stalkin and nothing . Took a break and decided to hunt a spot I had seen a good buck but every weekend someone was there . Nobody there my turn . Got setup , saw 4 does , so it looked promising . Left a little early to try to catch something on the way out . Paid off with a nice Sow 133 lbs , 60 yard dirt nap .
Sunday went back to the same spot . As I was walking in I had hogs about 120 yards from my stand . So I shot one , saw it drop and kept on going to get on my climber . The rest scattered . Another Sow 125 lbs , 10 feet dirt nap .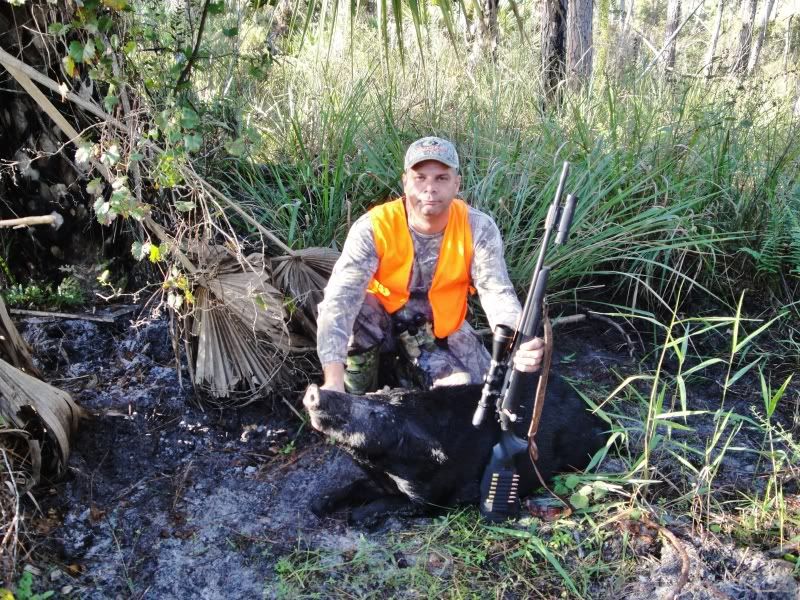 Got on the stand , organized my stuff and got ready . Made a few grunt calls about 7 ish . Few minutes later I hear something behind me , I looked and nothing . Palmettos are high BTW . At 7:20 I picked my bleat can and remember the video someone posted on FS about doing short bleats instead of long bleats . Both have worked for me before anyways but what the hell . Looked around to make sure nothing was around first . 2 short bleats 1 a little longer . All I heard right behind me was the palmettos blowup . I knew right away that wasn't a hog . I grabbed my gun and turned around and all I see is horn flying over the palmettos . Oh crap it's a buck and good horns . he jumped over the palmettos and I grunted to stop him . I had 2 pines infront with a gap of maybe a foot wide . He stop behind them maybe 30 yards broadside , I put the crosshairs on his front shoulder and squeezed the trigger . He dropped right there . Holy crap that happened quick . My hand was shakin and I couldn't believe it . Pig and a buck by 7:30 . He must off been bedded there all the time and never heard me climb . Which this has been the quietest pines that I have climbed . 6 Pt 115 lbs 40 yard dirt nap .
Here you go for my smiley friends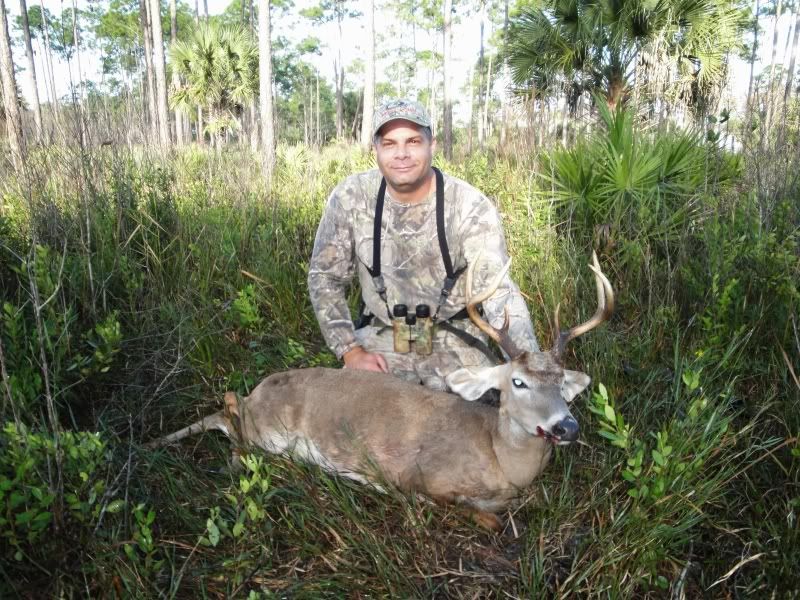 He was standing next to that brush and painted it red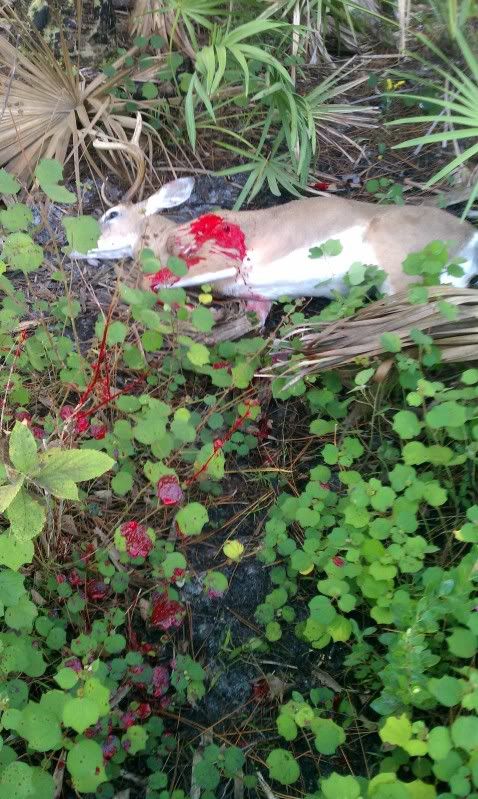 I was on the pine behind the big one and small one .
Thank You Lord for another great hunt . Thanks Chris for helping me .
Leave a Comment