Home
›
Southeast General Fishing & The Outdoors
10/18 BIG GIANT SNOOK fort pierce
Pensacola
Posts: 135
Officer
Took my fiancee out on my gheenoe yesterday for a afternoon of fishing. She's not a fan of the offshore game, but i'm trying to get her hooked on inshore at least- baby steps right? Anyway we get some live bait and start fishing. She catches a nice 24 inch red off the bat. Then she catches her biggest trout to date, a 26 incher. So i'm thinking, i cant get outfished by my woman!
Something big hits my bait. Probably in 2 feet of water. 10 pound power pro connected to 30 pound fluorocarbon. I could tell it was big. It then made a crazy 50 yard run. It was so big I was honesty thinking I had a shark. I get it about 15 yards from the boat and i see a yellow dorsal fin, and im like HOLY CRAP its a monster snook. It then peels a 100 yard run nonstop. How am i going to boat this thing? My fiancee isnt gonna grab it. I dont really want to hand the rod off to her in case she loses tension or something. After 10 minutes, it comes near the boat with its big bucket mouth open.. rod in left hand, i put my right hand in his giant mouth and held on.
I LANDED IT! We are freaking out at this point. I keep this huge fish in the water and take extra care with it. I take the hook out while it was in the water, I pull it out for a quick picture, taking care to support its belly. Quick pic and back in the water, I make sure to get a good revival, and off she swam. What a trip! I have no idea on size, im guessing between 30 and 35 pounds. What do you guys think on the size? I know one thing, i bet you could fit a bowling ball in this things mouth!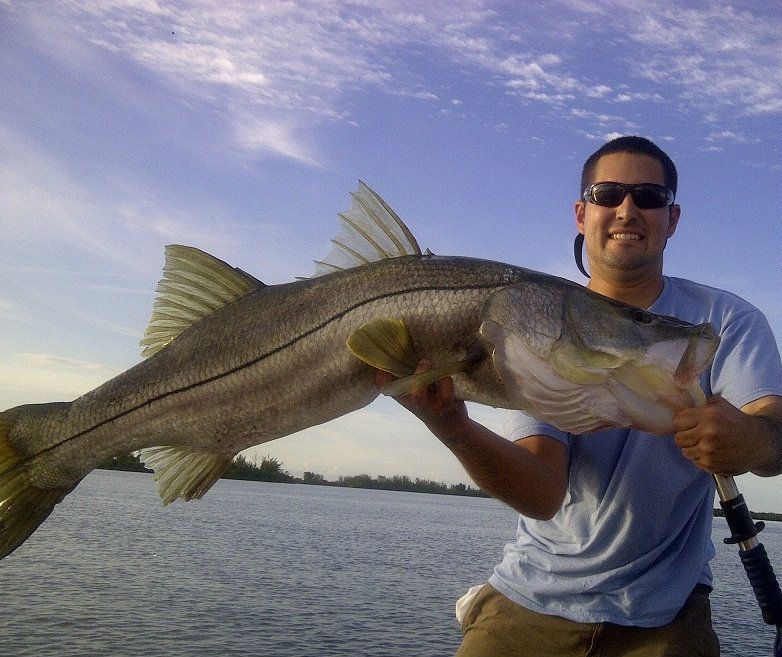 21' Grady White with 150hp Yamaha 4 stroke "Pensacola"
12' Carolina Skiff with 6hp Yamaha 4 stroke "Gaht 'Em II"

[SIGPIC][/SIGPIC]
Leave a Comment