Home
›
Southeast General Fishing & The Outdoors
SLI.... Blue Marlin
unhooked
Posts: 203
Deckhand
The coffee colored water got us pretty far offshore today. The water turned from green to blue in 370'.
Tucker (from West Marine in Jupiter) and I were talking on the way out about Blues, I have been wanting to finish the SLI Billfish Grand Slam (Sword, Sail, White and Blue Marlin) all I needed was to land a blue, long odds!
Decided to troll a blue/white Illander on wire and a large ballyhoo over PBH. A Penn Int 50W w 60# mono and used a downrigger to about 75' (on the rigger) and the bait about 100' back from the ball. We were hoping to get lucky with a wahoo.
We heard line snap off and the reel started to scream, first thought WAHOO!! but the line just kept peeling off the reel. The idea of getting spooled crossed our minds several times. A few moments later we saw a huge sailfish tail walk for a hundred feet a thousand feet from the boat and it was still taking line!
We cleared all the other lines and got down to business. Well the fish wanted nothing to do with us and kept taking line. Finally it slowed down and Tucker got a few feet of line back when it suddenly went SLACK....I told him to keep reeling and I gunned the boat. We ran about 20knots for 30-40 seconds thinking the fish was off but it came tight again. We had all decided after 30 minutes into the fight and the amount of pressure we were putting on this fish that it was a Blue Marlin but no one wanted to say it out loud. There was no way a sailfish could withstand the pressure from the 50W
The fish stayed deep for the entire fight. We got him boatside several times and started to leader him and then he would dive again.
We thought we might be putting too much pressure on the line so Tucker was careful not to touch the spool at all. Every time the fish started to run the line would be pinging off the spool. I had not checked the drags before I went out but the last time they had been set up for high speed wahoo trolling. We were pretty nervous about the breaking him off.
We finally saw the dorsal fin and confirmed it was a BLUE! Now we couldn't say any thing.
After an hour long fight and on the 4th attempt Tucker leadered and billed the fish. I got my lure back and we took a few pictures and revived the massive fish. We took note of the length and it was 11-12 feet long. Im guessing 275 lbs.
So we get back to the house and check the drag on the 50W and cant believe it was peaking a 32 lbs of drag. Wow we got lucky. Any less drag and I dont think we could have stopped this fish.
Amazing day on the water.
cheers,
Scott
We were fishing a PRO SPORTS BAY KAT 21'
I have a nice video of the leadering but I have to clean up the language. I dont want my kids to hear me speak like I did in the video.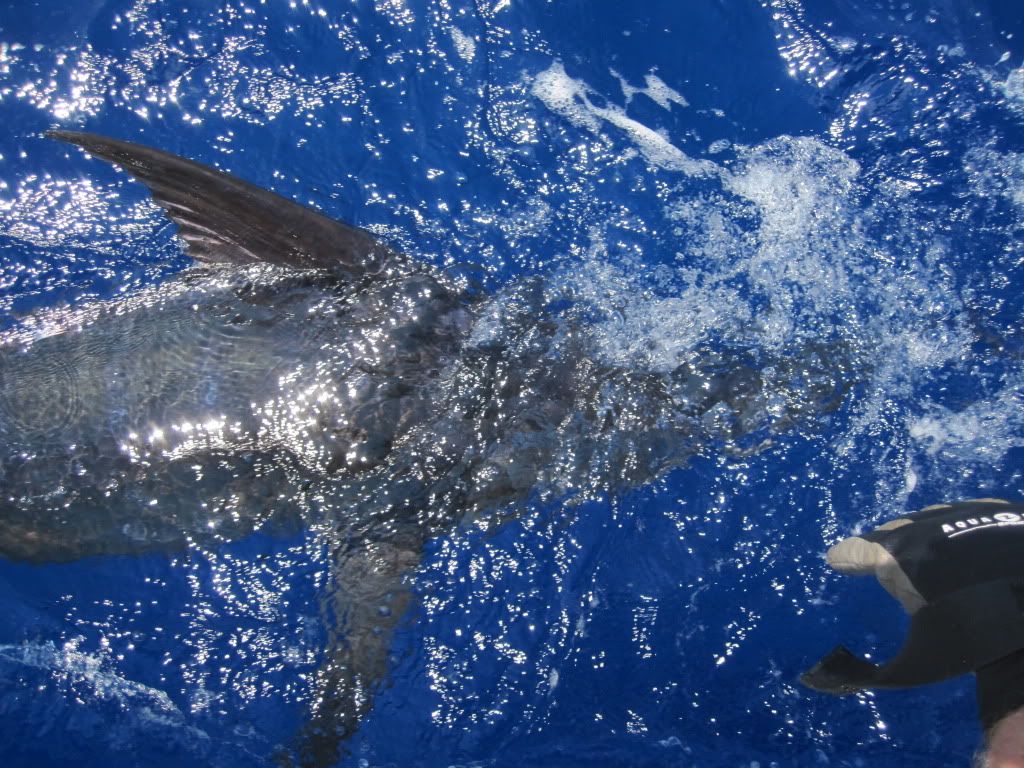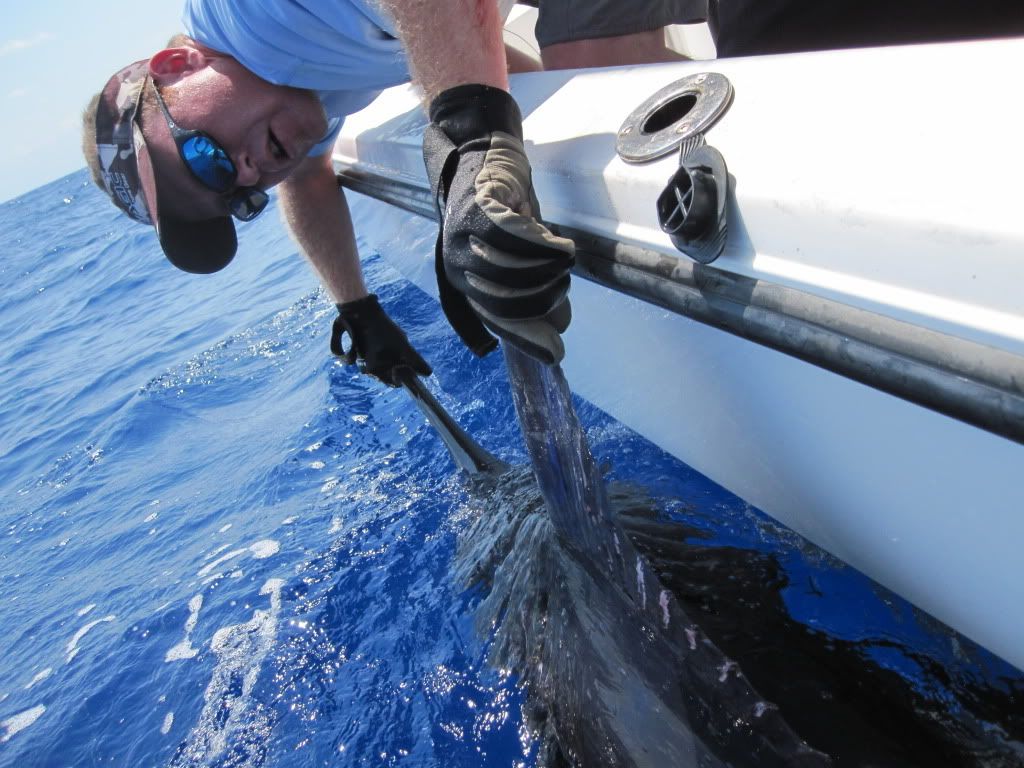 VIDEO:
http://www.youtube.com/watch?v=OxE6RaOJJLs&feature=youtu.be
Thanks, We held her until she was rested for about two minutes and then she kicked quickly away from the boat.

Click on this photo for a video of the release.
Leave a Comment