Home
›
General Hunting
Last day last year & first day this year 8 point down:
gator4ever
Posts: 2,501
Captain
Last year I shot an 8 point on the last day. Fast forward to ml opener this year. Here is my story:
Finally I used the new hunting season dates to my advantage and was able to kill me a rutting South Florida buck.
Saturday was opening day for our black powder season down south. Fist morning was beautiful not a lick of wind. One of them mornings you dream about during the off season. Only problem was you didnt need a flashlight to get to your stand the dang moon as bright as can be. I sat at my favorite for sure thing stand and didnt see a thing. Was I surprised NO, been there done that too many times.
That afternoon I didnt leave camp until 5pm I knew that if anything happened it was going to be at dark30. I get in my stand at 5:45 and the wait is on. Three does come at 7:15 I am happy at least I have seen a deer all is not wasted. They move on I texted my buddy Allen and told him that I had seen 3 nannies maybe they will stat moving. He texted me back get ready there maybe a buck on their tail. I texted back dont think so they were calm as can be. As soon as I look up this buck passes my me at 120 yards. Of course he is gone as soon as he appears. So I start looking for my dern doe bleat can. Cant find it, during my rummage through my backpack I find my trusty true talker grunt call. I get my gun in positive. Barely blew a soft grunt and I hear water busted here he comes. He turned broadside at about 110 yards and I let a 45 cal barnes sabot backed by 110 grain blackkawk powder fly. Baaawl and splash he is in about a foot a water. WOW I couldnt believe how fast everything happened.
Anyway here he is not the biggest buck in the woods. But frankly when you hunt south florida they are all good in my opinion.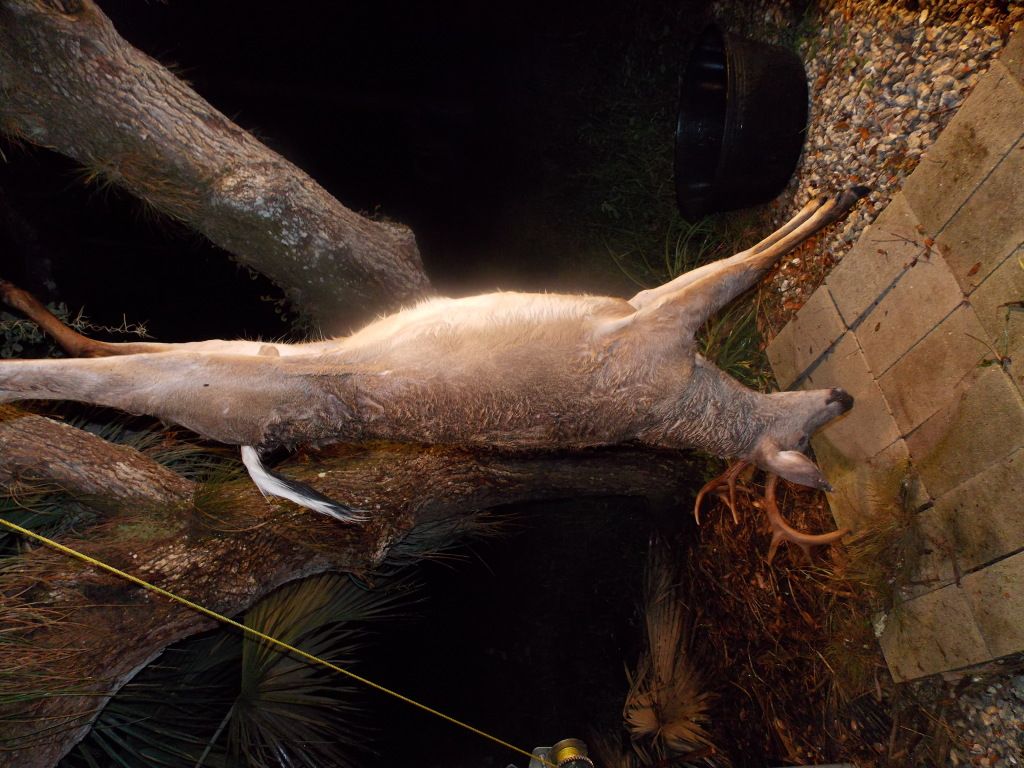 "sometimes it's OK just to kill a little time" my grandpa 1972
Leave a Comment