Home
›
Southeast General Fishing & The Outdoors
2012-07-03 HOT PHINS
Ocean Motion
Posts: 583
Officer
Today, the players remain the same but the results, at the end of the day, were very different than yesterday.
Ken and I returned for round two leaving out of Manatee Pocket at the "early hour" of 7:15! We stopped and purchased some Pilchards from Chip, the Bait Guy
and off we headed to the Hill with high hopes of getting and early start and some more of those larger BFTs on that early morning bite and then branch off to look for some Phins with the live baits.
We banged away at The Hill for 3 hours (8 to 11) with nothing to show but one small BFT. We were mixing up the colors, speeds and direction, all to no avail. That one lone BFT hit a small pink lure with a chrome head.
While out at the Hill we shouted out a hello to Dave on NegotatioR and to our barn mate and neighbor Otto and his crew. Hope you guys did better than us.
At 11, we pulled in the artificials and set out the Pilchards and with 15 minutes we had two simultaneous hits on Ken's and my rods. Two swinger Phins go into the box. I call them Taco Phins because by the time you fillet them, there is just enough meat to make a bunch of Dolphin filled Tacos. Extremely good eats!
Ok, now that the skunk is off our backs, we continue bump trolling N/B along this somewhat organized weed line in 440' northeast of the Hill. As we pass two boats drifting along a large weed patch, which is part of the weed line we were following, we notice one on the boats has two fish on and one is a swinger and the other is surely a good gaffer. We watch as the scenario plays out. Angler gets fish to boat, second mate gaffs fish and into the box it goes. This happens two more times and they leave the area. The other boat also leaves and we are the only ones left sitting on a fished out spot. There is not another boat in sight as far as we can see!
Ken and I decide to return to bump trolling that same weed line as we followed it N/B. We get to the east side of the weed line and set out one line which gets hit immediately by a gaffer Phin. I still have bait on a down line and Ken throws out his bait which gets hit almost immediately. There were gaffer Phins swimming all around the boat. Then the down line gets hit by another gaffer. End results we go two for three on the gaffers. We return to bump trolling until we run out of weed and then head S/B on the same weed line with negative results. By now it is almost 1 PM and both Ken and I agree it is time to call it a day. We are 19 miles N/E of SLI. Below are two random shots from today's outing on Ken's boat.
The seas remained calm all day and the ride back to SLI was pleasant and uneventful. While Ken is washing the boat, I am filleting the catch of the day. The one small BFT goes to Ken, intact, so it can be use for one of his fish prints. Ken is a recognized and accomplished artist in the field of Gyotaku, the Japanese art of fish printing.
http://www.kendarafishprints.com/index.html
Below is a picture of today's catch.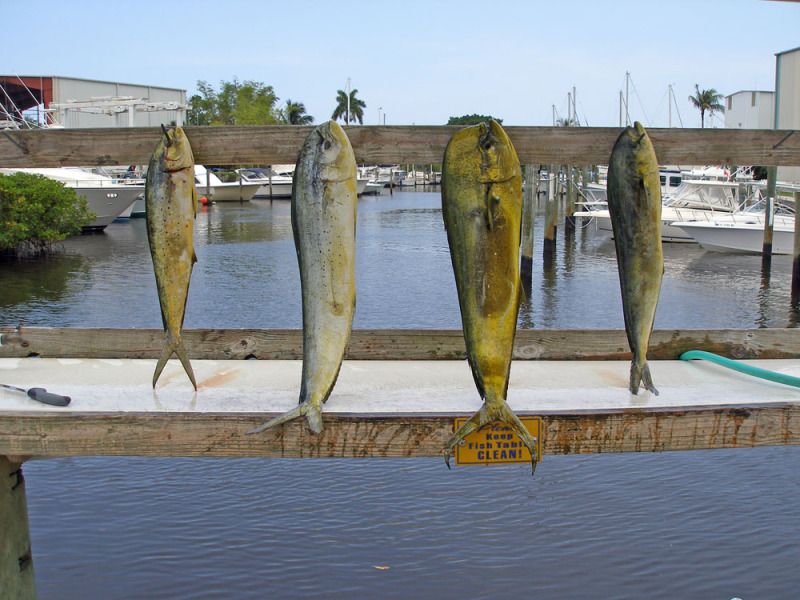 Fishing is not about how many fish you catch in one day BUT, it more so about the manner in which you spend quality time with great friends and never have to have a constant conversation with your fishing Buddy to enjoy his or her companionship and a day out on the sea.
Leave a Comment