Home
›
General Fishing
Observations on the PTTS protest over the past few days...
Gary S. Colecchio
Posts: 24,922
Officer
Notes from the past few days.
McLaughlin and his non-member members of Save the Tarpon, which according to him is not an organized organization but a group of concerned citizen activists not affiliated with any other organization or business are not opposed to jig fishing per se.
Yet photos and comments and names posted on their web sites and others indicate more ties to the people and businesses who have historically opposed jig fishing in the past.
This video from their site features Boca Grande Fishing Guides Association members explaining the "unethical" practices and harm of jig fishing, which they claim is a snagging device. Note the demonstration is with a J Hook, where jigs incorporate circle hooks designed to catch fish only in the mouth.
Boca Beacon's banner of June 15 ( two days before the protest) presents McLaughlin as a heroic tarpon expert, in keeping with their lean towards their advertisers: BGFGA business and not fact checking any of the claims and taking material ver batim directly from their web site. And never calling into question his participation in PTTS for the past several years.
http://bocabeacon.com/
McLaughlin himself wrongly accuses Josh Olive of Waterlines magazine of being " A Disgrace to Journalism and Conservation" because a wrapped boat bearing the name was seen in the area, which was not a PTTS particpant. Although this was acknowldged as being false, the accusation remains on the site.
http://savethetarpon.com/josh-olive-waterline-magazine/
The accustation is that Olive is pandering to PTTS sponsor and advertser, Ingman Marine.
The "peaceful" protest was not peaceful at all and not intended to be. It was designed to obstruct the peaceful tournament, by the non-membership blocking access to the scales with their bodies and boats.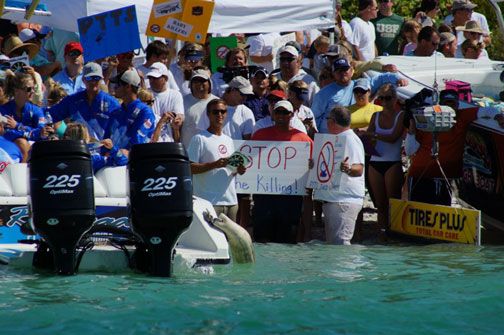 And whose boats were these? "Traditional live bait" guides known for their long running battle with jig fishermen. While McLaughlin himself takes great care to distance himself from the traditional guides , he participated as photo documenter and radio operator, broadcasting on the same frequency as the tournament perched atop past BGFGA president and director's Van Hubbards boat: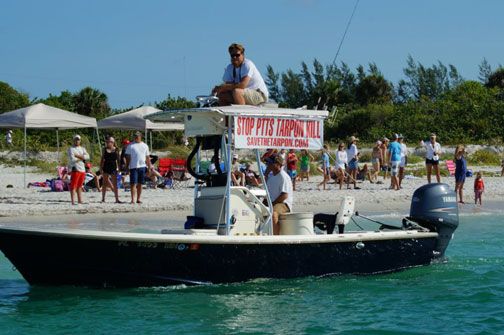 Witnesses report an alledged collision between this boat and PTTS particpant, Black Jack Media. The same kind of dangerous behavior by PTTS captains condemned by his group.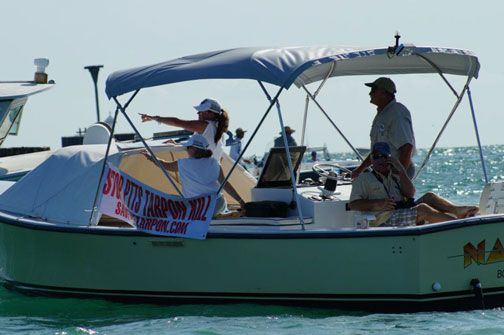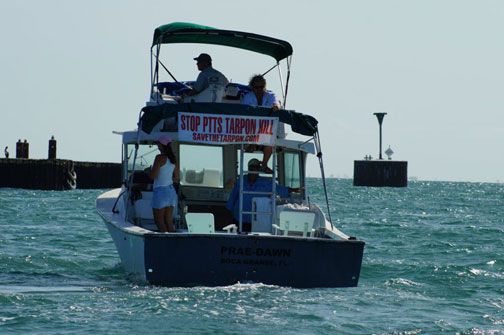 Still claiming no association with any members of this group and that he is not against jig fishing, the small plane trailing a banner proclaiming "SAVE BOCA GRANDE PASS TARPON NO JIGS " was featured on their face book page.

Its obvious to anyone watching this peaceful protest that Save the Tarpon is supported and particpated in mostly by BGFGA membership and presented as a grass roots movement by concerned fishing guides who have suddenly seen the light and cast away their unethical practices in favor of traditional methods. Which is something we have seen before by members of the BGFGA in the past. After all, the jig was invented by their members, and then renounced in the same way these former PTTS competitors are now.
STT has done its best, (not really ) to mask their affiliation with BGFGA. The truth is that they are really one in the same. The people are the same, the protesters are the same and the banner flying overhead was theirs. The protesting boats are theirs.
There is no other conculsion to draw other than this movement is being employed as the latest tool in BGFGA's arsenal, complete with the same tired rhetoric, bad science, innuendo, personal attacks and very transparent motives they have employed in the past in public hearings, the press, lawsuits and now social media designed to rid BGP of jig fishing.
It was only a matter of time, really.
"If I can't win, I won't play." - Doris Colecchio.

"Well Gary, the easiest way to look tall is to stand in a room full of short people." - Curtis Bostick

"All these forums, with barely any activity, are like a neglected old cemetery that no one visits anymore."- anonymouse
Leave a Comment