Home
›
Northwest General Fishing & The Outdoors
Opening weekend of snapper season
line dancer
Posts: 233
Officer
I planned on fishing with my wife's uncle on Friday, but that got called off due to the weather.
Omegafoo was planning to fish on my boat with us on sat. with the forecast still more than my back could bear we changed gears and decide to try some of the close in stuff. We got ready and headed out early sat morning and the seas sure made me glad we were not going to try and run 40 plus miles.
I put one number in the gps and when we got close I could tell a boat was on it, so we found another and headed on a little bit further. We got there and had this one to our selves. I don't usually fish public numbers for good reason as I think it is a big ocean and will not crowd someone else, and have very little patience for dealing with idiots.
We get anchors up on this number and start catching grunts right away. So I send one back down to the bottom, shortly I get a hard hit but no hook up. this continues a couple more times and I decide I'm just going to let the fish take it and choke on the bait. This fish played with the bait for a couple mins then finally took it. I get the fish up and see it is a red snapper and a pretty dang good one at that.
I put down another grunt and the same thing happens again only this time it was a bigger snapper. This time I had plenty of people watching me as a camo jon boat was about 10 yards away and tiring to fish with us. I stayed calm and just kept telling myself it is a public number and you have to deal with this on public numbers. I think Justin had had enough and asked the guy if he wanted to come get in the boat with us and the guy kind worked his way on off.
Carrie is up next and puts a nice snapper in the boat on spinning gear, that was fun to watch as we did not know who was catching who for a few mins. Mean while Justin is doing something on the other side of the boat besides catching fish. we manage to put on more in the box and the bite shuts down and we decide to head back to the hill.
Sunday was the same spot with a little better seas. Carrie puts 2 good snapper in the boat and shows me and Justin how to fish. Don't really know what we were doing wrong but we both skunked out before the bite stopped.
All and all it was a good weekend the boat run good and it was a fun time. Still don't really like fishing public numbers but I learned you can catch fish off them if you are willing to change what you are used to doing and try something new.
Total was 6 snapper that weight 68 1/2 pound combined. the biggest was 14 something and the smallest was 8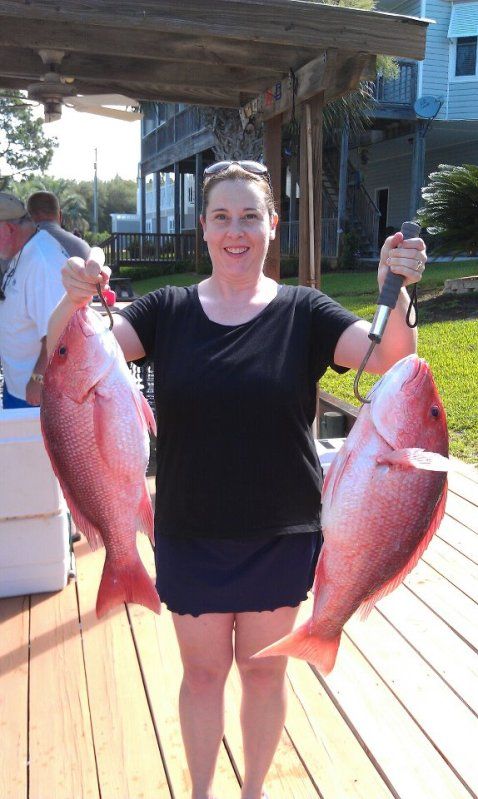 Justin finally catches one out of the cooler back at the dock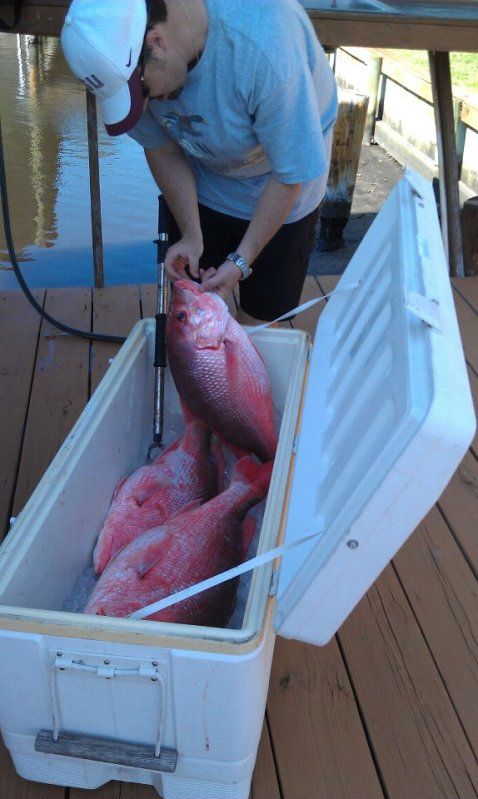 Leave a Comment