Home
›
Southeast General Fishing & The Outdoors
"Team Bandit" Francis Langford Memorial Tournament SKA Div.8 (pics and video)
sam50
Posts: 499
Officer
With our success last tournament hopes were high to have a good showing for the first SKA Div. 8 battle. Team was the same except I had my cousin Dale down from Georgia for the weekend and he volunteered to be the picture and video guy. Weather was forcasted to be flat calm with the possibility of thunderstorms in the afternoon. We loaded the wells with bait just inside the inlet and waited patiently for the Bimini start at 7 am.
Countdown............and the Suzuki powered Invincible is flyin!!!
We get south to the Jupiter area and set up our normal spread, minus the kite, as the wind was non-existent in the morning.
The bite was slow, as we only managed some bonito and a few small kings. We got an inside tip that the bite was on farther South, with fish in the 20-40lb class, so Capt. Ron made the decision to run and reset. It didnt take long for us to boat some fish in the 20lb class and then it happened!! A smaller dive boat decided to park 20 feet off our bow while we were slow trolling. Shouted nicely at him to continue under way and he was clearly not an experienced boat handler. They responded with lots of cursing and went as far as unzipping his wet suit and "pulling" on his sorry excuse for manhood!! Thank god we didn't have the kids aboard today!! We then witnessed them weaving in and out of boats "looking for other divers" that had no flags! Just so happens that PBSO Marine unit stopped him. HAHAHA. While all this was going on Mike hooked up on a nice fish and we were chasing it down fishing off the bow when the vilian decided to try and ram us shouting more profanities that lasted a few minutes! If he was smart he should have ran our line over and cut off our biggest king of the day!
[video=youtube_share;dFPncxttNJo]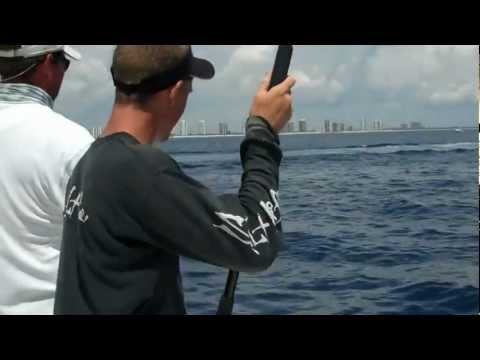 Well after all that mess was over we had a decent fish in the box and the weather moved in. The next few hours were spent in the pouring rain. We managed 4 or 5 good hook ups and long battles only to be plagued by tail whips and fish eating above the wire. Definitely lost some monsters!! Fishing time was up and we had to make the run to the scales in a now 2-4 ft slop, but no worries because this boat eats that stuff for dinner. We intercepted a few other bad *** boats just offshore and had a thrilling drag race thru the river with the music pumping loud!!
Weighed the fish and waited for the results........not too bad. Took third place king at 36.45 lbs just behind Spiced Rum III's 36.81 and Pennyless posted a 45lb king for first. It has been tough last few tournaments getting knocked back by tenths of a pound, but diligence will pay off in the end!!
Getting paid!
Stay tuned for results from our Fourchon, Louisiana trip and tournament The Cajun Classic!
Leave a Comment