Home
›
Southwest General Fishing & The Outdoors
5/19: Estero Bay
Binder
Posts: 3,805
Captain
Got out on the water and got bait at the bridge about 10am. Headed over to the shoreline with downed tree stumps at Big Carlos Pass expecting to catch some snook. We found no snook but plenty of average sized trout.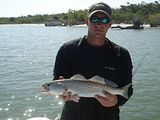 We stayed there for about an hour because of the beautiful scenery( a pontoon boat full of hot party girls). I wanted to catch some snook so we decided to head over to **** Key and troll the mangrove wall looking for snook and reds. My third cast a trout hammered my pilchard, and as I was lifting it out of the water for a picture a boat on plane saw me holding the fish and decided to stop and fish the mangrove wall 30-40 yards from us.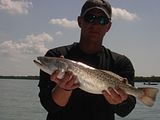 We caught several more while trolling this bank including this snook.
We headed over to Mound Key to try for redfish. We set up at a corner of the island as we normally do and throw some pilchards along the wall and float pilchards under the mangroves. We are seeing schools of mullet but no bites. As my friend is reeling in to recast his pilchard gets slammed 5 feet from the boat but no hook up.:banghead 15 minutes later my pilchard gets taken and I lifted the rod and started reeling just as I always do with a circle hook, I new this red was mine. Then nothing. I started to reel in and realized that my line broke at the rod. At closer inspection I see the insert to my eyelet is missing. We called it a day at 1:15. The day could of been better but it could of been worse.
Leave a Comment