Home
›
Northwest General Fishing & The Outdoors
First Cobia Conquest St. Marks 041312
IAM
Posts: 234
Officer
Hey guys,
I've been fishing quite a bit since it warmed up, but wasn't too much thinking about cobia until 2 weeks ago. We were working the bars at the mouth of St. Marks and having luck here and there on redfish, trout and flounder that were unlucky enough to smell the fish blood stains on my skiff (it's like collateral chumming), but never really keyed in on the fish in my opinion.
We got some trout and had some fun over the numerous trips in March and April, and Bruddy fell in the water. The trout are around the bars and nearshore, pinfish are on the flats in 4-8ft. In about 20ft, things were pretty quiet most trips except for the hoards of millions of bait that seemed everpresent and hungry. Sabiki size 6 worked well to make bait for the day.
Then we did our first cobia mission a week ago and got a few mysterious hits, felt a cobie-kind of vibe in 20-25ft but went home with a more of a beer-kind of buzz.
Easterly winds seem to prevail most of the time it was not raining. But when it rained...oh boy did we get clobbered. Once we put in at the fort and got cutoff by a nasty thunderstom and hid in the lighthouse canal. Nice trick that anyone can do to stay safe if you feel the weather danger rising.
Last Friday we did our second cobie mission. I was up at 2:58, out the house by 5 and on the reef by 6:45, but this time mother nature blew her nose at us and the east wind was blowing 4ft chop @ 0.5s period and waves that were wanting to come over the stern. It was miserable, but we grit it out for an hour, drifting in about 20ft and catching bait while trying to get something big to hit. No avail other than making some bait so we blast to the river mouth at a blistering 16mph. Once in protected water and able to gather our minds, we troll the bars hard and fish gulps. We just could not convince a redfish or trout despite our best efforts of probably over 300 casts over about 2 miles. But the good news was the weather got a bit nicer. Again we gun and head east for the flats this time. Once we got there it was pretty agreeable conditions and around 1 or 2pm.
We fish, catch bait and eat lunch, then blast all the way east to about 15ft. Nothing, we move after 15min. To 20ft. A few drifts, not much doing, several people already present on the relief. Now it's trying to get really nice, but we are exhausted from the trials of the morning. This is when it paid to persist. We blast southeast to 30ft and immediately upon stopping the boat in the now dead calm, millpond perfect conditions bay water, we are surrounded by the largest pack of cobia I have ever seen in my life. Honest. Ever. About 50 count, with ~15 individuals pushing 100lb.
I felt like I was going to pass out from adrenaline on several occasions as we harassed "the boys" swimming at the surface and so easily giving away the location of the pack. We would quietly troll up and toss chunks, livies, big bass worms, everything we had to get them really angry. The first few times I smacked one in the face with a bait it was confused, but they learned very quickly after I threw them a few appetizers that the boat on the surface maybe = FOOD. What appeared to be the little runt, crappy cobes would always annihilate our bait to the point that we just could not reach the big ones faces. I just threw my first fish up on the deck by grabbing the leader, I was so sure it was not 33" (measured at 34"). Bruddy lands a nice fish at 35". We lose a couple then I land a 36", then I toss a bass worm at one and it really wanted it and I grabbed it away (it was another "little" one) because some of the bigger boys had turned and I wanted to make a cast at them. As my little follower turns away I realize it would have been the biggest fish of the day... that one is gona hurt my ego for a long time. My last cast with a chunk of grunt yields about a 6ft tiger shark. The picture didn't come out the best, but he was very pretty. I like the tigers, I just don't like being in the water scalloping with them during the summer.
The pack disappears, we are exhausted and we head to hill under dead calm conditions. The trip home is spent recollecting our spoils and celebrating our first cobias of the season while sitting crooked on the seat cooler because it won't close it's so slammed with iced cobies.
I just got 'em cleaned up yesterday and had a beautiful harvest with around 35lbs of fillet.
Hope this report maybe helps some of ya'll find 'em too, THEY HAVE ARRIVED. :cool::thumbsup
Tight lines, ya'll. :fishing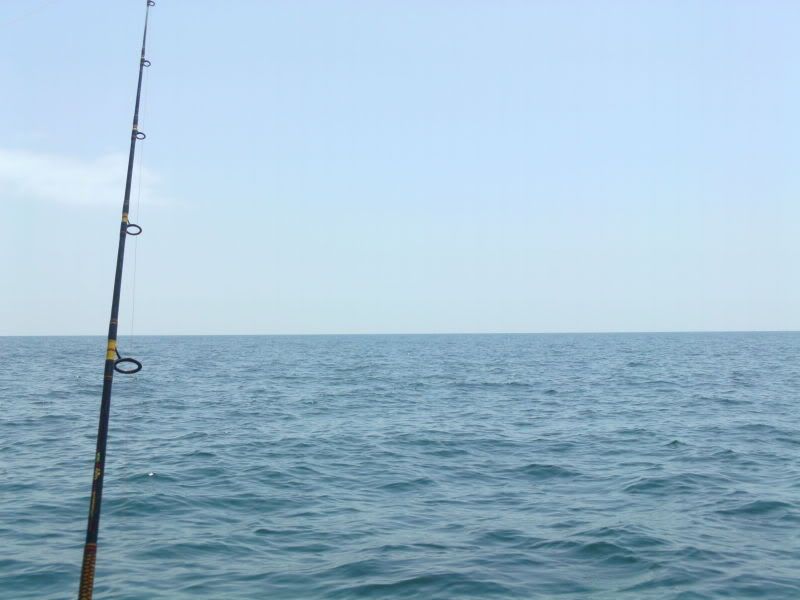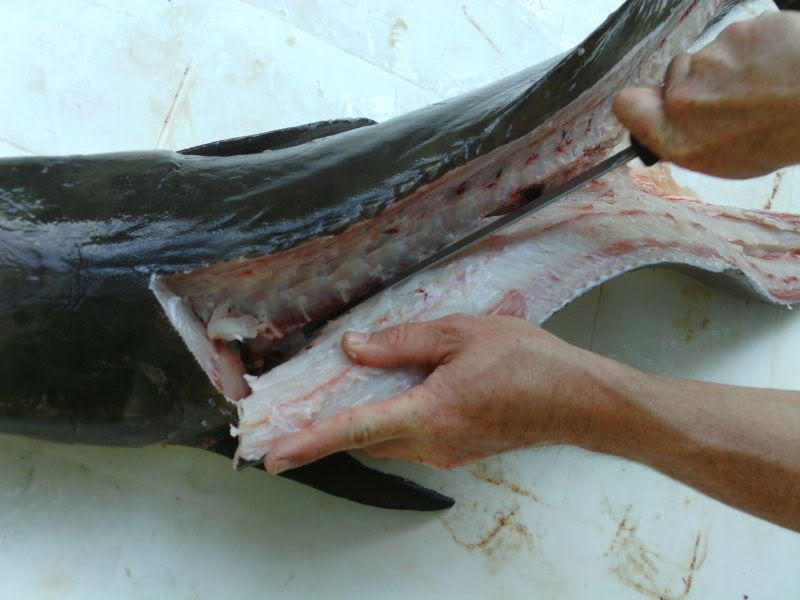 Leave a Comment