Home
›
Northeast (3 Forums)
›
Northeast General Fishing & The Outdoors
2/9 wahoo on sabbatical
bigfishliar
Posts: 45
Deckhand
Jonathan took the crew thru not so calm ocean yesterday to hunt for wahoo. Not that bad on 45 ft boat.We high speed trolled,than switched to ballyhoo, fishing was slow. First bite around noon, got couple mahis,
than later on wahoo on planer /lost by boat/. Switched back to high speed and got double hook up.
The bigger fish took around 300 yards of line./ 65 lbs/
Here are couple of pictures.
Great day and fun with friends on the ocean.
Sorry Jonathan for not using that overused EPIC word
Peter [VIDEO]
[video]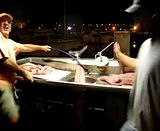 [/video]
Leave a Comment