Home
›
Sportsman's Kitchen
Lentil soup and veal chops
pointerDixie214
Posts: 5,658
Officer
So I accidentally bought veal instead of lamb. Not wanting it to go to waste (even though I try to avoid it), I cooked it up per a few forum members' advice.
Lentil Soup...
1 Tbs Extra Virgin Olive Oil
5 cloves garlic (minced)
1 medium onion (minced)
2 stalks celery (chopped)
6-8 cups low-salt broth (I used veggie broth since my wife is a vegetarian)
1 pint fresh quartered crimini mushrooms
1.5 cups assorted lentils (soak for 4-6 hours and rinse before use)
1 tbsp crushed red pepper
1/2 cup medium pearled barley
1.5 tsp. dried thyme leaves
2 medium carrots (chopped)
1 tsp ground cumin
1 package Gimme Lean sausage (or Jimmy Dean original. Although I prefer the Gimme Lean.)
2 tbsp Tomato Paste
2 tsp. Worchestershire sauce
2 bay leaves
salt
pepper
1 tbs Fresh parsley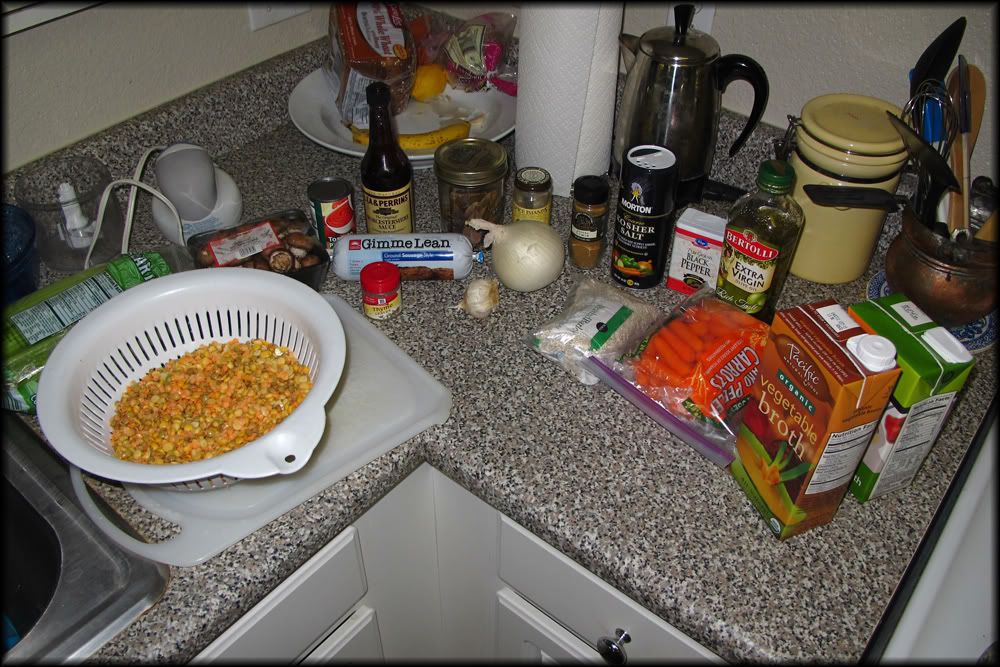 Heat Olive oil in big pot. Add garlic, onion, carrots, red pepper, and celery.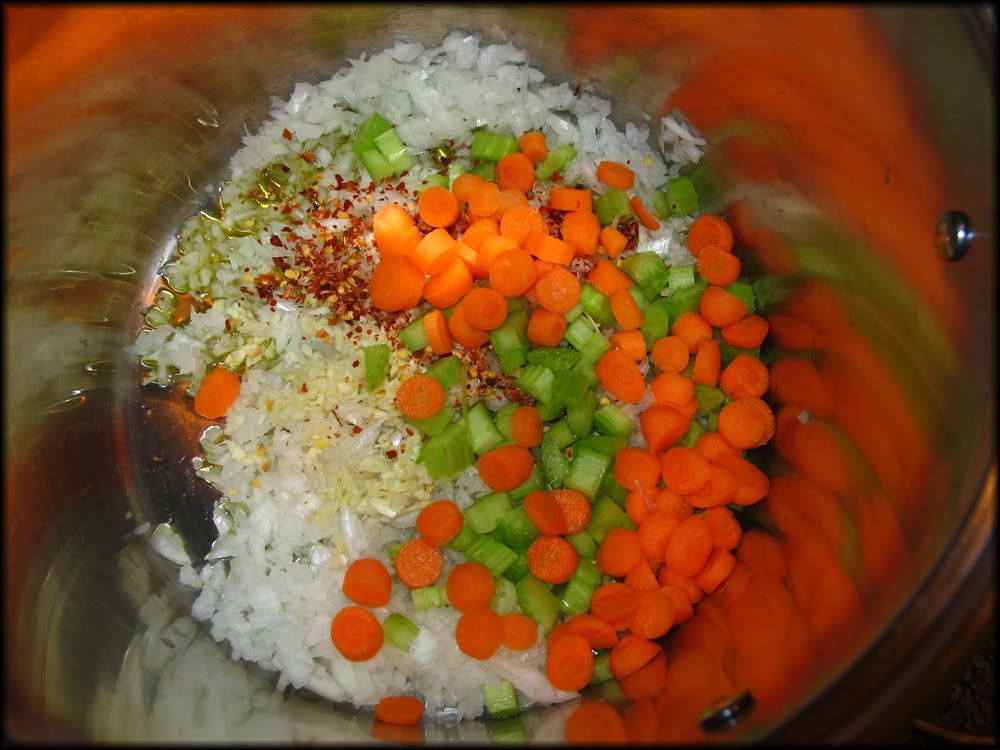 Cook 4-5 minutes until onion soften. Add 6 cups broth, mushrooms, lentils, barley, thyme, cumin, and tomato paste.
Brown sausage in 1 tbs olive oil in another skillet. If Gimme Lean, add a little crushed red pepper, cumin, curry, and cinnamon (JUST A LITTLE HERE).
Add to big pot. Add in Worcestershire, bay leaves, and adjust seasoning.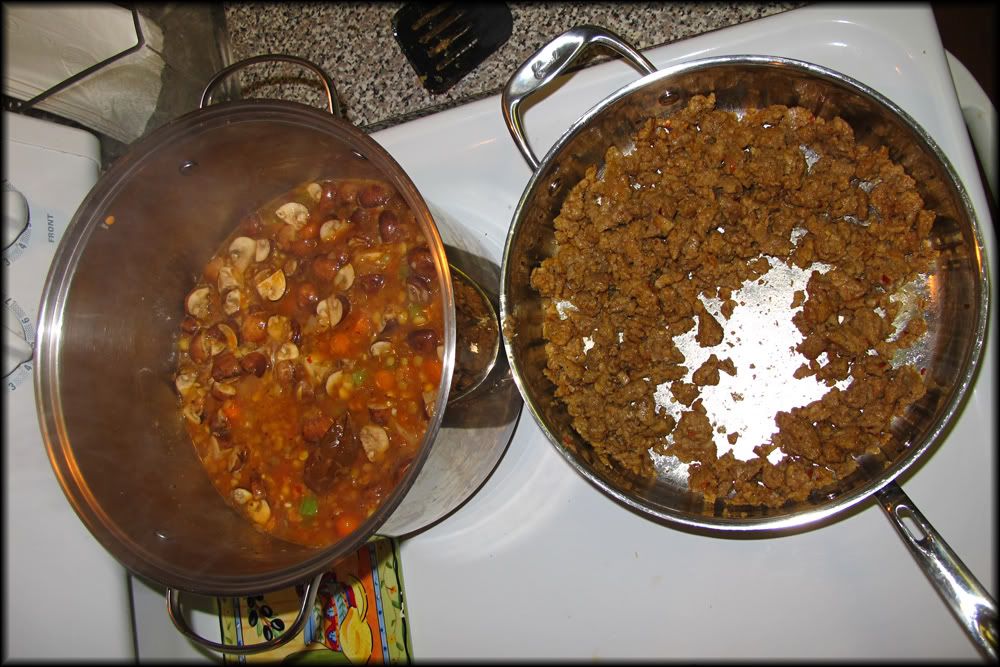 Stir well and boil 75-90 minutes until lentils are soft. Add broth as needed.
Garnish with fresh chopped parsley and fresh grater parmigiana.
Veal chops...
Soak each side in Extra virgin olive oil on a plate and salt and pepper each side. Bread in bread crumbs, fresh grated parmigiana, and a little thyme.
Serve with the soup, and a fresh, (home brewed) IPA (recipe can be provided if you home brew, otherwise, store bought will work. )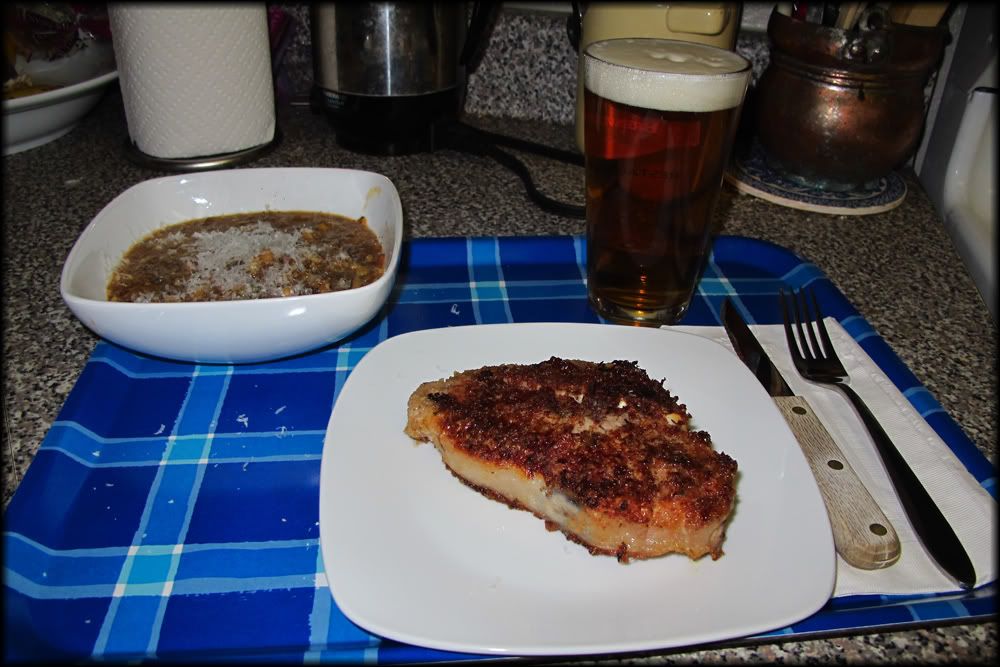 "Her beauty radiated like a beacon from a lighthouse!" - Buddy McCoy :hail
Leave a Comment