Home
›
Classifieds: Fishing Tackle
*********** Deep Drop Rigs For Sale *******************
John from CT
Posts: 36
Deckhand
DEEP DROP RIGS are HERE and in my opinion, the best on the market.
My Ballyhoo Pin Rig customers have asked me to make them other types of rigs. I've done so on a custom basis, but now it's time to add these Deep Drop Rigs to my list of products.
I stand behind these, like I do everything else I sell. They are made by me, not any employees, foreign production facilities, or anyone else.
What that means is 100% compliance to perfection. Every crimp is 100%. Crimps and lines are perfectly matched. The spacing of the hooks is set so these do not tangle. Many other Deep Drop rigs tangle on the way down, and while boucing on the bottom. A huge problem with many designs.
So here we have them, my Deep Drop Rigs. They are kept simple to avoid tangling, or the use of unnecessary hardware to add resistance at great depths.
Here is what they are made from:
Line: 300lb Momoi High Catch Clear Mainline / 150lb Momoi Branch Line. (I can go from 60lb to 500lb) Fluoro option available too. (adds $6 per rig)
Crimps: Momoi and Bill Fisher
Beads: Large Glow Beads
Hook: Mustad 39960D Circle Hook. The "standard" rig has 12/0 size. I can go from 9/0 to 16/0, and if you want anything differnent than standard, I am here to please.
I also offer the option of going to the Owner Super Mutu. They aren't cheap, but fantastic hooks. This adds $9 per rig.
Price out what it takes to make these yourself. Sleeve Swivels, Mustad Hooks, 10 crimps, Glow Beads, snaps, swivels, Momoi Leader, etc..
I am selling these rigs in 2 packs with Free Shipping.
Price: $25.99
To order, it's simple: Paypal $25.99 to:
jmetaxas@aol.com
( I do take checks too, but please PM me for info..)
Any questions? Please email me at:
jmetaxas@aol.com
A very nice quality lure bag is only $4 more. (11" x 11")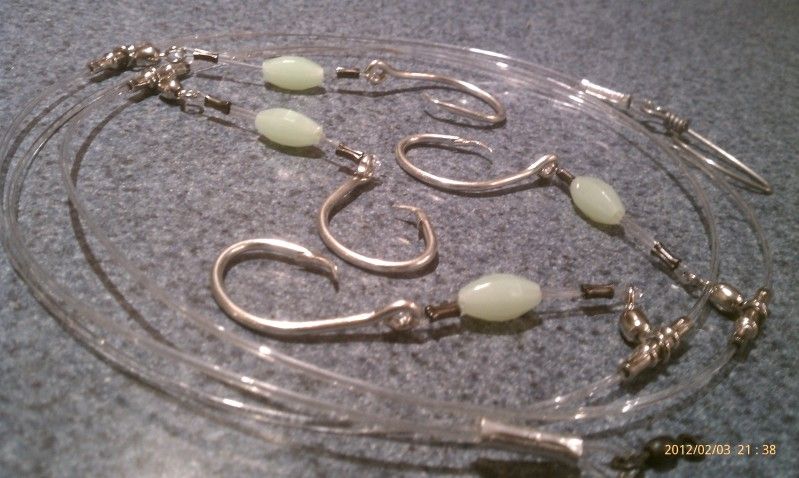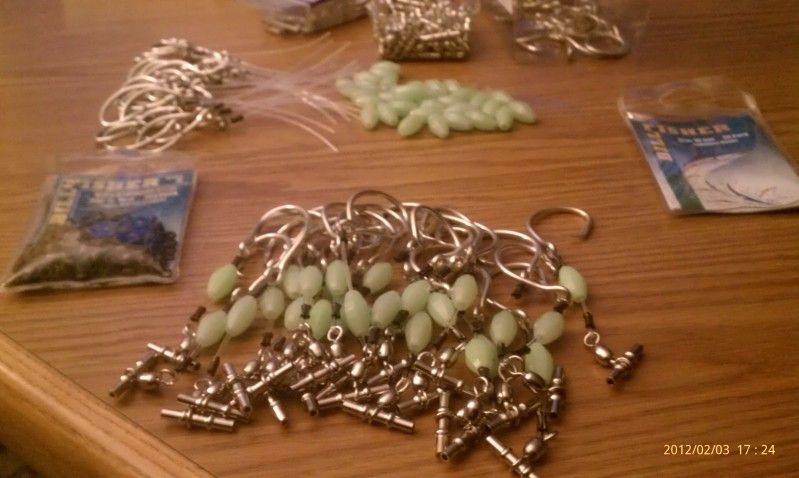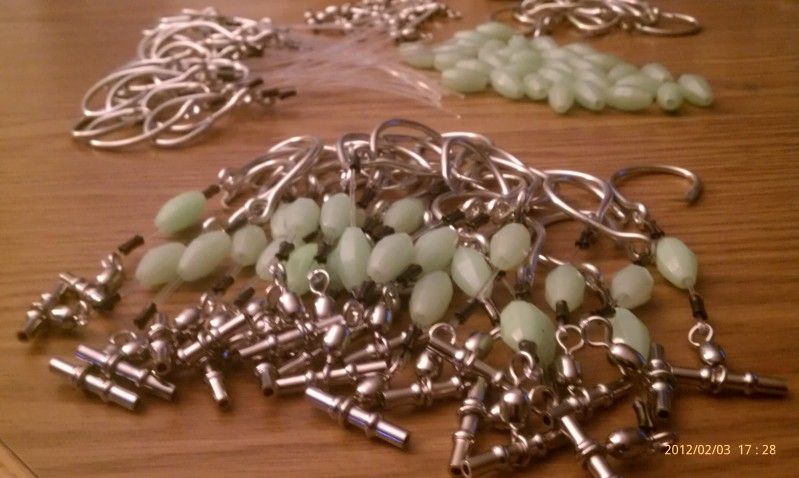 Leave a Comment