Home
›
Keys General Fishing & The Outdoors
What 'worked' and did not work in your Storm Preps?

Gary M
Posts: 13,052
AG
I made a comment in a thread here that I made a few mistakes and a few guys asked me to list them so that we could all 'learn' the things that did work well and what to try to avoid, as well as what things did work well, so I'll start off and hopefully, we can keep the important info in this thread for future Reference......
Mistake # 1
: I failed to completely lock up all shutters, on all four sides of the house. I assumed that the winds would be the strongest on the front/north side of the house and that a few shutters on the back/south side would not get much wind. WRONG!
On the back/south of the house, we have three sets of big, storm rated French double patio doors. Two on the main/second floor and one on the bottom patio. I properly set up the shutters for the front door as it is on the ground floor and on the north side. There is a metal 'track' that I must screw into the concrete decking outside the front door. It was very labor and time intensive but I got it done and the door was 100% secure. I heavily taped along the bottom of the door seal and up another 15-18".
When I started to open the big patio shutters I had a decision based on how hard the front door's little 4-foot wide bottom track was to install. I had three, 10 foot long tracks with 12 big screws each to screw into pre-drilled/sleeved holes. The 'screws' have wide, big slots for either a special tool or a really big flat screwdriver. I had neither which is why it was so hard to install the front door track.
Being also time-constrained due to needing to get back to Lauderdale to secure
that
house
and
the boat
and
get ready to Evac that house, I gambled at the Key Largo house that this big, stiff, heavy shutters would be 'okay' without the bottom tracks. I lost.
The wind obviously got very rough on the back/south side of the house, got in behind a few of the door shutters and literally peeled them back like a can opener! Here's the second floor, main patio door/shutters and beyond that, the double doors coming out of the Master. If you look closely, you can see where the bottom of the shutter flapped back and forth for who knows how long. Looking at the flooring, that had only been put down about 6 weeks prior and it was awesome! Now it's all gouged up. I just hope the guy can repair it and not have to do the entire/big patio again.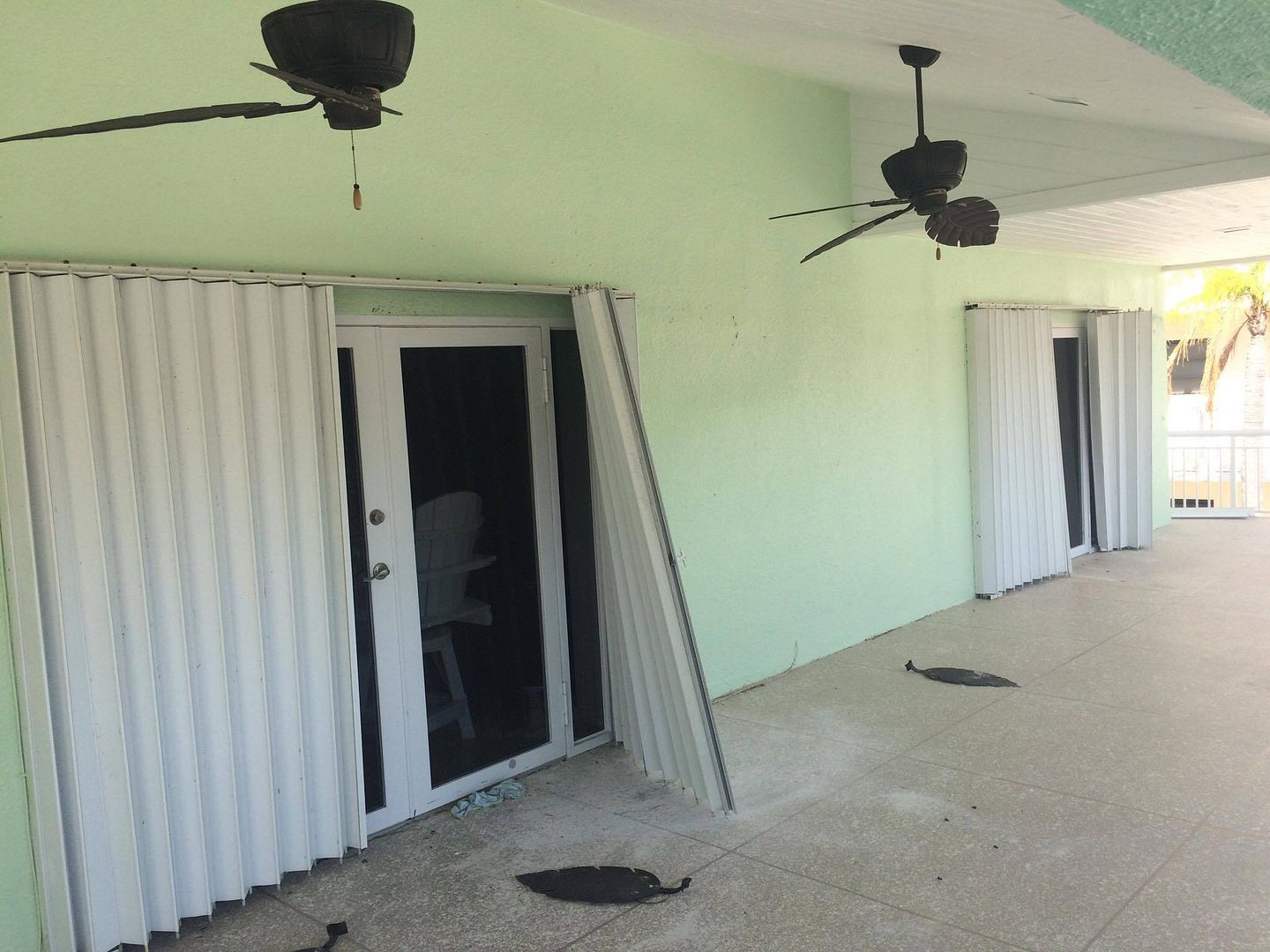 Same patio from the other end. The door frame piece laying on the patio was found around a corner, about 12 feet away. You can see on the (freshly painted!) wall, that this door panel was bent back so far that it whacked the wall hundreds of times.
I told Jenn once we saw this, "Can you imagine had we been here, what this would have sounded and looked like with these large metal panels flapping around like a flag on a windy day? It would have been pretty horrifying. Glad we left." In the future, as soon as I see a storm kind of coming our way, I'll grab a cold beer and lay down those securing tracks days in advance..... They would have prevented all that flapping and I would not need to replace 2-3 big doors and to have the new flooring repaired! :banghead
Obviously these photos bring up
Mistake # 2
. Paddle fans. I should have taken the blades off. Two little screws per blade. These two fans and three more on the bottom patio. We had fan blades, seemingly everywhere across the back of the house! The funny thing was, that I found most of the little screws right below the fans. They fell straight down while the blades went flying! :huh
My mistakes will be paid for in the aggravation and the frustration that it was self-induced as well as with my own money!
Things that worked well:
1) Empty the fridges and freezers. How many times have we all heard horror stories of what people found in their fridges after losing power for a few days. Many have to replace the entire units. Toss the **** food!
2) Unplug the fridges and freezers. Who knows what quality of electricity is flowing during a storm with thansformers exploding, trees on power lines, mini-tornados, etc.
3) Prop the doors open. Jenn did a simple wipe of the inside of the fridge, plugged it back in and we were good to go.
4) Ground floor. We picked up all area rugs, hallway rug runners, etc..... just in case we got some flooding. Not only to protect them, but to avoid sopping wet rugs from sitting in a closed up house for days/weeks on end.
5) We left all interior fans on Low so that when the power did come back on, air could at least circulate a little inside.
6) I used plenty of Duct Tape to try to seal the bottom 15-18" of all ground floor doors. With seaweed piled up at the bottom patio doors, I know we had water that tried to get in. Don't assume your door is sealed tight all on its own. We also placed beach towels behind and packed in tight against, all bottom floor doors so that in the event that there is some seepage, it might be contained.
7) Get the hell out! Our house is a concrete fortress and with my baby Honda genset, we'd have been 'okay' after the storm. But what a
nightmare
we would have endured! Nope, seen enough nightmares, going back to 1960 in Ocean Springs, Miss, seeing the aftermath of Camille, going through the north wall of the eye of Andrew, no power for over a week after Katrina and then Wilma...... too old for that kind of excitement anymore. Panama City Beach was 100% stress free!
What worked well for you? What did not work so well? What mistakes did you make? Please add your own comments for all of us to gain from and thanks for doing so...... :USA
Leave a Comment