Home
›
South General Fishing & The Outdoors
Kayak Fishing Sanibel Island
Hobie Angler
Posts: 316
Officer
Went to the beautiful Island of Sanibel for a quick and pleasurable getaway... Looking to do some Kayak Fishing I brought my Hobie Pro Angler and took advantage of the great weather this past week. Found a nice and reasonable place to stay for a couple of days. Launched the Pro Angler just north of the causeway and found some bait almost immediately boiling within a hundred feet from shore. Jacks, Lady fish, Trout and Spanish Mackerel were crashing into some small bait in a feeding frenzy. From above the Pelicans, Sea Gulls and Terns were helping me keep up with the action as it kept moving up and down the main pass. After a couple of hours the action died down and it was time to go and explore the flats and sets of islands that are found just west of the mainland. Not knowing the general area well it was a search for action that quickly became an adventure. Going by my instincts I followed the markers, water depths and currents to try and find where the fish were hiding. The water was clear and the bottom looked fishy with healthy grass and big sand holes all over. After some pedaling around I ran into areas that were holding fish. The bite was on and ended up with a total of nine trout for the day. All fish were fat and healthy. Ran into a small shark in four inches of water right off one of the islands. Overall The trip was a success and like they say, "Time flies when you are having fun". Would love to visit again and explore some of the endless paths, passes and drop offs that connect the islands.
* I have included a link to a short video on youtube: [video=youtube_share;N5D7-jQjXD8]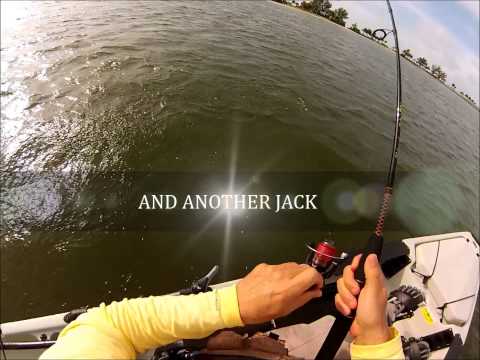 Can't wait to get back out there...!
Leave a Comment