Home
›
Southeast General Fishing & The Outdoors
6-15-2013 - Port Saint Lucie Offshore Fishing Report:
Alwaysforward
Posts: 1,502
Captain
Got a full boat today aboard the AF. Rick and Emmerson are back and they are joined with John from their work. This is John's first time aboard and offshore in Florida.
My question is how long will it take Emmerson to go to sleep. :grin Here's a few shots of Emmerson from the past.
I picked up a bunch of baits from the bait guy before the crew arrived at 6am. The ramp was packed this morning from around 5:30am on. Must have been a tournament today.
We exited the SLI around 6:30am and headed to the NE spot for some baits after talking to
Vindawg
who was at Bullshark already. We picked up one blue runner and some huge Cigar Minnows.
Daymaker
was there joining in on the fun.
The goal today was to run until we find good weeds or debris. The winds are suppose to switch around and come out of the east in the early afternoon hours. We made a quick stop at the Hill to make one drift while I chunk up some baits for the fins later. We put the lines way out and a troller comes along and hooks boat rods with his gear. :banghead
They were able to get back most of the line. I re-rigged both poles right after sending out a couple more baits. No luch here so the next stop was in 800ft on a very small line of weeds. It didn't take long for Emmerson to hit the front deck :grin
Continued east and found our next small line in 1000ft and worked that for a bit too with no luck. Pointed east and made it out to 1500ft and worked another small line with nothing chewing. We are now 29 miles from the dock. We still were able to pick up the automated radio check on Channel 27 (barely)...
We headed back west and came across this floating with some baits under it and worked it with chunk baits and the usual menhaden mixes…
It was then that we found out why we were having bad luck. John just tossed out a banana that he had in his color as it got mixed in with water and was soggy and then Emmerson pulls out a small bunch of bananas from his bag. :banghead :grin
We rectified that situation in short order :grin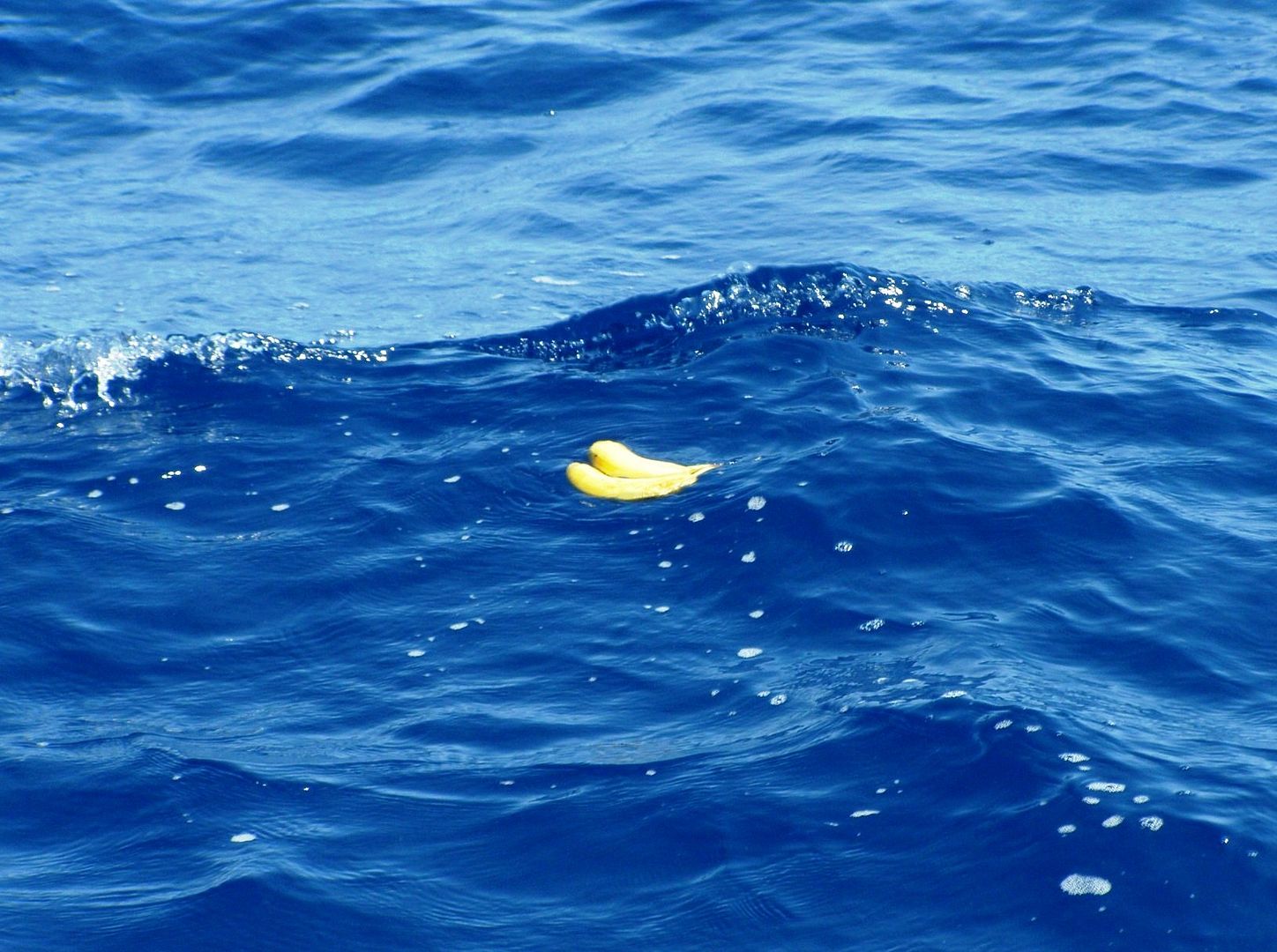 We continued west and hit another weedline in 700ft as Emmerson assumed his position again :grin
We decided to dial in the AJ Spot and hopefully break the skunk off the morning since we ditched the bananas. :grin In 500ft I spot the break we needed. My good luck charm. A
Flip Flop
:applause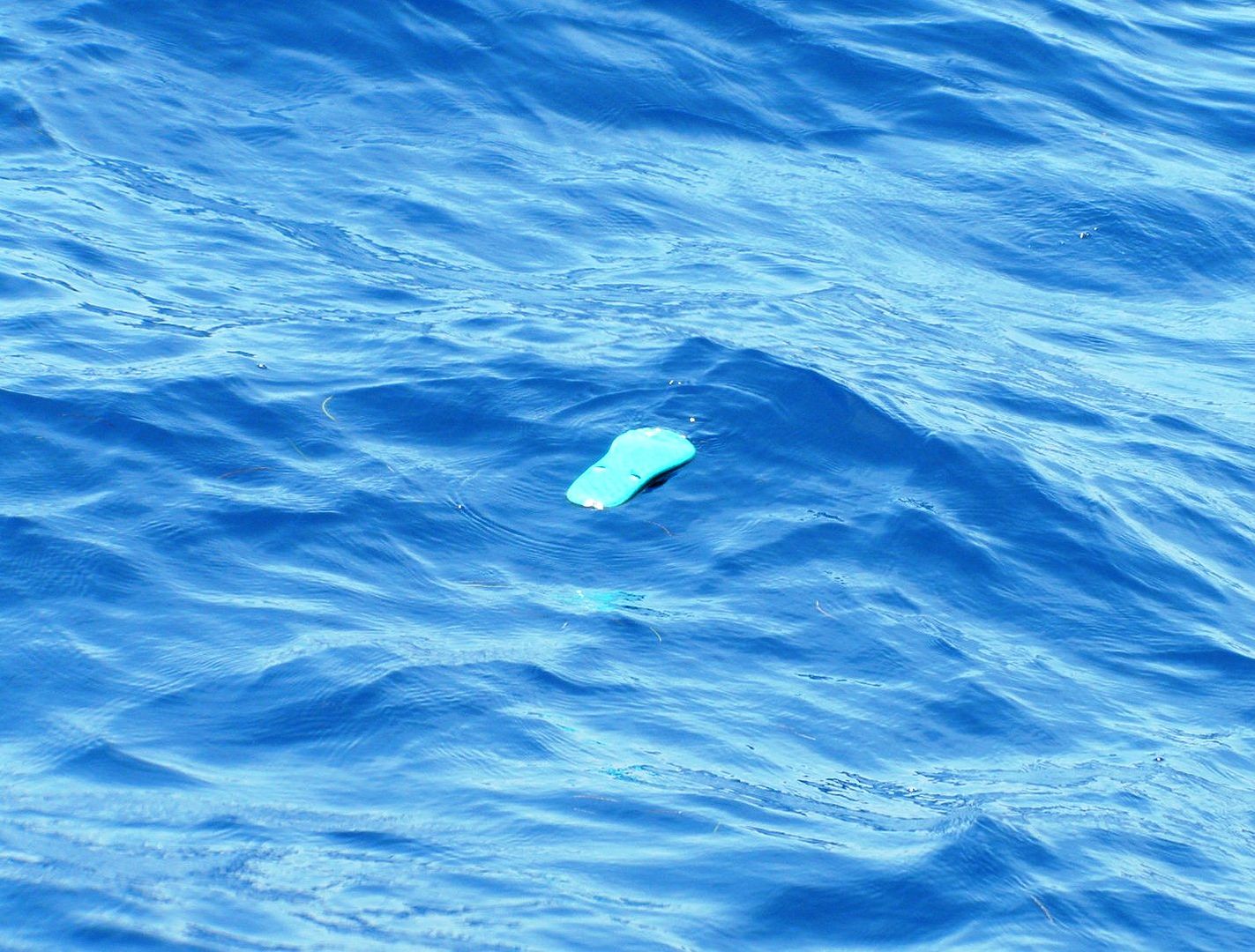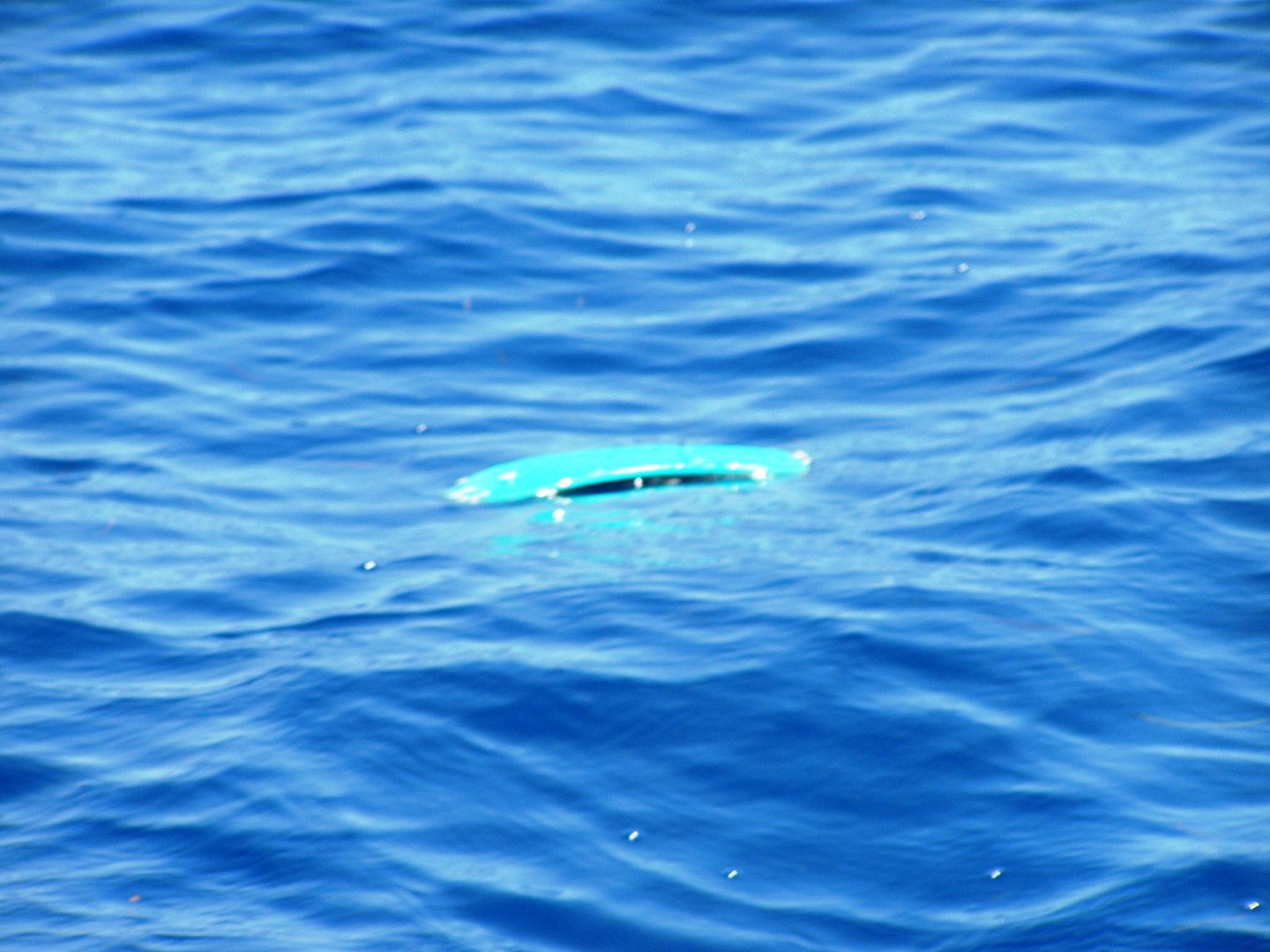 We hit the AJ spot at the same time as another boat that was trying to anchor up in the 3-4knot current. We make a couple of drops before they hooked up with our lone runner with no bites.
Seen a line of boats just west of us so headed over there and found an awesome rip in 117ft. We dropped in some more pilchards and finally Rick gets hooked up to break the ice.
Remora :banghead
We continue to work the area when Emmerson spots some fish close by, busting on a large piece of red Styrofoam. We pull in the lines and run over to a large school of fins. The
Flip Flop
has done its job :grin
John gets his bait in the water and within seconds gets hooked up.
After John fights with his fish, after it was in the boat :grin , we tagged an released this one.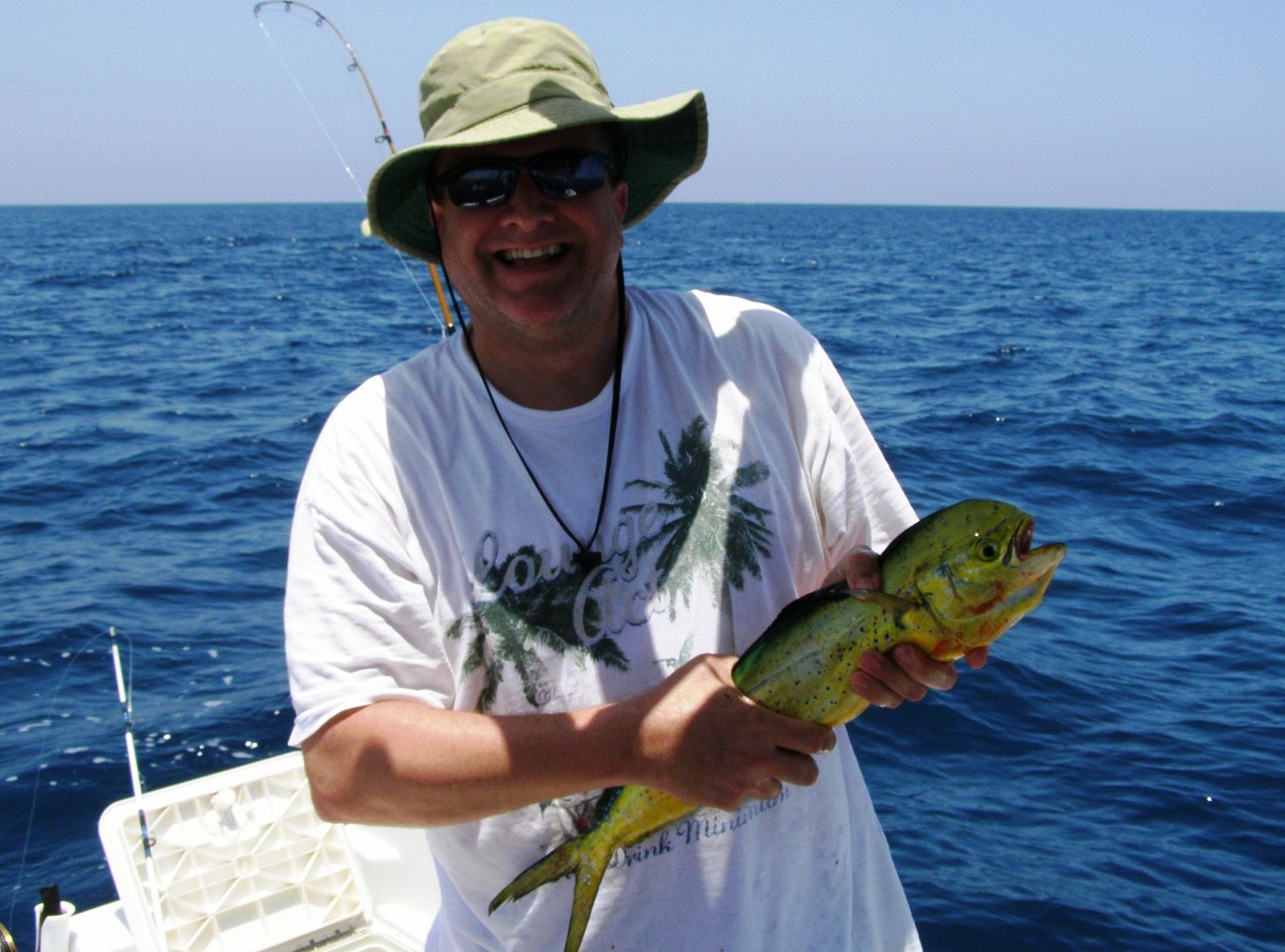 We get a shout out from
Unhooked
out in 600ft who was on a tree but we opted to stay here to see if we can find a bigger fin in the mix. Thanks for the shout out Scott.
We spot
VinDawg
just north of us and called him over to join in on the fun.
Emmerson catches another tag an release fin but I tossed it into the water before I snapped a pic. Sorry Emmerson :banghead
The fins turned off and wouldn't chew anymore so we changed things up and started slow trolling the livey's around this area. Both John and Rick get hooked up but the fins came unglued.
Emmerson's bait gets nailed and this one stays connected all the way to the fish box. Nice gaffer to end the day… :applause
His smile says it all… :grin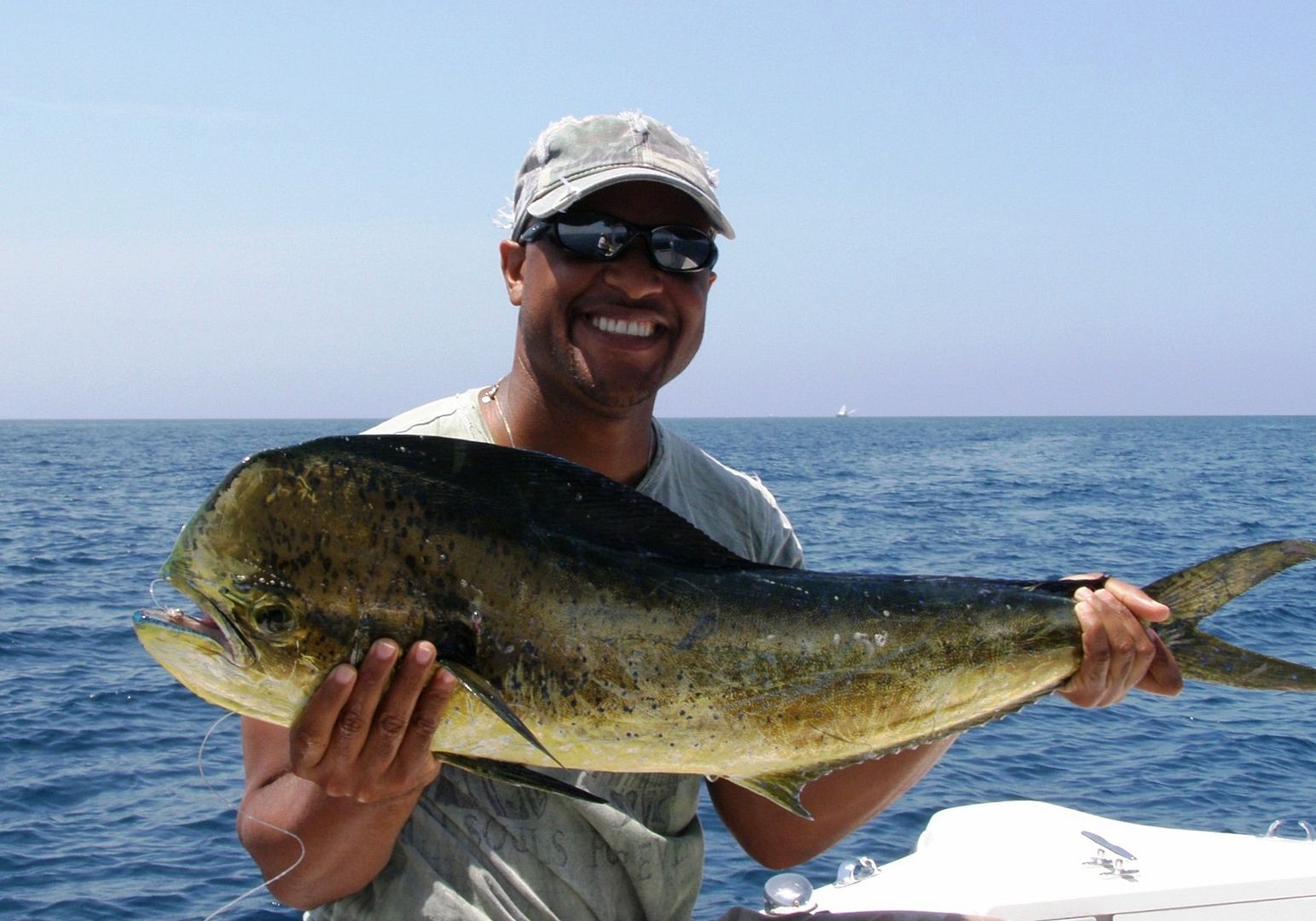 It is now around 3:00pm so we dial in the SLI that is 11 miles southwest of us and make the quick run in at nearly wide open. It was a gorgeous day on the water today with a nice breeze all day long.
As we pull into the pocket the crew spots another luck charm :grin
Emmerson gave his fish to John as he is having a cookout tomorrow. Let me know how that fish tasted John… We sure had to work for that one all day long :grin
Today's Tally
3 for about 8 Fins – 2 tag & released and one gaffer
1 Remora – And no, this time it wasn't mine :grin
How did you all make out today?
Tip of the day
I modified my set-up on the yellow jug we used last week. I found that the braided line becomes tangled too easy as well as trying to get the line off that small spool (pipe tape spool) takes too long.
I cut the braid about 10" from the cap and tied on a snap swivel. I then took a piece 18-20ft of 80lb Fluorocarbon and crimped on a hook on one end and a loop on the other.
I then used a piece of Velcro to hold the looped together line so all I have to do is snap the loop onto the swivel and remove the Velcro and we are good to go.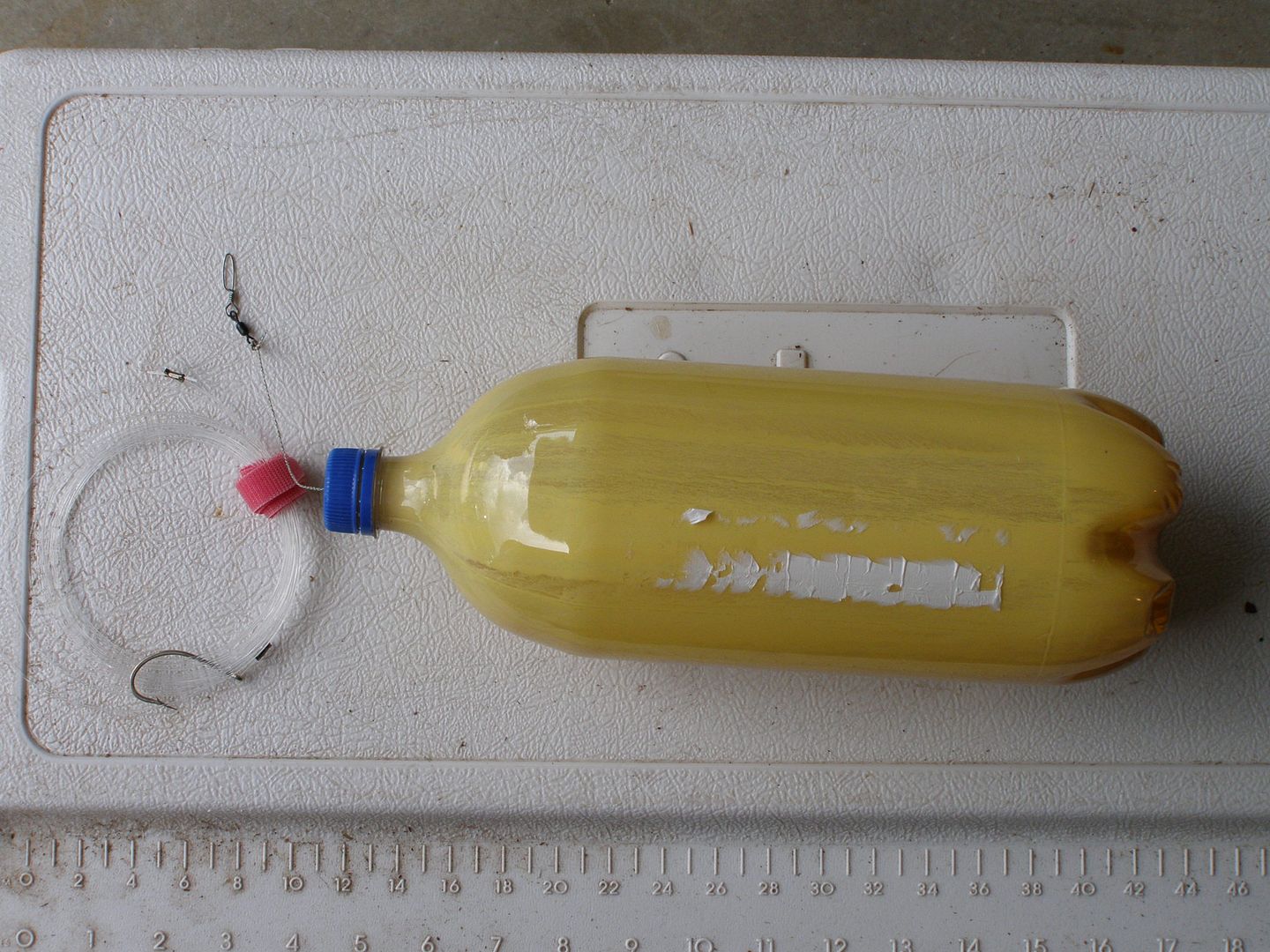 The only thing I have to do now is remember to use it. I completely forget about it during our Chinese fire drill with the small fins we got into today. :banghead
Random pics on the day
ALWAYSFORWARD, NEVER STRAIGHT...
Leave a Comment